MSI, the world leader in gaming hardware, launches a suite of gaming laptops powered by Intel 8th Generation processors, headlined by three models: the new GS65 Stealth Thin gaming notebook, GT75VR Titan with i9 processor and GE Raider RGB Edition.
"These new models are like nothing the gaming laptop market has seen before," said Eric Kuo, MSI Vice President of Global Sales & Marketing. "We're breaking gaming laptop conventions with the Stealth Thin's beautiful new design, the unmatched performance of the GT75 with an i9 processor and the Raider's unique RGB lighting."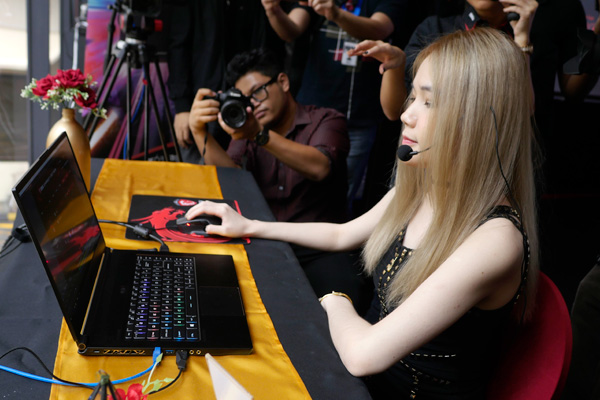 GS65 Stealth Thin Gaming Laptop
The GS65 Stealth Thin is the first gaming laptop to feature a 144Hz 7ms IPS display with 4.9mm bezels – achieving a stunning 82 percent screen-to-body ratio. While the bezels are extremely thin, MSI did not compromise on the placement of the webcam. MSI left just enough room in the top bezel for the webcam, as opposed to being awkwardly placed within the bottom bezel. With its thin dimensions and golden styling, the MSI GS65 Stealth Thin brings gaming laptops into a new stylish era.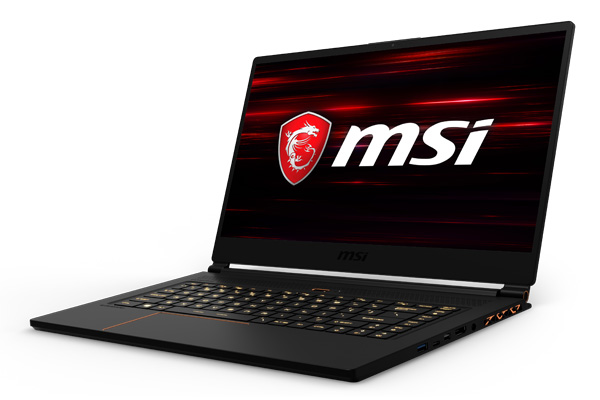 To power the 144Hz panel, the Stealth Thin is equipped with up to a GTX 1070 with NVIDIA Max-Q technology and the latest 8th generation Intel Core i7 processor, which gains up to a 40 percent performance enhancement over the previous generation. With its new processor, GeForce GTX 10 series graphics and MSI Cooler Boost Trinity cooling design, the GS65 offers an uncompromised gaming performance for all gaming enthusiasts.
When designing the Stealth Thin, MSI sought to break all the stereotypes traditionally seen in gaming laptops. MSI chose a bold new golden accent and trim to make the smallest details of the laptop glint. Weighing just 1.8KG, the Stealth Thin packs 8+ hours of battery life into an incredibly slim chassis, providing real portability not traditionally found in powerful gaming laptops. Its 82Whr battery is one of the largest batteries available in a laptop this size.
The Stealth Thin also features a new per-key RGB keyboard designed by SteelSeries. Users can customize each key and receive real-time game status through keyboard lighting. MSI is also rolling out a massive update for Dragon Center 2.0 that comes with an exclusive gaming mode. The redesign brings a sleek new UI that is intuitive while still offering advanced configurations for power users. The gaming mode now optimizes system performance and game-specific keyboard lighting for a list of supported new titles.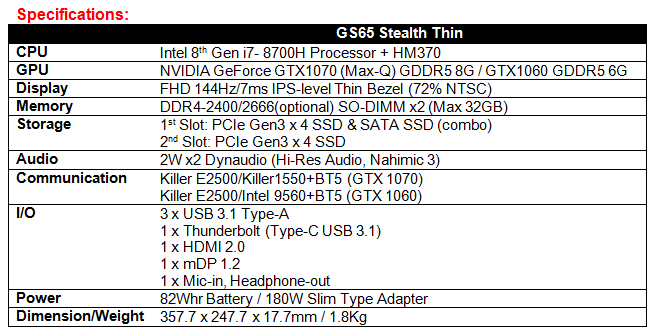 Stealth Pro Processor Updates
In addition to the new GS65 Stealth Thin, MSI's entire Stealth Pro line is also getting upgraded with the newest processors. The new processor improves performance by almost 20 percent compared to the previous generation. The new Stealth Pro laptops also feature 102 keys of per-key RGB lighting, smaller fan blades, Dynaudio Certified speakers, upgraded Killer 1550 and Bluetooth v5, and Dragon Center 2.0.
GE Raider RGB Edition
First announced at CES to high praise, the GE63/73 Raider RGB Edition is inspired by sports cars and the PC Master Race's love for RGB. It was perfectly crafted for ultra-illumination with RGB lighting on the top cover, keyboard and USB ports. The top cover features 24 separate zones of RGB lighting with more than 16.8 million colors available.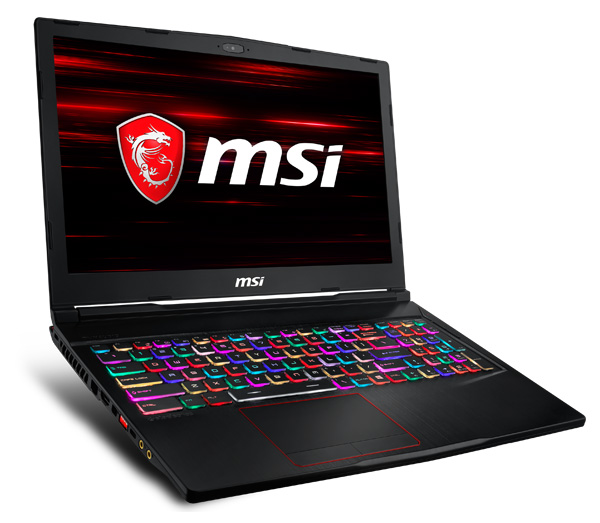 The GE Raider RGB Edition is configurable with up to the latest 8th generation Intel Core i7 processor and NVIDIA GeForce GTX 1070 graphics. Additionally, the Raider can be equipped with up to a 120Hz 3ms. This high performance is cooled by MSI Cooler Boost 5, a cooling design with dual fans and seven copper heats pipes offering the most stable experience on a laptop.
With Nahimic 3, Killer networking, Bluetooth 5.0, and much more, the GE Raider comes with many exclusive features and the latest technology under the hood. Both gamers and power users alike can take advantage of the well-refined powerful laptop to enjoy huge boost in gaming experience and productivity. The GE63/73 Raider RGB undoubtedly stands out from the crowd and is surely a choice that's too shiny to ignore.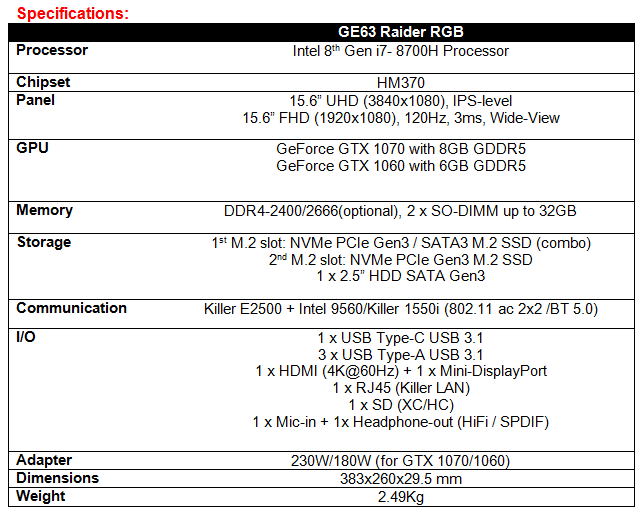 GT75 Titan with i9 Hexacore Processor
With the introduction of the latest 8th Generation Intel processors, the GT series is taking one step further by featuring the world's first Core i9 overclocked processors in a gaming laptop. Together with NVIDIA graphics and mechanical keyboards, the new GT series pushes performance beyond its limits and offers uncompromising desktop gaming experiences for casual and pro gamers alike.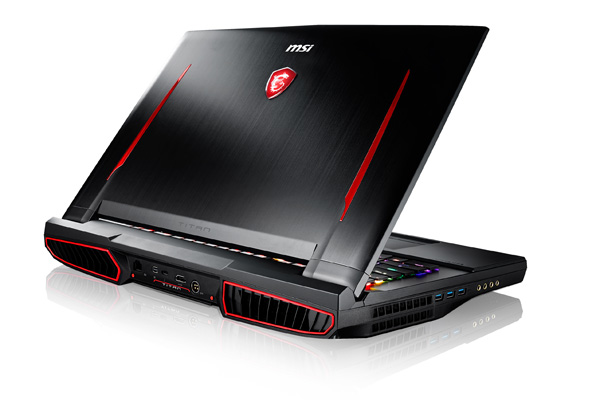 The GT75 Titan is the first gaming laptop to ever feature Intel Core i9 processors with fully unlocked hexa-core performance. Combined with MSI's Cooler Boost Titan cooling design, the six-core 12-thread configuration results in up to a 70 percent performance leap over the previous Core i7. The extra cores are especially beneficial for gamers who stream their gameplay, or for advanced multitasking workloads.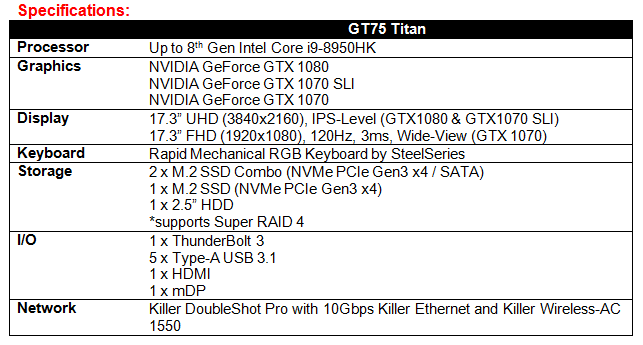 To learn more about MSI's complete line of products, visit my.msi.com or follow us on Facebook at www.facebook.com/MSIMalaysia.