Dell Malaysia has unveiled a suite of new commercial client solutions laptops designed to address the myriad ways people work today, and help them adapt and transition to the future. The innovations and improvements within these products are designed to improve performance, functionality and overall user experience.
"At Dell, innovation never sleeps. We're passionate about creating technology that expands the boundaries of what's possible," said KT Ong, Country Manager – Malaysia, Dell EMC.
The new Vostro and refreshed Latitude portfolio are developed with the mobile workforce in mind, aligned with insights from various research studies sponsored by Dell. The latest global research shared the impact of emerging technologies – 48% of global business leaders surveyed, including leaders in Asia Pacific and Japan (APJ), believe they'll have more job satisfaction in the future by offloading tasks to machines. Thus, businesses and the workforce of today are increasingly critical about devices they need to support their work, now and into the future.
"We are entering the future of work where the way people work and run their businesses constantly change as technology continues to evolve. There is significant expectation riding on the positive impact emerging technologies can bring," commented Ong. "To do that, our customers want devices that can help them continue to be productive today and help them persevere for the future, with performance, mobility and security mentioned as the top features they need."
Addressing a gap in the marketplace for thinner, lighter and more powerful mobile devices at work, Dell unveiled the new Vostro line-up and refreshed Latitude portfolio.
New Dell Vostro 5000: Premium design meets maximum mobility
The new Vostro 13 5000 (5370) and Vostro 14 5000 (5471) offer the right balance of business features and outstanding style and mobility desired by professionals.
The thin, lightweight design allows for maximum mobility, while the stylish aluminum casing combines durability with a look of sleek professionalism. A generous solid-state drive with up to 512GB allows users to store incredible amounts of content without worrying about running out of space. Other options such as traditional hard disk and hybrid storage are also available for the Vostro 5471. Equipped with up to 32GB DDR4 memory, these laptops won't get bogged down, allowing for faster response times and uninterrupted multitasking. For more demanding graphics-rich applications and blazing-fast performance, optional built-in AMD RadeonTM 530 discrete graphics with up to 4GB of GDDR5 memory are also available.
These laptops also allow users to collaborate and stay connected with colleagues and peers in comfort. With anti-glare FHD IPS display, users can clearly see images from every angle. Built-in HD webcam and Waves MaxxAudio® Pro deliver clearer video and audio, making it convenient for remote workers. The number of ports, including USB 3.1 Gen 1 Type-A, USB 3.1 Gen 1 Type-CTM, HDMI, micro SD or SD card reader, make it convenient for users to plug and play.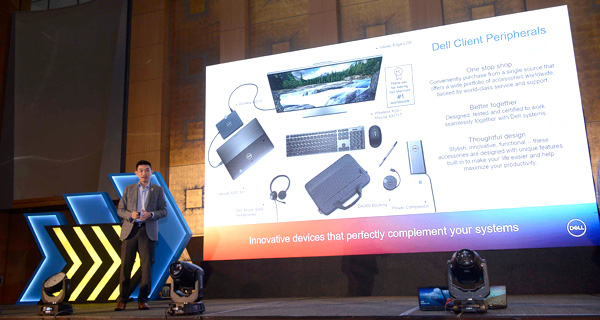 Performance Uplift for Dell Latitude portfolio
Designed for the mobile workforce, Dell's Latitude portfolio of secure and manageable commercial notebooks and 2-in-1s has been fully refreshed with the latest dual-core and quad-core 8th Gen Intel® Core™ vPro™ 15W processors delivering significant performance improvement. Productivity benchmark tests show dramatic performance uplift over products based on the previous generation processors. The additional cores and threads make a noticeable difference on company networks when IT is running encryption, malware scans and other background apps to secure and connect employees. The Latitude product line also has been updated with several exciting new hidden innovations.
Latitude 13 7390 and 7390 2-in-1: Impressive Power in a Premium Design
Dell Latitude 7390 line-up has been refreshed with thin and light designs, excellent efficiency and powerful processing options. Latitude's superior security, versatility and accessories empower the way people work and maintain office-level productivity.
Built with high-end materials like magnesium alloy, the Latitude 7390 combines premium design with best-in-class durability. The 2-in-1 series offer outstanding flexibility with a touchscreen that enables users to quickly access applications or use an optional active pen for fast note taking. The active pen enabled by Wacom technology creates a more lifelike pen-to-paper experience with less lag and it attaches magnetically to the 2-in-1 so it's always nearby.
The new Latitude 13 7390 comes with processor options up to Intel™ 8th Gen processors and PCIe SSD for optimal performance. Dell offers a wide range of hardware and software security options including Dell ControlVault™ 2.0, contact and contactless smart card readers, touch fingerprint reader or infrared camera, ensuring users information is secure.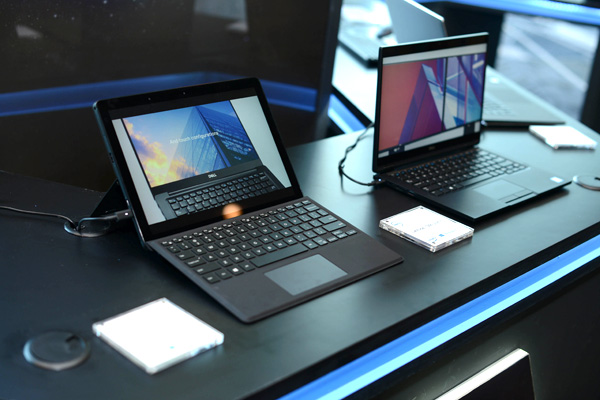 Latitude 12 5290 and 5290 2-in-1: The Flexibility to Succeed
The Latitude 5290 is the ultimate 12.5-inch mobility tool that empowers productivity. It offers multiple security options to meet your diverse security needs. Features include essential multi-factor authentication hardware such as touch fingerprint reader, contact FIPS 201 smart card reader, and contactless smart card reader NFC to prevent unauthorised access.
The Latitude 12 5290 navigates congested workspaces with ease with a range of wireless options, including mobile broadband. It also comes with an HD display and all-day battery life that let users work anywhere.
The new Latitude 5290 2-in-1 is thin, light and powerful, weighing less than two pounds and comes with an auto-deploy kickstand to make being productive easy.
Security is also convenient and scalable – options available include Windows Hello via IR camera, or more stringent levels including biometric card readers with Control Vault 2 and FIPS 140-2.
New Monitors
Dell continues to lead the industry in displays with the addition of the world's brightest ultrathin monitors in their class: the Dell 27 Ultrathin Monitor (S2719DM) and Dell 24 Ultrathin Monitor (S2419HM). Pictures come to life in luminous, vivid colours. Both monitors support HDR-content playback for a CinemaColor experience, producing beautiful colour depth, clarity and contrast in a virtually borderless InfinityEdge display for strikingly realistic images. With a sleek profile at only 5.5mm at its thinnest, both monitors deliver peak brightness of 600 nits.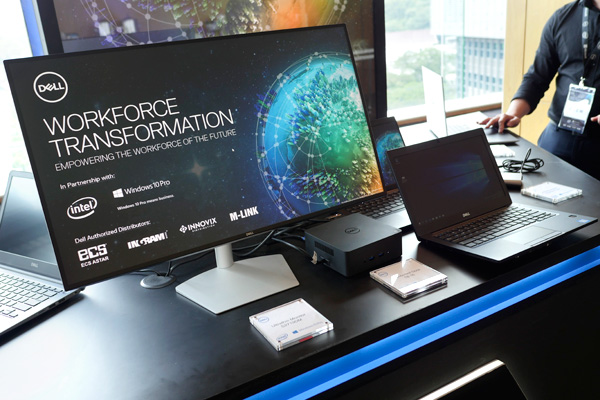 Dell ProSupport Plus
Dell commercial client solutions come with ProSupport Plus, the most complete support solutions for enterprise customers in the industry, combining 24×7 phone access to expert technicians, onsite service after remote diagnosis, and support for both hardware and software and proactive automated support. ProSupport Plus with SupportAssist takes up to 91% less time to resolve issues with technical support and up to 72 percent fewer steps in the support process.
ProSupport Plus allows customers to get:
24×7 access to ProSupport engineers with deep hardware and software expertise
Proactive and predictive automated support enabled by Dell's SupportAssist monitoring technology
Self-service case management and parts dispatch via Dell's TechDirect portal, mobile application or API
Coverage for drops, spills and electrical surges to protect hardware investments
Hard drive retention after replacement to ensure data control
A dedicated Technical Account Manager who serves as a single point of accountability and provides monthly reporting for customers with 1,000 or more ProSupport Plus systems
For more information, visit Dell ProSupport Plus.
Pricing and availability
All products are available through Dell and its authorised partners: