Having your gadgets and mobile devices run out of power during the day when you need it most is just considered one of the many hassles of life in our modern day. Fortunately, power banks are plenty common nowadays which provides users a good source of back-up power to keep devices charged. With how advanced technology is, even power banks are steadily improving in terms of charging capacity and power, which is shown in the Tronsmart Presto 10000mAh portable charger.
With a decent capacity of 10000mAh, this handy-sized power bank features Qualcomm's Quick Charge 3.0 for quick recharging of any Quick Charge enabled devices. Users of devices not Quick Charge enabled will find the VoltiQ port to be just as good thanks to its adaptive charging technology. Also, the Presto 10000mAh should be noted for not only being capable of quick charging, but also having the ability to support FCP charging, a big deal for Huawei users who need their devices charged quickly.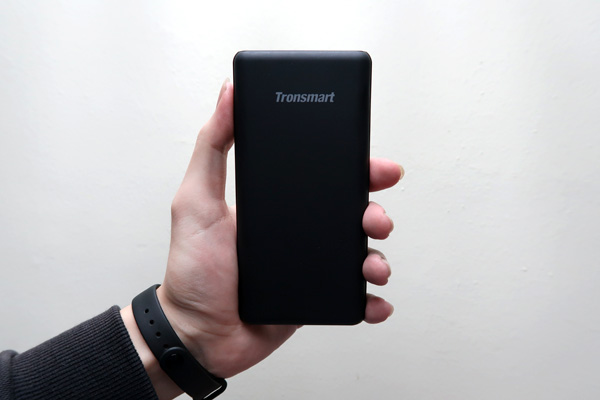 Design
Physically, the Tronsmart Presto 10000mAh is small and thin enough to fit into the pockets of most pants and jackets, which makes it a good choice for those seeking less bulky or unwieldy power banks. Its slender build also grants it decent portability as it is roughly the same size as an average smartphone while also being quite light. In terms of hardware quality, the power bank is made of a soft-touch material that provides a good grip that is also nice to hold in your hand. Though, the only downside to it is how the material is susceptible to smudging. Nonetheless, the Presto 10000mAh feels solid and well made.
Design-wise, it doesn't stray away much from usual power bank designs, having the familiar flat brick look. The Presto 10000mAh's design is rather sleek and simplistic, with no unnecessary bells and whistles on it which is nice. At the bottom side of the power bank lies 2 USB Type-A ports (one grey and the other green) and a single micro-USB port for charging the unit. The green USB supports Qualcomm's Quick Charge 3.0 whilst the other port supports the VoltiQ technology. On the top of the power bank lies small 4 light indicators for showing how much charge is left, which is straightforward and doesn't feel too bright. The power button rests on the bottom right side with a nice clicky and firm feel to it. Overall, the Presto 10000mAh looks good together with its smooth material finish.
Packed together in the box is the power bank's micro-USB charging cable along with a drawstring carrying bag. The charging cable is somewhat short if you aren't planning on stacking your phone on top of it while charging, but then again charging cables generally have no standard length.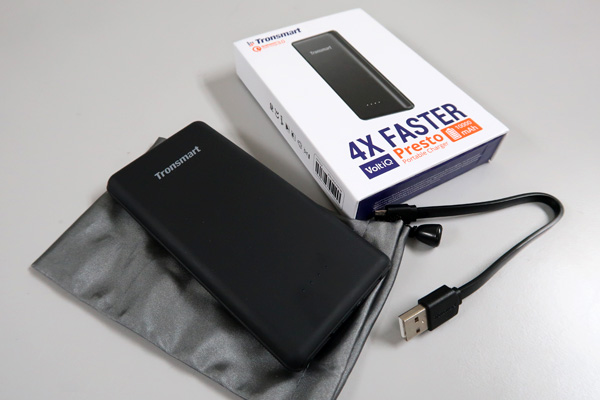 Performance
A battery pack with a punch
With a relatively small size and 10000 mAh, the Presto 10000mAh is not built to provide you an entire weekend's worth of full charge runs, but it is capable enough for mainstream usage to keep your devices charged for the day.
Equipped with Qualcomm's Quick Charge 3.0, the Presto 10000mAh is able to charge most devices that support fast charging in a speedy amount of time. What is notable about the power bank is that the Presto has FCP charging, a feature unique to Huawei and Honor devices. A little history on FCP charging – although most devices nowadays can support fast charging, it does not all work entirely the same as the technology used may be different. With Huawei, their fast-charging technology comes in the form of their proprietary Fast Charging Protocol (FCP), which not all power banks may support. Fortunately, the Presto 10000mAh supports this feature in its Qualcomm Quick Charge 3.0 USB port.
In terms of charging performance, the Presto 10000mAh's charging speed is quite efficient. For Qualcomm Quick Charge, it was tested by charging a Samsung Note 4 from 15% to full in a matter of 2 hours with the green USB port. The noticeable part was that there were 2 lights left on the power bank, which shows that it can perform around 2 to 3 full charge runs for most devices until it needs to be recharged itself. With the Note 4's battery capacity of 3220mAh, newer smartphones should still net in around the same amount of charge runs.
On the other hand, the FCP Charging was tested on an Honor View 10, where the Presto 10000mAh provided 32% of charge over a period of 39 minutes. This shows just how efficient FCP charging can be from the Presto 10000mAh.
Dual enhanced USB charging ports
The Qualcomm Quick Charge 3.0 lies in the green USB port. Although it is meant for devices with quick charge capability, the FCP charging capability shares the same port and allows it to support devices from Huawei as well as Honor.
Another interesting feature about the Presto 10000mAh lies in the other USB port it has, which supports VoltiQ technology. Essentially, the VoltiQ port works by detecting the connected device's power capacity and adjusts accordingly the amount of charge provided to maximize charging speed without damaging the battery. This port is good in the sense that it provides quick charging to devices that are not Quick Charge-enabled.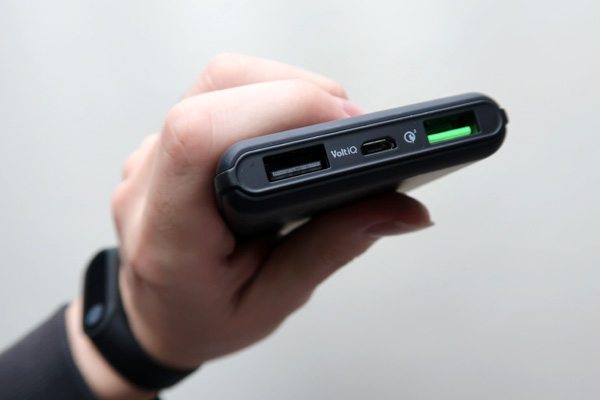 Loaded with protection
On the box, the Presto 10000mAh is described as having multiple forms of protection to allow for safe usage. Over voltage protection, over current protection, short circuit protection, and over temperature protection should provide a peace of mind to users who concerned over the safety of using power banks.
Verdict
A small power bank that packs a decent punch, the Tronsmart Presto is a good choice for those needing a conveniently-sized power bank with fast-charging capabilities. The Presto's smooth design and nice feel is an added aesthetic bonus to top off its function. With not many power banks providing FCP charging and Quick Charge 3.0, the Tronsmart Presto 10000mAh is highly recommended, especially for Huawei smartphone users, to re-energize their devices on the go.
Visit the official Tronsmart store on Lazada and 11street for the best deal on Tronsmart Presto 10000mAh Portable Charger.