Malaysia (15 August 2017) — Kingston, the independent world leader in memory products, has added 4GB and 8GB capacity sizes to its family of DataTraveler 2000® encrypted USB Flash drives. The smaller capacities join the existing 16GB, 32GB and 64GB models, and are all FIPS-197 certified. All DataTraveler 2000 drives offer 256-bit AES hardware-based encryption and PIN protection with access through an onboard alphanumeric keypad.
DataTraveler 2000 drives are designed for global security IT professionals, small-to-medium businesses and corporate end users who require data protection in a USB. As the drives are OS independent (compatible with any device with a USB 2.0 or USB 3.1 Gen 1 port), they are easily deployable in work environments where multiple devices and operating systems are in use. Each drive is protected with 256-bit AES hardware-based encryption and no software or hardware drivers are needed.
"Lower capacity drives limit the amount of data that can be copied off a network, making it more difficult for large amounts of sensitive data to be transferred to unauthorized parties in the event the drive gets lost or falls into the wrong hands," said Kingston. "Since most data leaks are the result of employees or others who have authorized access to an organization's network, the less data that can be copied, the less that can be leaked."
DataTraveler 2000 features an alphanumeric keypad which allows users to lock the drive with a word or number combination for easy-to-use PIN protection. A full-drive reset (whereby the existing data is deleted and a new password is required) occurs after 10 invalid login attempts to lessen a brute force intrusion. For additional security, an auto-lock feature is activated when the drive is removed from the host device even if not properly shut down before ejection.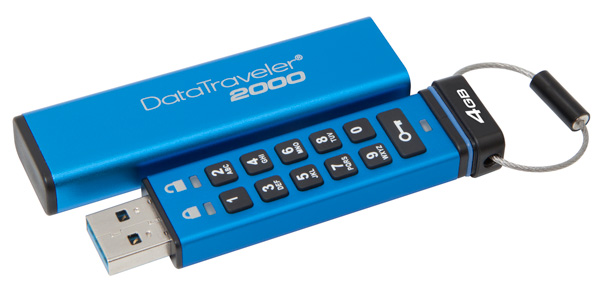 Kingston – A Drive to Suit Everyone's Needs
With the addition of 4GB and 8GB capacity sizes to the DataTraveler 2000 line, Kingston has a broad range of solutions designed for the highest levels of government use to enterprises and organizations of all sizes:
IronKey™ S1000 (Standard or Managed) – the ultimate security encrypted USB Flash drive – is designed specifically to meet the strictest standards and most demanding data-protection needs of sensitive military, government and enterprise information. Capacities: 4GB, 8GB, 16GB, 32GB, 64GB, 128GB
IronKey D300 (Standard or Managed) – includes an advanced level of encryption and tamper-evident security that builds on the features that made IronKey well-respected in safeguarding sensitive information. Capacities: 4GB, 8GB, 16GB, 32GB, 64GB, 128GB
DataTraveler 4000G2 (Management ready) – offers affordable business-grade securityto safeguard 100-percent of confidential data. Capacities: 4GB, 8GB, 16GB, 32GB, 64GB
DataTraveler Vault Privacy (Standard or Managed) – provides affordable business-grade security, protecting 100-percent of data stored; also available with optional and anti-virus. Capacities: 4GB, 8GB, 16GB, 32GB, 64GB