Kuala Lumpur (24 August 2017) — NAZA Italia, official importer and distributor of the Ferrari brand in Malaysia, has unveiled the Ferrari 812 Superfast in an event held at Zebra Square Kuala Lumpur today. The Ferrari 812 Superfast is the brand's newest supercar in a long line of front-engined V12s and was first launched at the International Premiere at the Geneva International Motor Show in March of this year.
Present at the Ferrari 812 Superfast media premiere in Kuala Lumpur were Datuk Wira Hj SM Faisal Tan Sri SM Nasimuddin, Group Executive Chairman of NAZA World Group of Companies and Mr. Dieter Knechtel, CEO of Ferrari Far and Middle East Hub.
"Ferrari has once again pushed the boundaries of its own achievements with the exceptionally futuristic 812 Superfast, the most powerful and fastest road-going Ferrari in the marque's 70-year history. Naza Italia is thrilled to present this unique model for the first time in Malaysia, for we consistently strive to provide our discerning clientele with a varied and exclusive product line-up, all the while infusing passion into the 360 degree Ferrari customer experience," said Datuk Wira Hj SM Faisal Tan Sri SM Nasimuddin, Group Executive Chairman of NAZA World Group of Companies.
The Ferrari 812 Superfast opens a whole new chapter in Ferrari V12 engine history and marks the 70th anniversary since Ferrari released its first Cavallino Rampante sports car, the 125 S, in 1947. Ferrari remains to this day the only manufacturer to have continuously produced sports cars with 12-cylinder engines throughout that time.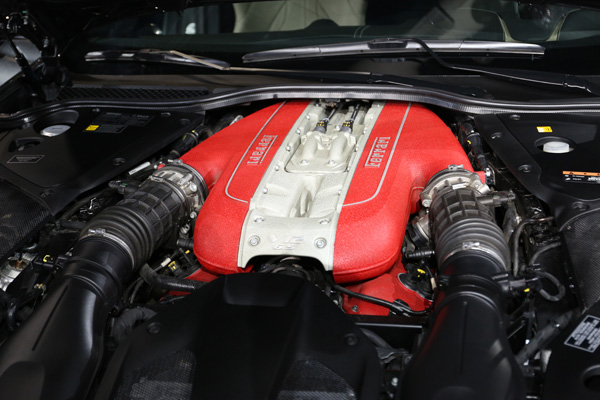 This highly acclaimed car is striking for both its highly innovative design and aero package, as well as its unparalleled handling. The Ferrari 812 Superfast has been developed for clients demanding the most powerful and exclusive Ferrari in the lineup: an all-round sports car that promises fluid handling, will deliver exhilarating feedback both on road and track and does not compromise on comfort – something customers will appreciate on longer journeys.
This mighty supercar ushers in a new era in Ferrari 12-cylinder history. Powered by a new 6.5-litre V12 engine that unleashes 800 cv, the Ferrari 812 Superfast is the new benchmark in the front mid-engine sports car segment, achieving maximum power output at 8,500 rpm, which translates to a specific power output of 123 cv/l. These figures have never been delivered by any previous front mid-engine car and they ensure the kind of thrilling top-end performance that is the exclusive characteristic of Ferrari's V12 race-proven heritage. The engine's power is underscored by a full, rich exhaust sound that exploits the acoustic clout delivered by its increased displacement. The maximum torque is [email protected],000 rpm, a significant 80% of which is already available at 3,500 rpm, improving both drivability and pick-up even at low revs.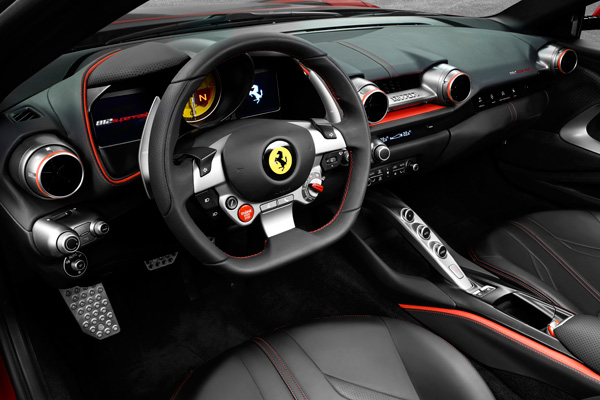 The Ferrari 812 Superfast is equipped with leading-edge control systems and components: It is the first Ferrari to adopt Electric Power Steering (EPS) with the aim of fully exploiting the potential of the car's outstanding performance in accordance with Ferrari's tradition. The vehicle also sees the introduction of the Virtual Short Wheelbase 2.0 system (PCV), which combines electric front-wheel steering assistance with the mechanical concept built around tyre dimensions and the rear-wheel steering. These systems are integrated with the vehicle dynamics control system based on the latest 5.0 version of Side Slip Control (SSC), intended to improve the agility, nimbleness of handling and reduce the vehicle response times.
Seamlessly integrating style and aerodynamic function to produce innovative technology and forms is the important theme common to all Ferraris. The Ferrari 812 Superfast has achieved this by two approaches: the multi-functional frontal section, which incorporates a cluster of aerodynamic solutions including active flaps at the front of the underbody, and the rear flank which features an unprecedented aerodynamic bypass to increase downforce. Compared with the F12, the downforce of the new model has increased 10% and its downforce at the rear fender duct has risen 8%, significantly improving the performance and driving pleasure.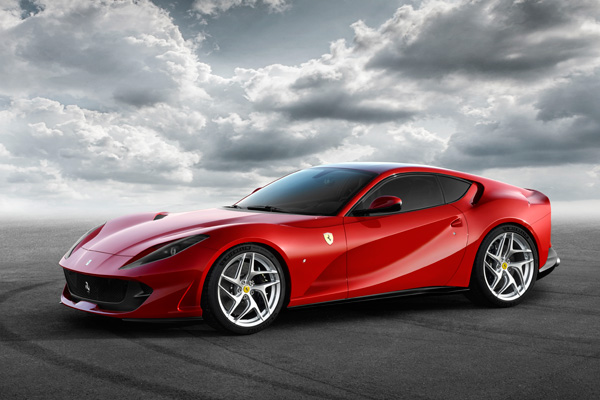 The interior of the Ferrari 812 Superfast has been completely redesigned. The cabin has a sportier, more advanced look with the main components seeming to float. The horizontal dash loops stylishly around the central air vents for a sophisticated, sculptural impression. The new seats are designed to be sportier and more ergonomic, alongside of which a new steering wheel, instrument clusters, the latest infotainment, and air-conditioning units are placed in accordance with the new HMI standards.
A new colour has been developed for this model, ROSSO SETTANTANNI, which commemorates the company's 70th anniversary.
Ferrari's latest supercar is being introduced at the base price of RM1,578,800.00 (excluding duty and customization options).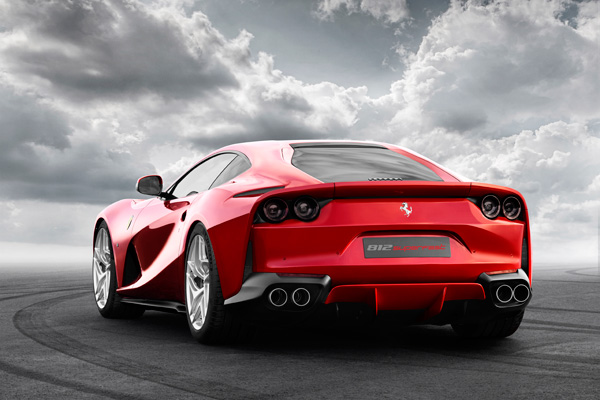 The Ferrari 812 Superfast – Technical Specifications
Engine Type                                           V12 – 65°
Total displacement                               6,496 cc
Bore and stroke                                     94mm x 78mm
Maximum power output*                    588kW (800cv) at 8,500rpm
Maximum torque                                  718Nm at 7,000rpm
Maximum revs (limiter)                       8,900rpm
Compression ratio                                 13.64 : 1
Dimensions and weight
Length                                                  4,657mm
Width                                                   1,971mm
Height                                                  1,276mm
Wheelbase                                           2,720mm
Front track                                          1,672mm
Rear track                                            1,645mm
Kerb weight**                                     1,630kg
Dry weight**                                       1,525kg
Weight distribution                           47% front – 53% rear
Fuel tank capacity                              92 l
Tyres and wheels
Front                                                   75/35 ZR20; 10" J x 20"
Rear                                                     15/35 ZR20; 11.5" J x 20"
Brakes
Front                                                   398mm x 38mm
Rear                                                     360mm x 32mm
Transmission and gearbox
4WS/ 7-speed, F1 DCT/ E-Diff3
Electronic and mechanical controls
SSC5/CST with F1-Trac, ESP 9.1 premium with high performance ABS/EBD, dual-coil SCM-E
Performance
Maximum speed                                  340km/h
0-100 km/h                                          2.9 sec
0-200 km/h                                         7.9 sec
Braking distance 100-0 km/h              32m
Dry weight power ratio                        1.9 kg
Fuel consumption and CO2 emissions ***
Fuel consumption                                 14,9 l/100km
Emissions                                               340g CO2/km
*Engine power is expressed in kW and in CV, as defined under the International System of Units (SI). 98 RON (Research Octane Number) fuel is used.
** With optional content
***ECE+EUDC combined cycle with HELE system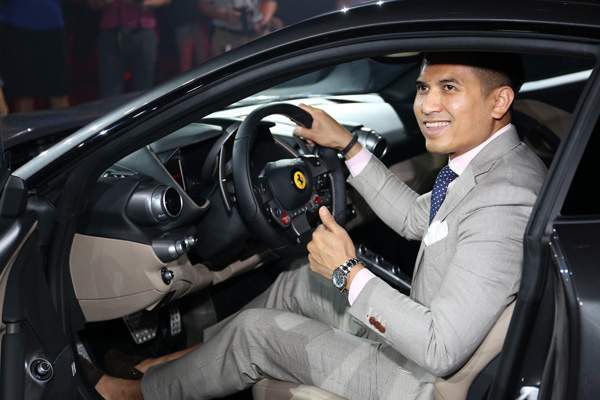 More exciting information about Ferrari Malaysia may be obtained at www.facebook.com/ferrarimalaysia.nazaitalia. Follow @ferrari.malaysia on Instagram for the latest updates and offerings of Ferrari and NAZA Italia.