Kuala Lumpur (25 April 2017) — Advertising agency Grey Malaysia in partnership with UNHCR, the UN Refugee Agency, today launched "Finding Home" – a revolutionary smartphone application that allows users to experience a refugee's journey of survival through an interactive experience.
The application aims to increase awareness and empathy among the public on the refugee issue, through the story of a Rohingya refugee child as she is forced to flee her homeland. "Finding Home" follows the life of a fictional 16 year-old Rohingya girl, Kathijah, and her struggle to survive as a refugee in exile in a new and foreign country.
When launched, the application effectively 'takes over' a user's phone, and recreates the OS of a smartphone belonging to Kathijah. Users will find themselves immersed in the real time experience of being a refugee, through the medium of text messages, video calls, and picture gallery.
There are some 150,000 refugees in Malaysia. The majority of refugees are from Myanmar, of whom 56,000 are ethnic Rohingya.
Some 35,144 are children below the age of 18, and many experience the kind of story being told through the Application.
"The refugee story is often a deeply personal one, and difficult for people to understand. It is easy to forget that behind the statistics and the politics of any refugee crisis, are individual human beings with real stories of pain and fear, but also of hope and strength," said Richard Towle, UNHCR Representative.
We hope that this application will allow a viewer to walk a mile in a refugee's shoes in order to understand what they go through every day in order to find safety."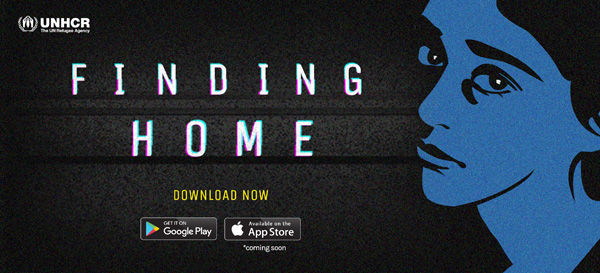 "Finding Home" was constructed from a series of interviews with many refugee youths and adults in Malaysia to provide as real an insight as possible into the everyday challenges faced by refugees.
The application was conceived and built by Grey Malaysia.
"The refugee crisis is everywhere, yet we are inevitably desensitized to it as it has been going on so long," said Graham Drew, ECD Grey Malaysia.
"By using the familiar functions your smartphone as a storytelling device, the experience becomes uniquely personal and more impactful as a result.  Making a very important story accessible to a whole new audience."
Imbedded within the app are links directly to the UNHCR website where users can directly donate, apply to volunteer and find out more about the refugee situation.
Finding Home is available now free for download from the Google PlayStore and coming very soon to the Apple App Store.