Kuala Lumpur (20 April 2017) — Acer Malaysia today extends its market leadership in Chromebooks with the unveiling of a series of Chrome devices comprising Chromebooks from 11 inches to 14 inches and Chromeboxes in an array of forms and specifications to meet critical and demanding requirements of organisations from education to enterprise.
Acer Sales & Services Sdn Bhd General Manager of Products, Sales and Marketing, Chan Weng Hong said, "Acer has always been at the forefront of technology, bringing the latest solutions to users worldwide. This includes being the first to introduce a Chromebook back in May 2011, the first to launch Google Play in a Chrome device in Quarter 4 in 2016 and the first to make available Military Grade Durability Performance Chromebooks for Work. Such constant innovation has enabled Acer to offer the largest portfolio of Chrome devices, resulting in Acer leading the rapidly growing worldwide Chromebook market in 2016 with a 28% market share and saw year-on-year (YoY) growth of 33%, marking three consecutive years of leadership in this segment since 2014."
Head of Sales, Google Cloud, South East Asia, Inam Hussain said, "Google added the world's best mobile apps from Google Play store into Chrome devices in late 2016, including the Acer Chromebook R11. We are excited that Acer is bringing their series of Chromebooks and Chromeboxes which are built from the ground up to be secure, easy to use and run faster over time into Malaysia. Moving forward, we are hoping to see more in-depth collaborations between Google and Acer."
Acer Chromebook R 11 738T – The Award-Winning Chromebook for Versatile Experience; the First Chromebook to Support Google Play Apps
The Acer Chromebook R 11 C738T is designed for users who are eager to explore and try out different options, but still have the need to access the keyboard for efficient input experience. Based on the secure and easy-to-use Chrome OS, the Acer Chromebook R 11 C738T is equipped with Acer's patented 360-degree dual-torque hinge design, offering easy one-handed conversion and a wobble free touch experience, as well as versatile user experiences. The dual-torque hinge keeps the display secure and stable during touch control and while switching between four usage modes: laptop, pad, display, and tent modes. When switching modes, the audio channels automatically reverse when the display is flipped over to offer an immersive audio and visual experience wherever the user moves.
Extending this award winning design, Acer has incorporated Google Play Apps with over 2 million great applications that users like while allowing Google Admin Console to manage the devices and apps seamlessly in a single cloud interface. It is the first time that two great platforms are merged, complementing each other both online and offline perfectly in an excellently crafted convertible laptop.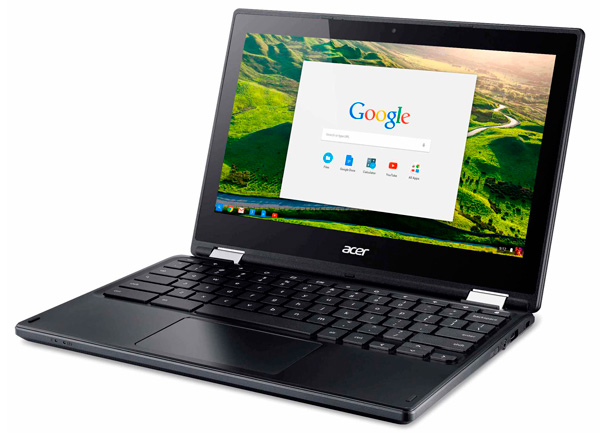 At just 19.2mm thin and weighing less than a mere 1.25kg, this stylish laptop is designed to slip into the bag easily. The premium aluminum top cover is imprinted using Acer nano-imprint technology for a unique textured metallic finish. The nano-imprint technology offers greater and richer patterning possibilities while consuming less energy and production time compared to traditional anodizing, leading to a more environmentally friendly production process. This sophisticated texturing also helps users in gripping the laptop firmly.
Equipped with the latest MIMO 802.11ac wireless technology, this Chromebook boasts super-fast wireless connection speeds and longer signal ranges. It also outperforms most other Chromebooks with its Intel® Celeron® quad-core processor N3160 based on Braswell micro-architecture, enabling it to support a super-fast USB 3.0 port.
A winner of Taiwan Excellence 2016 Award, the Chromebook R 11 C738T's built-in web cam supports High Dynamic Range imaging which enables clearer photos and brighter Google Hangouts video conferencing experience.
Priced at RM1,499.00, the Acer Chromebook R 11 is available immediately at select authorized Acer resellers nationwide.
Acer Chromebook for Work 14 CP5-471 – The Business-Class Chromebook with Great Design and Military Grade Certification
Running on Intel® Core i5-6200U based on Skylake-U micro-architecture, the Acer Chromebook 14 for Work (CP5-471) is designed for better application performance, intense graphics performance and battery life improvement.
Tough and beautiful are two words that aptly describe the Chromebook 14 CP5-471; its top cover is encased in slim yet durable Corning® Gorilla® Glass 3, the first of its kind among Chromebooks. Meanwhile, the keyboard and touchpad are designed to resist 330 ml of liquid water spillage. In addition to these, it can withstand up to 60 kg of downward weight placed on the top cover and a drop from a height of up to 45 cm. Similar with the Chromebook 11, the Chromebook 14 CP5-471 is also compliant with the stringent US Military Standard MIL-STD 810G tests that ensure extreme reliability and durability for business and commercial environments.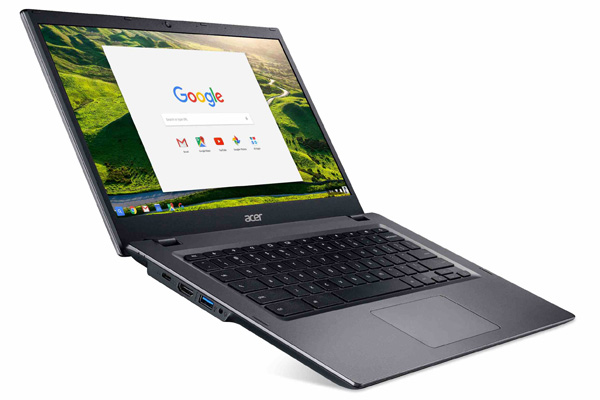 The Chromebook 14 CP5-471 fits a 14-inch display into the chassis of a 13-inch laptop, where a narrow bezel design leaves the user with an immersive viewing experience. Offering up to 12-hour battery life, the Chromebook allows for all-day business productivity while on the move.
In contrast with traditional laptops, the state-of-the-art CPU and solid-state drive allow the Acer Chromebook 14 CP5-471 operating system to boot up in less than 7 seconds and ensures a fast performance. In fact, the Acer Chromebook 14 is the fastest performing 14-inch Chromebook in the market.
Customers who purchase the Acer Chromebook 14 CP5-471 can enjoy a 3-year Next Business Day On-site Warranty. The device is priced at RM2,299.00, and is available at select authorized Acer resellers nationwide.
Acer Chromebook 11 N7 C731 – The Smart Solution for Students
With its unique spill-resistant design, the Acer Chromebook 11 N7 C731 is capable of funnelling up to 330 ml of spilled liquid to the drainage holes underneath the keyboard. This innovative feature provides protection and drains water away from internal components and out from the bottom of the chassis to provide peace-of-mind in the event of accidental liquid spillage.
The Chromebook 11 N7 C731 has been put through rigorous quality and reliability tests in accordance with the demanding U.S. Military Standard (MIL-STD 810G) . This military specification testing validates the ruggedness, durability and quality of the Chromebook 11 N7 C731, ensuring that student learning can continue uninterrupted regardless of the 'accidents' that happen. The laptop is able to resist up to 60 kg downward pressure on the top cover and a free drop from heights up to 122 cm. These features protect the Chromebook against external forces, making it a sturdy device which is powerful inside out.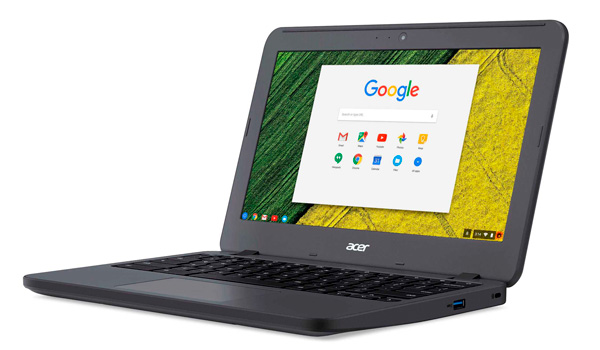 Measuring only 22mm thin and weighing just 1.35kg, the slim and portable Acer Chromebook 11 N7 C731 is ideal for use anywhere – at home, school and on-the-go. The laptop has a fan-less design that delivers cool and quiet operation, making it ideal for students in the classroom, library or laboratory.
Powered by Intel® Celeron® dual-core processor N3060 and equipped with the latest 2×2 MIMO 802.11ac wireless communication technology, the Chromebook 11 N7 C731 enables solid everyday computing and up to three times faster wireless performance respectively. With long battery power of up to 12 hours, all-day productivity and entertainment with just a single charge is the order of the day.
From presentations to movie watching, users will experience consistent colour and viewing experience from any perspective with the 11.6-inch wide viewing angle display. Moreover, the laptop's hinge is designed to open up to 180 degrees and can lay flat for sharing purposes such as during lab sessions.
The Acer Chromebook 11 N7 C731 is available in two variants – the C32C variant with 4GB of onboard DDR3L memory coupled with 32GB eMMC (embedded Multi-Media Controller) storage; and the C7UZ variant with 2GB of onboard DDR3L memory and 16GB eMMC storage. Priced at RM1,099.00 and RM999.00 respectively, both variants come with one-year International Travelers Warranty (ITW) and are available immediately at select authorized Acer resellers nationwide.
Acer Chromebox for Meeting CXV2 and Acer Chromebox CXI2 – Redefining Speed, Security & Simultaneousness
The Acer Chromebox CXV2 and CXI2 are equipped with easy-to-use, latest Chrome OS and are ideal for both business and education. Both Chromeboxes come with pre-installed web apps and over 30,000 additional apps, themes and extensions on the Chrome Web Store. The OS and apps are always up to date with automatic updates every six weeks.
The Chrome Remote Desktop allows users to remotely access another computer through a Chromebook. Users can access applications and files located on a Windows system and perform a disk optimization task from a Chromebook – making management and upkeep of devices easy for any organisation.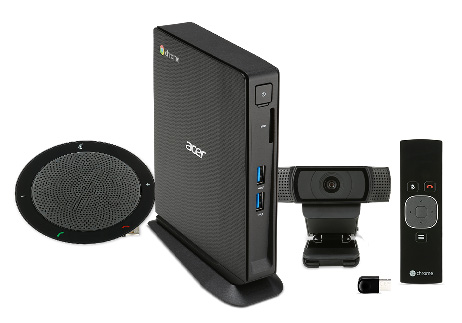 With eight-second fast boot up time, fast connection via dual-band wireless LAN and Gigabit Ethernet as well as fast data access with the USB 3.0 port, users can enjoy enhanced productivity without lag. The owners of Chromebox do not have to worry about the safety and privacy of their data as the built-in security and virus protection features ensure top level security. Besides, the Chromebox's TPM (Trusted Platform Module) chip securely generates and stores cryptographic keys, delivering an extra layer of security.
The Acer Chromebox for Meetings CXV2 also offers a complete, plug-and-go videoconference set with synchronised data all the time for great videoconference experience. The Chromebox for Meetings CXV2 allows users to conduct meetings with colleagues, customers and partners, with up to 15 participants at one go. Users can join the meetings from Browsers of Apps running ChromeOS, Windows, MacOS, iOS or Android easily. With just one click on the remote control, users can start the conversation, share screen, collaborate on documents, or even directly type text messages among others. To ensure the quality of the videoconference, clarity of sound and video is of utmost importance. The camera is equipped with a high definition Carl Zeiss® Full HD Wide Angle lens with fast auto-focus and automatic low-light correction, while the digital Microphone and Speaker system have wideband frequency response, built-in Digital Signal Processing (DSP) for speech clarity. The omni-directional microphone with noise filter with full Google certification brings the superior sound capability of the Chromebox for Meetings CXV2 to a new level of crispness.
Priced at RM4,599.00 and RM1,999.00 respectively, the Acer Chromebox for Meetings CXV2 and Acer Chromebox CXI2 are available immediately at select authorized Acer resellers nationwide.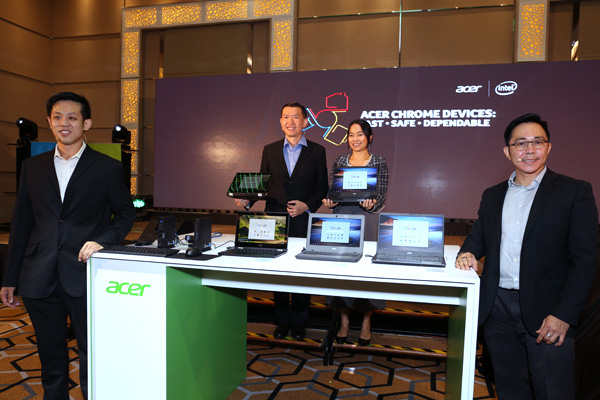 In conjunction with the launch, Acer is offering a zero percent interest lease to use program for all newly unveiled Acer Chrome devices. Starting at as low as RM42 per month, customers can start using the devices for a period of 24 months. Acer can buy back customers' old laptops or iPads to reduce up to 3 months of the lease payments. Terms and conditions apply.
For more information, please visit Acer Malaysia Facebook or call Acer's Product Infoline at 1800-88-1288 (9am – 6pm, Mondays to Fridays).