Malaysia (22 March 2017) — Spotify celebrates yet another exciting year in the Malaysia, with one in every four Malaysians with mobile internet access enjoying Spotify. Malaysians spend on average 148 minutes per day on Spotify; with over 2.9 billion song streamed in the past 12 months.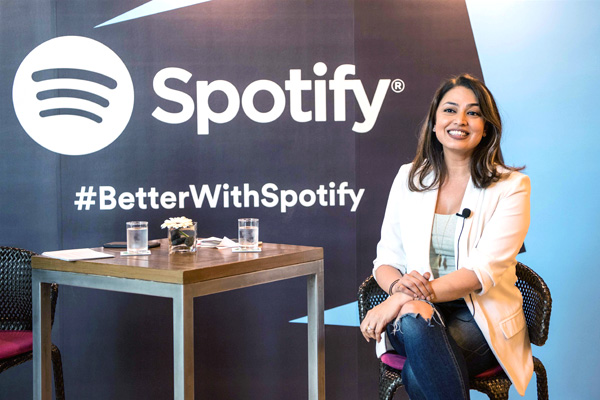 Some fun facts about Spotify in Malaysia:
1 in 4 people with internet access are streaming on Spotify
Over the past 12 months, Malaysians have streamed at least 7.5 billion minutes worth of music
Malaysians spend on average 148 minutes per day streaming on Spotify
Most streamed artists: The Chainsmokers, Ed Sheeran, The Weeknd
Most listened to album: Starboy, Shape of You, 24k Magic
Top streamed songs: Shape of You, Say You Won't Let Go, Paris
Peak stream timings happen between 4:00pm and 5:00pm
Most streamed genres: Pop, Hip Hop and EDM/Dance
GLOBAL BRAND, LOCAL TOUCH
Although a global brand, Spotify is committed to the local music scene. Spotify features the best local music from every genre, region and generation alongside music from all over the world; this is what makes us a favourite in Malaysia. From Rock Jiwang to Made in Malaysia to Good Morning Malaysia!, we celebrate the uniqueness of Malaysia.
As part of the localisation efforts and celebration, four creators from Malaysia have been included within the Early Noise 2017 playlist:
MOMENTS MATTER
Music is one of the few constants left in today's culturally shifting landscape. It's incredible ability to capture and express deeply personal emotions has brought people of diverse races, cultures, and backgrounds together in a way that no other phenomenon has ever been able to do. Music's powerful force certainly begs the question of why exactly people listen to it.
With the help of Mr. James Yeow, Deputy President of the Malaysian Society for Music in Medicine (MSMM) and Senior Lecturer at HELP University Psychology Department, we decided to look into the various timings and music choices Malaysian users make while streaming on Spotify.
According to Mr. Yeow, our body's auditory system is more than just a tool for listening. Music ignites all areas of our development, including our intellect, our emotions, and overall literacy. When we discover a new favourite song, our brain releases dopamine – the same dopamine that we get when we travel to a new place or eat new food.
Based on Spotify's internal data, majority of users in Malaysia hit play between 4pm to 5pm. But what really happens throughout the day? Here's a sneak peek into some key moments:
The Early Birds (5am to 9am)
In Malaysia, "Fun Workout" is the one of the more popular playlist in the morning. Our users love high intensity pop to kick start their morning routine. Other early bird favourites include, strong beats from "Good Morning Malaysia!" while "Morning Stroll" shows that not all who wake up early are in a rush to get about. Sometimes it's just about enjoying that hot cup of coffee or the sights around you.
The Busy Bees (9am to 12pm)
It is interesting to note that, the "Deep Focus" playlist is frequently streamed at this time. Whether as a means to begin the day or to stay focus at work, we see that concentration before lunch time is key! Malaysian users also love "Acoustic Favourites" and "It's a Hit", a wonderful mix of the hottest songs packed together to keep them company through the morning rush.
The Midday Zombies (12pm to 5pm)
It comes as no surprise that "Pop Waktu Kerja" and "Top Hits Malaysia" are popular playlists during these times, especially since they are perfect break time music for those in need of a little boost. Many also enjoy our "Light & Easy" playlist to breeze through their afternoons with light pop. One thing's for sure, pop music is the go to genre to counter afternoon sleepiness.
The Night Riders (6pm to 10pm)
The sun has set but the night is still young and buzzing. Malaysia users love to unwind with upbeat house tunes from our "Night Rider" playlist. On that upbeat note, Malaysians definitely know how to make the most out of their nights with "Rock Jiwang" and "Party Life". Whether it's a night out with friends or a chill night in, the mood is set right for a good night ahead.
The Dream Chasers (10pm to 1am)
According to Mr. Yeow, playlists such as "Sleep" and "Nature Noise" encourage deep sleep by turning our busy beta brain waves into anxiety-free alpha or dreamlike delta waves. Whilst, popular and sedative music around 60 beats per minutes found within the "Before Tidur" playlist is also a great way to elicit deep sleep. As these seem to be the prominent playlists during these hours, perhaps our users know this too?
Tell us, what is your favourite moment?
JOIN IN THE FUN
Malaysian music lovers can listen to over 30 million songs for free across mobile, desktop and tablet. Just head over to Spotify to download the app for free.
For those who wish to enjoy Spotify Premium for ad-free and offline music, here are some options to consider:
Sign up for the Maxis bundle pack at RM14.90
Enjoy zero rated dated through the DiGi Music Freedom package
Pay for Spotify Premium via Digi and Maxis (by using your reload) on Spotify.com
Purchase Spotify gift cards at 7-Eleven
For more information, please check out www.spotify.com/my.