Kuala Lumpur (29 March 2017) — The best running watch or GPS sports watch is a personal choice, and increasingly depends on the amount of detail you want from your workouts. Beyond just simple pace and distance information, the latest watches will feed back everything from heart rate data to detailed observations of your running style. In short, GPS watches have become an essential tool in the runner's arsenal.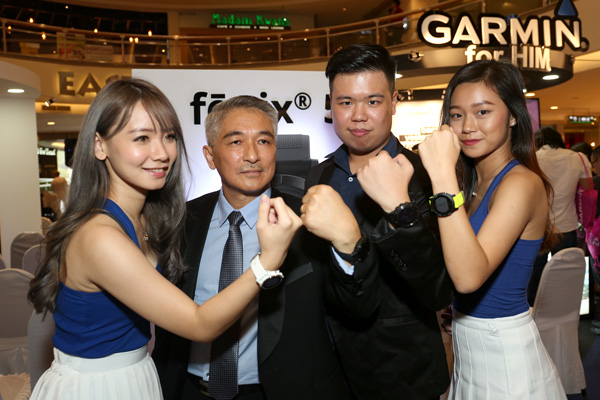 Garmin, a major player in wearable technology with its comprehensive line-up of fitness and outdoor GPS watches, today unleashed to members of the media at Mid Valley Megamall, the fēnix 5®; a new range of rugged and compact multisport GPS watches designed and created for adventurers, athletes, sport enthusiasts, and people who take performance seriously. A momentous evolution from its acclaimed predecessor, the fēnix 3; the fēnix 5 series comprises five (5) distinct models – fēnix 5, fēnix 5 Sapphire, fēnix 5S, fēnix 5S Sapphire, and fēnix 5X.
With size variations as its core attribute, the multiple models of the fēnix 5 series were crafted in varying sizes to fit every wrist and every workout. Across the board, the rugged design of the fēnix 5 series features stainless steel bezel, buttons and rear case; making them robust and visually attractive no matter the occasion. Each version offers a variety of stainless steel finishes, QuickFit™ watch band combinations, and a fistful of premium features; all set to give users the look, performance and lightweight comfort to match both their aesthetic and athletic interests.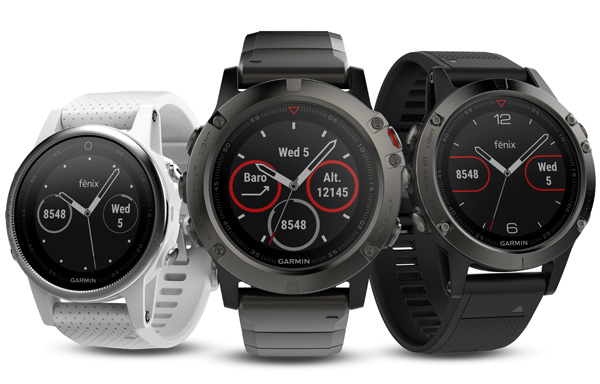 Without compromising any multisport features, the fēnix 5S was designed with size in mind – highlighting effeminate construction. Made lighter, sleeker, and more compact than the other models, the fēnix 5S, which measures at 42mm in diameter, is catered to female users preferring to done a watch that flatter their petite form. Both stylish and functional, the fēnix 5S is available in silver with white silicone band with a super solid mineral glass lens, whereas the fēnix 5S Sapphire is furnished with a scratch-resistant sapphire lens and is available in black with black band.
The beefiest of them all – the fēnix 5X, comes preloaded with topographic (TOPO) mapping, roundable cycling maps, and advanced navigation features such as Round Trip Run and Round Trip Ride, on top of the standard features. These features assist the user in planning out their running / cycling routes; that is by suggesting appropriate courses based on the user's input. To assure the user's safety whilst running or riding, the fēnix5X displays easy-to-read guidance cues for upcoming turns; giving the user the upper hand. Additionally, users can opt for the Around Me map mode, which conveys the different points of interest, waypoints and other objects within the user's range, thus increasing awareness of their surroundings. Accessibility is also made easy in the fēnix 5X, where users can configure the watch to see data overlays on mapping screens, and to see key information, all without having to switch screens during an activity. The fēnix 5X, measuring at 51mm in diameter, is available with a scratch-resistant sapphire lens.
In ensuring great readability under different conditions, the fēnix 5 series displays information on a bright, high-resolution, full-colour Garmin Chroma Display™ with LED backlighting. Reading the watch face under intense sun light is less obstructive, as transflective technology allows light to be reflected and transmitted accordingly.
Common to all Garmin watches, the fēnix 5 includes Garmin Elevate™ wrist heart rate technology which gives users around the clock heart rate monitoring, without the need of a chest strap. In addition to counting steps and monitoring sleep, the watch uses heart rate to provide calories burned information, and quantify the intensity of the user's fitness activities.

Providing accurate and frequent performance stats is at the core of what the fēnix 5 series can offer. Each model is packed with sophisticated training features to help monitor form and performance. Enhanced readouts for Training Status and Training Effect show aerobic and anaerobic benefits of a user's workout – providing results that users can compare with their peers. The VO2 max estimator, which is a measurement of the maximum volume of oxygen (in millilitres) a person can consume per minute per kilogram of body weight during maximum performance, crunches data, including running speed, beats per minute and heart rate variability, to estimate the maximum volume of oxygen consumable per minute. Other fitness metrics include recovery advisor with a recovery timer and recovery check, as well as a race predictor that estimates ideal finish time based on current VO2 max number.
There's also an option to pair the fēnix 5 with a compatible heart rate chest strap such as the Garmin HRM-Run™. This added feature provides metrics on vertical oscillation and ratio – the degree of 'bounce' in running motion and the benefit ratio to stride length; ground contact time and balance which shows how much time, in running motion, the foot is on the ground rather than in flight; and stress score, which is a measurement of the heart rate variability while standing still, for 3 minutes, to provide an estimated stress level scaled from 1 to 100, with lower scores indicating lower stress levels.
To enhance and improve running performance using the HRM-Run™, Garmin training features tap into extended physiological metrics and advanced running dynamics. The features include performance condition, where after a 6-20 minutes run, the fēnix 5 compares a user's real-time condition to his or her average fitness levels; lactate threshold, where the fēnix 5 estimates the point where muscles start to rapidly fatigue through analysis of pace and heart rate; cadence – number of steps per minute; and stride length.

The watches are not deemed multisport for nothing. Besides allowing users to go further with running and hiking data, the fēnix 5 series comes preloaded with full multisport toolset for swimming, skiing, golfing, paddle sports and many more. For swimmers, the device tracks distance, pace, stroke count and more. Ski / Board mode puts speed, distance, vertical drop and an automatic run counter (with Auto Pause for the lift line). The feature set for paddle sports includes stroke count, stroke rate and even distance per stroke. Golf mode gives user yardage to the front, back and middle of the green for any single course downloaded from Garmin Connect, and adds enhancements such as stat tracking, Green View, AutoShot detection and auto measure.
Staying true to its prowess in satellite navigation, Garmin gears the fēnix 5 with advanced GPS and GLONASS (Global Navigation Satellite System) satellite reception to support users with sufficient information for their tracking experience. Taking on challenging and uncommonly explored environments is now made more ratifying as with both receptions working together, great amount of coverage and more accurate tracking experience are ensured. All of the fēnix 5 models have a barometric altimeter, 3-axis compass, and gyroscope for measuring altitude and movement. The built-in altimeter provides elevation data to accurately monitor ascent and descent, while the barometer can be used to predict weather changes by showing short-term trends in air pressure. The 3-axis electronic compass helps maintain user's bearing. In addition, there's an internal gyroscope to help improve position accuracy (and battery life) in UltraTrac™ mode (power saver feature).
In signifying fashion suitability, the fēnix 5 includes QuickFit™ interchangeable bands; allowing users to switch from workout mode, to work mode, to leisure mode in an instant, all without breaking stride. Be it whilst working out at the gym, scaling a mountain, commuting to work, or having dinner at a function, users can mix and match styles with any activity amongst a collection of silicone, premium leather, and metal bands. Whatever the occasion, the fēnix 5 has it covered.
Built to withstand elements, each of the new fēnix 5 models is water rated to 100 meter. Depending on settings, the fēnix 5 can get up to two (2) weeks of battery life in smartwatch mode and twenty-four (24) hours in GPS mode. The fēnix 5X can get up to twelve (12) days of battery life in smartwatch mode and twenty (20) hours in GPS mode, while the fēnix 5S can last up to nine (9) days in smartwatch mode and up to thirteen (14) hours in GPS mode. To extend battery life even more, users can opt for the UltraTrac™ power saver mode.

To keep users connected, the fēnix 5 also features smart notifications. When paired with a compatible smartphone, users can receive emails, texts and alerts right on the watches. Sapphire models are Wi-fi® Enabled – allowing users to connect their watch to their home network for automatic uploads to Garmin Connect online fitness community. Other connected features include live tracking and social media sharing through Garmin Connect and Garmin Connect™ mobile applications. The fēnix 5 series watches can also be customisable with free downloads from Garmin Connect IQ store, and is compatible with the Face It app.
The fēnix 5 has also been named a CES 2017 Innovation Awards Honouree in the wearable technologies category. Products entered in this prestigious programme were judged by a preeminent panel of independent industrial designers, independent engineers, and members of the trade media in honouring outstanding design and engineering in cutting edge consumer electronics products across twenty-eight (28) categories.
Both the fēnix 5 and fēnix 5S will retail at RM 2,899.00, while the fēnix 5 Sapphire and fēnix 5S Sapphire will retail at RM 3,149.00. The fēnix 5X, which will be available in April 2017, will have a suggested retail price of RM 3,399.00. The fēnix 5 range and other Garmin products are sold at Garmin's headquarters (AECO Technologies), 43, Jalan Jejaka 2, Taman Maluri, Cheras; and concept stores around Malaysia, namely Mid Valley Megamall, Digital Mall Petaling Jaya, 1 Utama Shopping Centre, Taman Lagenda – Melaka, Juru Autocity – Penang, Bukit Indah – Johor, and Kuantan – Pahang. For more information about Garmin Malaysia and its range of offerings, visit www.garmin.com.my.