Putrajaya (9 November 2016) — Sharp-Roxy Sales & Service Company (M) Sdn Bhd (SRSSC) launched its new and exciting product line-up today at Le Meridien Hotel, Putrajaya.
The theme for this year's event was Innovate. Transform. Inspire. Through Sharp's unique "DNA of Creativity"- its never-ending pursuit and development of creative and innovative products, Sharp continues to transform the lives of people throughout the world for the better, inspiring them to lead happier, healthier and more productive lives.
An exciting innovation journey video took everyone down memory lane to re-live the amazing achievements that Sharp had achieved for over 100 years since its inception. The event was also enlivened by a sensational launch gambit that showcased Sharp's new products in dramatic fashion – using spectacular 3D animation.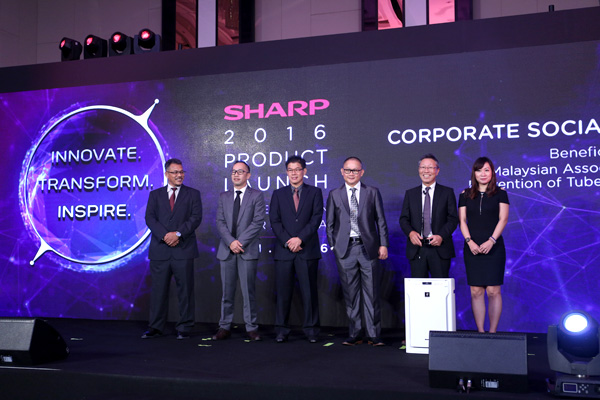 The VIPs who were present at the event included Mr Takaya Wakasumi (Managing Director, Sharp-Roxy Sales & Service Company (M) Sdn Bhd), Mr Tok Sang Man (General Manager of CEP Sales), Mr Lau Siong Giap (General Manager of CEP/ISP Marketing), Mr Abdul Hamid (Assistant General Manager of HE Marketing) and Mr Bobby Tan (Assistant General Manager of A-Force Team).
Strategic Alliance with Foxconn
Taiwan's Hon Hai Precision Industry Co., better known as Foxconn, has recently bought a majority stake in Sharp Corporation to form a strategic alliance between the two companies. This partnership is a positive and progressive step and is expected to accelerate Sharp's efforts for revitalization and growth in the industry.
"It is anticipated that this alliance will not only contribute to the expansion of Sharp's business, but also improve Sharp's financial standing, creating vast synergies and exciting opportunities for both companies," said Mr. Takaya Wakasumi.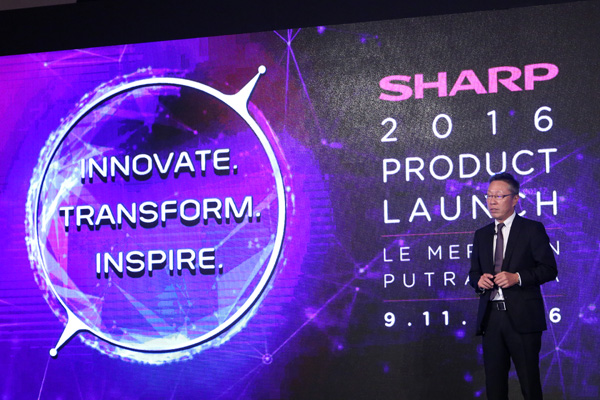 Sharp is well known for creating many "World's 1st" products that have revolutionized our everyday living as we know it – introducing great convenience and entertainment pleasure as never before. And its new products this year are no less impressive, as they truly Innovate. Transform. Inspire.
The highlights of the launch included the Sharp Ultrasonic Washer that can remove stubborn stains with its revolutionary 3-Step process and the 5-door Hikaru Refrigerator series, the largest capacity fridge in its category. Other shining stars in the line-up that were showcased were the AQUOS XU Series- the World's 1st 8K Resolution TV and the J-Tech Inverter Air-conditioner with the lowest GWP (Global Warming Potential) refrigerant in the market (R32).
DAB! TAP! GONE! Say Goodbye To Stubborn Stains
The new Sharp Ultrasonic Washer is able to remove all kinds of stains – from lipstick and makeup, tea and coffee, grease and blood to motor oil, ink, curry and wine stains – all at the press of a convenient button!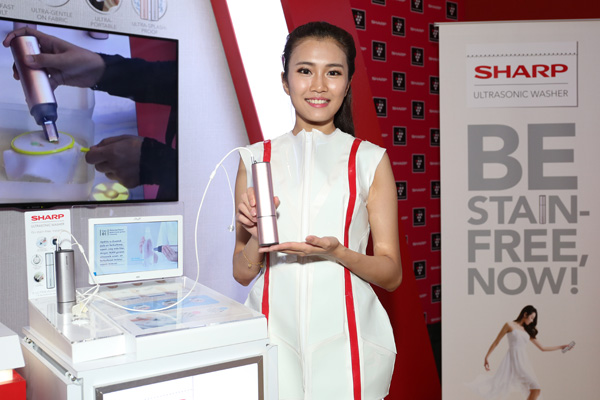 This portable, pocket-sized wonder generates 38,000 strokes per second to create powerful air bubble shockwaves. As the air bubbles get bigger and bigger, they eventually "collapse"- removing tough stains within one minute. It's as easy as 1, 2, 3- just DAB. TAP. And all stains will be GONE!
The new Sharp Ultrasonic Washer is also extra-gentle on your fabrics – no more tiring and frustrating rubbing, scrubbing or pre-soaking to get rid of stains.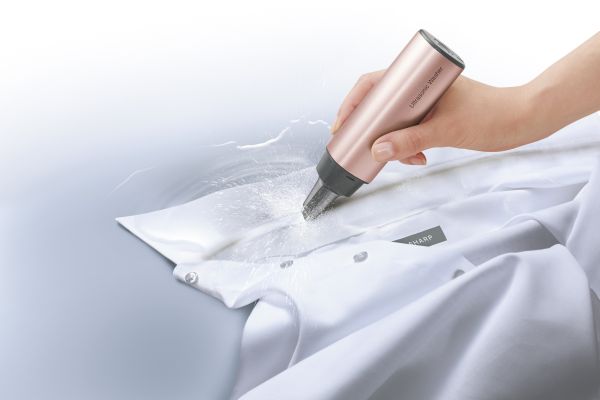 The Sharp Ultrasonic Washer is already available in the market and carries a Recommended Consumer Price (RCP) of RM499 inclusive of GST.
Big In Style! And An Even Bigger Capacity!
The new Sharp 5-door Hikaru French model Refrigerator is truly a luxury beyond imagination. It comes with 7 sensational features. First is its impressive size. It has the largest capacity in its category – i.e. 780L and 800L gross capacity for added convenience. More food can be stored in the fridge for longer, saving precious time, especially for working mothers who are constantly on-the-go and multi-tasking their various vital roles.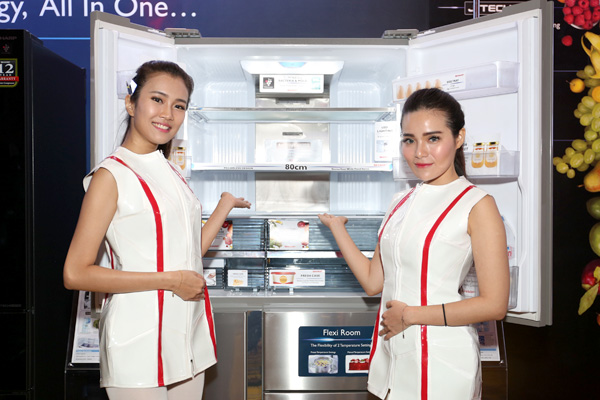 Next is its Pillar-Less Design which makes the fridge wider, more spacious and more sleek. Thirdly is its Bacteria-Busting Plasmacluster Ion Shower that keeps food fresher and longer. The new Sharp 5-door Hikaru Refrigerator also comes with a Multi-Temperature Room that designed for both refrigerator and freezer usage. Fifthly is its ActiFresh Hybrid Cooling function that ensures that freshness is preserved for longer. Next is its Karakuri Water Dispenser – a world's 1st feature and last but not least, the fridge has an in-built J-Tech Inverter that saves your electricity.
Hikaru Refrigerator Series will be available in market in December 2016. RCP for SJF886WGK is RM11,999, SJF876GK is RM9,999 and SJF866MS is RM8,999.
World's 1st 8K Resolution TV
This entertainment sensation uses Sharp's proprietary "Quattron™ technology" that delivers four times greater resolution compared to any other TV in the 4K category. Furthermore, it boasts the world's first 8K up-conversion processor which makes pictures incredibly life-like and real.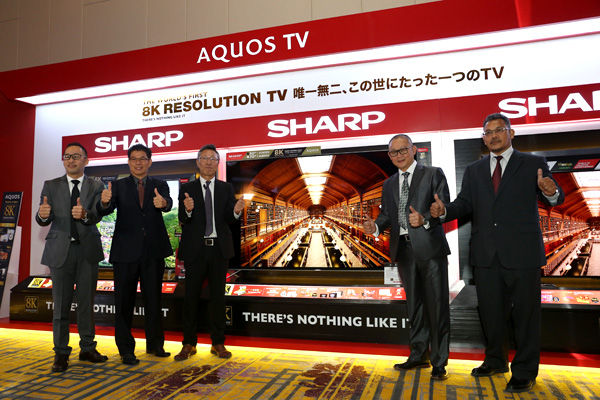 The TVs are available in two sizes, 80" and 70" and are equipped with Ultra Dynamic Range Pro. Besides the XU Series, Sharp has also brought back the 60" range of AQUOS LED TV- giving consumers even more superb choices- from basic 60" to Easy Smart to Android TV; Full HD to 4K UHD resolution. Sharp is also the only company in Malaysia to offer 7 Shields Protection and 1st Year All-Risk Insurance for all Sharp AQUOS TVs.

The Most Eco-Friendly Air-Conditioner To Date
Sharp's new UXD Series air-conditioner features the lowest GWP (Global Warming Potential) refrigerant in the market, proving once again, the company's deep concern for and commitment to helping to save our planet.
The UXD Series' other excellent features are its 65% Energy Savings, a J-Tech Inverter that provides strong cooling, a lowest-ever temperature setting in the market- at 14°C for an even cooler experience, and a new illuminating feature, for greater convenience – i.e. an LED light that indicates the operating mode and direction of the airflow.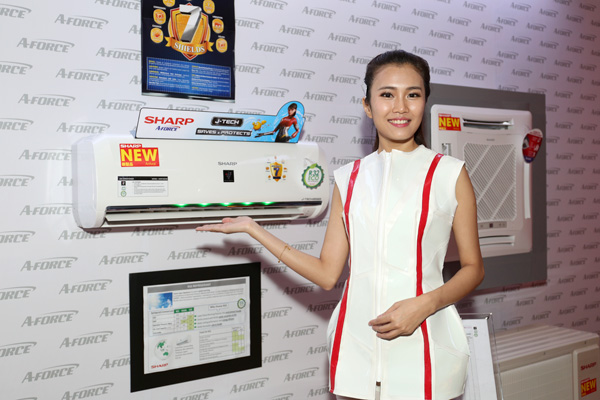 The UXD Series also features a Lock On Sensor that detects the direction of the remote and aims the cool wind accordingly, for better cooling comfort, and a SUPER JET MODE that cools the temperature to 5° within 5 minutes, which is 40% faster than Normal Mode. The mesh filter has been upgraded to one that is anti-microbial, for healthier, purer air.
Both AHXP10UXD and AHXP13UXD will be available on the market in December 2016 RCP at RM1,999 and RM2,599.
Plasmacluster Ion Technology – An Amazing Power To Beat TB!
Sharp Plasmacluster Ion Technology has been proven by research institutes worldwide, to effectively suppress the TB bacteria, along with 99% of infectious viruses, allergens, fungi, bacteria, odors and molds.
In the most recent finding through a cooperation with WHO Global Health Workforce Alliance National Center of Tuberculosis and Lung Disease in Tbilisi, Georgia, it has been effectively proven that the risk of Tuberculosis transmission among hospital healthcare workers and prevention of acquired drug resistance (ADR) among patients has been decreased using Plasmacluster technology.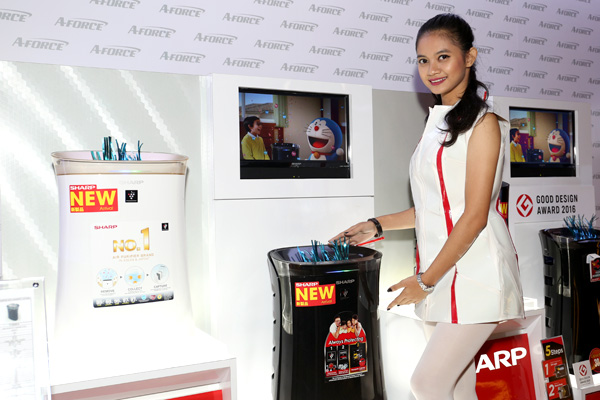 For this launch, Sharp introduced two new Air Purifier models FPG50LW & FPGM50LB which come with convenient features for greater peace of mind and comfort. These include automatic operation with a Dust and Odor Sensor, a 3-Step Air-Purifying System with Plasmacluster technology that removes, collects and captures dust and odour. And high-performance carbon filters that eliminate microscopic airborne dust particles, allergens and viruses, as well as unpleasant odours.
FPG50LW is available in the market on Nov'16 with RCP RM1089 and FPGM50LB will be on the market only in Dec'16 with RCP RM1299.
For more information on Sharp products, visit www.sharp.com.my.