Kuala Lumpur (7 September 2016) — ASUS today announced PCE-AC88, a dual-band 802.11ac Wi-Fi PCI Express® (PCIe®) adapter that instantly upgrades a desktop PC to the latest ultra-fast wireless standard.
PCE-AC88 is the first PCIe adapter to feature a 4×4 (4 transmit, 4 receive) MIMO design that delivers AC3100-class speeds of up to 2100Mbps on the 5GHz band and 1000Mbps on the 2.4GHz band.
For the best signal reception, PCE-AC88 includes a magnetic antenna base that allows flexible placement of the four detachable external antennas on any suitable surface.
PCE-AC88 allows PC users to take advantage of the latest high-speed 802.11ac routers, which offer wireless speeds that match or exceed wired Gigabit Ethernet networking speeds. When paired with a 4×4 802.11ac router, PCE-AC88 unleashes the full performance and coverage potential of the 4×4 MIMO technology, but it is also backward-compatible with all existing Wi-Fi standards.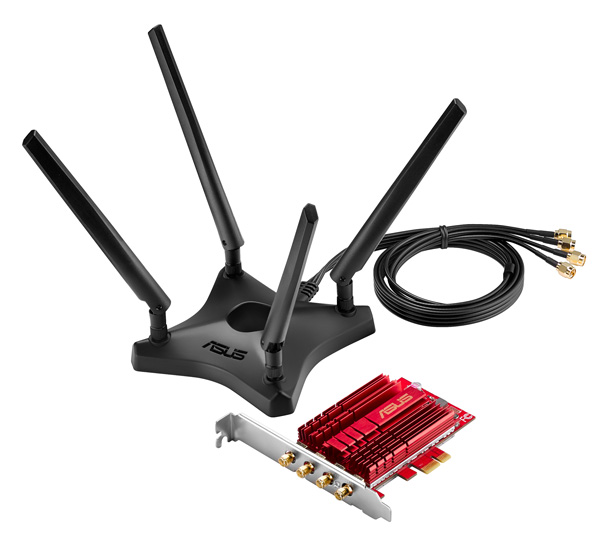 Ultra-fast 802.11ac Wi-Fi — on a desktop PC
The latest ultra-fast 4×4 802.11ac routers require compatible 4×4 Wi-Fi clients in order to unlock the full potential and speed of the 4×4 MIMO architecture. ASUS PCE-AC88 is the first 4×4 802.11ac PCIe adapter for desktop PCs, and uses NitroQAM™ (1024-QAM) technology to unleash full 4×4 data speeds of up to 2100Mbps on the 5GHz frequency band and up to 1000Mbps on the 2.4Ghz band — speeds that are up to 60% faster than a 3×3 802.11ac adapter. With these faster-than-wired speeds, users can upgrade their desktop PC instantly to enjoy the benefits of smooth streaming and latency-free online gaming.
4×4 MIMO design for wider range and more stable signals
ASUS PCE-AC88 is equipped with four external detachable antennas to provide wide coverage and stable signals. The antennas are attached to a convenient magnetic base for flexible placement that can be securely positioned horizontally or vertically on any suitable surface. With this flexibility, users do not need to relocate their desktop PC in order to optimize Wi-Fi reception.
In order to ensure non-stop operation even under the heaviest loads, PCE-AC88 features a custom heatsink design for optimum heat dissipation, resulting in improved stability and reliability.
Availability and Pricing