Shutterbugs are invited to take photographs of the splendor of da:mén during the Chinese New Year season and compete in the da:mén photography competition to stand a chance to win some amazing prizes. See contest submission details below. Contest ends 22 Feb 2016.
A list of festive activities has been lined-up by the mall and you can take advantage of this to create your competition images.
Location: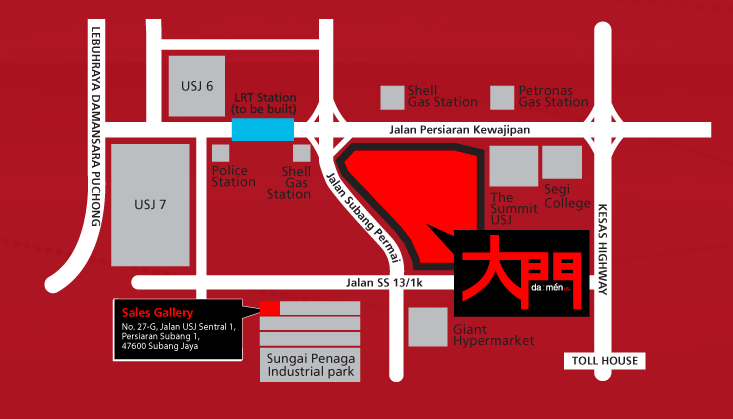 Activity Timetable:
Jan 23, 24, 25, 30, 31, Feb 6
Catch the God of Prosperity for a photo or be blessed with free mandarin oranges, fortune cookies, and sweets and Lucky Ang Pow.
Jan 30 – 31, 6pm – 11pm
Along Jln Kewajipan entrance, featuring 20 stalls selling all CNY paraphernalia, decorations, cookies, food, mandarin oranges, plants, etc. Activities & Performances: Chinese Diabolo show and workshop, Fortune Teller, Caligraphy Master, Face Changing, 3-pc Chinese Orchestra, Drum Troop, Calligraphy Demonstration, CNY Lucky Draw
Feb 13, 14, 21
Catch the Lions at da:mén this Chinese New Year!
Feb 20-21
Valentine's meet Chap Goh Mei with various couple activities.
Singles are invited to write their name and phone number on an 'orange' and throw into a pit. da:mén will match-make couples during Chap Goh Mei and treat them to a complimentary meal!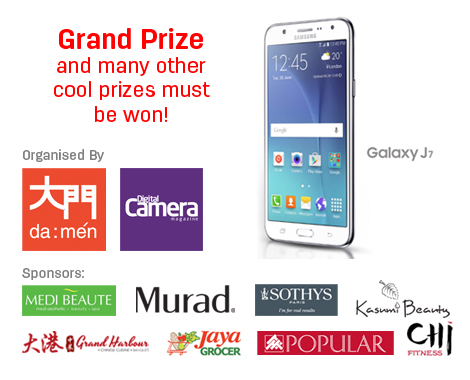 Special thanks to da:mén and participating sponsors for their generous prizes for the winners. Here are what cool prizes for the winners:
1 x Grand Prizes
Samsung Galaxy J7 Smart Phone
12 months Digital Camera Magazine Subscription
1st to 5th placing prizes
Medi Beaute Signature V-Life Treatment each
12 months Digital Camera Magazine Subscription
6th placing prizes
Murad's Beauty Package Worth RM488
12 months Digital Camera Magazine Subscription
7th placing prizes
Sothy's Signature Instant Radiance Treatment for Face & Eye Worth RM406
12 months Digital Camera Magazine Subscription
8th placing prizes
Kasumi Beauty's Prosperity CNY Bird's Nest Gift Box
12 months Digital Camera Magazine Subscription
9th – 10th placing prizes
RM300 Grand Harbour Exclusive Dining Voucher each
12 months Digital Camera Magazine Subscription
11th – 12th placing prizes
Jaya Grocer Prosperity Hamper each
6 months Digital Camera Magazine Subscription
13th placing prizes
RM250 Popular Bookstore Book Voucher and Free membership
6 months Digital Camera Magazine Subscription
10 x consolation prizes
CHI Fitness 1 week Exclusive VIP Pass each
6 months Digital Camera Magazine Subscription
—
** Photo Submission Guide **
1. Date for contest submission: Starts 30th Jan 2016 and ends on 22nd Feb 2016
2. Create an account at www.folio2u.com with all the necessary information and upload your photos there.
3. Please enter the title for each photo as : CNY at da:mén. The rest of the description and keywords to be mentioned accordingly.
4. File format : JPEG, min 3300 pixels, max 5000 pixels on the long side
5. Participants can submit multiple entries but only will be entitled to ONE prize.
6. Photos must be shot in the surrounding of da:mén mall (e.g., shops, activities, events, decorations, etc)
7. Judges will shortlist final images and these shortlist of final images will appear in da:mén Facebook Photography Competition Album.
8. Scoring are based on 50% Votes as "Likes" in da:mén Facebook's Photo Contest Album and 50% Votes by the Judges. Winners will tabulated base on combines scores from both Likes and Judges' final results.
9. Winners will be announced on 25th Feb 2016.
** Rules, Terms and Conditions **
1. Slight enhancements of the submitted images are allowed and restricted to adjustments of Curve, Levels, Sharpness, Colour Balance and Contrast. Monochrome conversion from colour images is allowed. White Balance changes from original shot setting in RAW are also allowed. No other digital alterations other than those mentioned are allowed for the submitted images. Cropping of images is allowed.
2. Copyright of all images belongs to the participating photographers. By participating in this contest, members will allow da:mén and Digital Camera Magazine/Velocity Media the rights to reproduce the winning images for publication and promotion purposes.
3. All participants must include their real names, contact numbers and emails along with their submissions.
4. This photo contest is open to all with a delivery address in Malaysia. Staff and immediate family members of the Organising Committee are not eligible to enter this contest.
5. Submitted JPEG images can be shot using a smartphone, digital Point-and-Shoot compact, digital prosumer, 4/3- and 35mm-based digital SLRs or medium format digital SLRs.
6. Prizes are not exchangeable for cash or transferable. Any prizes not claimed within one month from the date of the results announcement will be forfeited and no further claims thereafter will be entertained.
7. Decisions of the judges are final and no further correspondence will be entertained.
Winners' entries will later be exhibited at the mall.
Da:mén Chinese New Year Photography Competition