Kuala Lumpur (15 February 2016) — 11street (www.11street.my) today announced its latest collaboration with UITOX, the first ever largest online marketplace in Taiwan to introduce 200 élite brands from Taiwan along with around 150,000 products from Taiwanese sellers.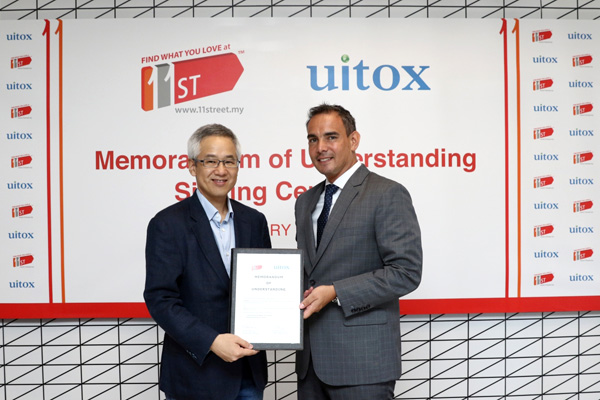 This partnership signifies the launch of TW Street, UITOX's official store on 11street, bringing popular fashion brands like OB Design, Pazzo, Toki Choi, and beauty brands such as 1028, Dr Wu, Forbelovedone, Dr Doruxi, and renowned Taiwanese food such as pineapple cake, Gong sugar, red bean water and more.
11street's chief executive officer, Hoseok Kim shared that based on observations, the demand for popular overseas products in Malaysia is increasing especially for cosmetics, accessories such as watches, clothing, electronic gadgets, jewelry and personal care goods, which is reflected in the country's import patterns and the growing needs by consumers.
According to MATRADE's report on top major imports for 2015, Malaysia's import just for textiles, clothing and footwear grew more than 60 percent from RM 8.48billion to RM 14.21billion compared over the same period of 2014.
He highlighted, "Partnering with UITOX, 11street is able to introduce more quality international products into the local market, serving as part our commitment to better fulfill Malaysian consumers' demands with a good mix of local and overseas products."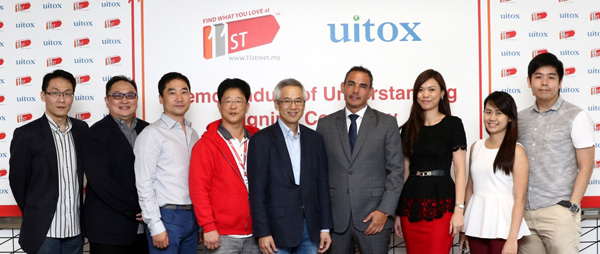 Today, 11street boasts more than five (5) million total product listings which includes a good variety of Cross Border Trading (CBT) products on the online marketplace platform. Majority of these CBT goods come from Korea, Hong Kong, Japan, and United States and the top 3 most purchased categories for CBT products are Health & Beauty, Fashion and Electronics items.
Robert van Lith, Regional Director of UITOX expressed that this collaboration with 11street marks the debut of UITOX into Malaysia which is greatly exciting! "UITOX thrives on its ambitions to challenge not only the domestic market in Taiwan, but also expand its landscape into the fast-growing e-commerce marketplace in Malaysia. We look forward to engaging with shoppers as we offer Malaysians a taste of popular brands from diverse countries."
UITOX was founded in Taiwan in October 2012 and has expanded to China, Singapore, Japan, Hong Kong, Indonesia, Malaysia, Thailand, Vietnam, Philippines, USA, Canada and Netherlands. The successful launch of TW Street in 11street will push UITOX into its second phase of development which will bring more cross border products from other countries. UITOX now has over 5,000 sellers on board with more than USD 224 million of annual gross merchandising value worldwide in 2015, with year-over-year growth of 193% from 2014.
In conjunction with its debut on 11street, the products under UITOX will be made available to Malaysian shoppers via various special promotions. Customers can now enjoy free international shipping storewide and a 50% discount on selected items starting from 15 February 2016 onwards. To find out more, please visit TW Street.
11street and UITOX together aim to not only support the increase of quality international brands stepping into the Malaysian market, but prides itself on offering shoppers the convenience of finding affordably priced brands and products that they love.
"We are thrilled to be partnering with UITOX to offer Malaysians more product variety to help them find what they love, whilst we enrich our product inventory on 11street. This partnership not only enhances our position as a credible partner for international brands, but enables UITOX to connect their sellers from Taiwan with Malaysian consumers that are looking for quality overseas items," Kim ended.