Kuala Lumpur (3 September 2015) — Samsung Malaysia Electronics today uncovered the all-new Samsung Galaxy Note5 and Galaxy S6 edge+ to the Malaysian market in a media launch event at Kuala Lumpur. Both devices represent Samsung's continuous commitment to the big screen smartphone market, which Samsung boldly pioneered in 2011 with the original Galaxy Note.
The Galaxy Note5 and Galaxy S6 edge+ blend form and function with industry leading features, including: the best screen technology, the most advanced camera for high quality photos and videos, the latest fast wireless and wired charging, and an incredibly powerful processor. With increased 4GB RAM, both smartphones offer the most powerful capacity and processing power on the market, enabling users to enjoy more seamless multi-tasking, keep up with messages, post updates to social networks faster, and enjoy graphic-heavy games without suffering lag time.
"Samsung is committed to developing meaningful innovation and technologies. We address needs and meet demands which allow us to unveil the future, today. As forerunners of the big screen smartphone market, Samsung continues its leadership and innovation with first-to-market technologies designed to create new mobile categories and influence culture more broadly. New services and solutions, such as the most advanced LTE technology (Cat.9) and embedded wireless charging, are helping us reinvent the way people use their mobile phones. As you can tell, our mission is pushing the edge to help our consumers stay ahead of the curve," said Lee Sang Hoon, President, Samsung Malaysia Electronics.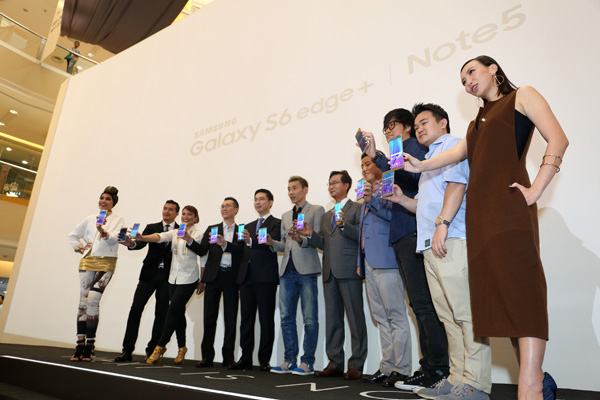 Galaxy Note5 Perfect for Multi-taskers
The Galaxy Note5 is a stunning upgrade to Samsung's flagship Galaxy Note line – more powerful and more personal than ever. Inspired by the design legacy of the Galaxy S6, it ergonomically fits in one hand with a narrower bezel and curved back. The flat screen is great to write on and the curved shape makes it easier to use the phone with one hand.
Engineered to help people get more done faster, the Galaxy Note5 includes all new S Pen that feels more solid and balanced in the user's hand, offering improved writing capabilities and a variety of practical tools. A unique clicking mechanism offers a joyful experience of popping the S Pen out with just one quick click. Users can now quickly jot down ideas or information when the screen is off without even unlocking the phone. 'Air Command' feature gets more intuitive and practical as well; now the icon hovers for instant access to all of S Pen tools from any screen at any time. Users can also annotate on PDF files and capture lengthy web articles or long images at once via 'Scroll capture.'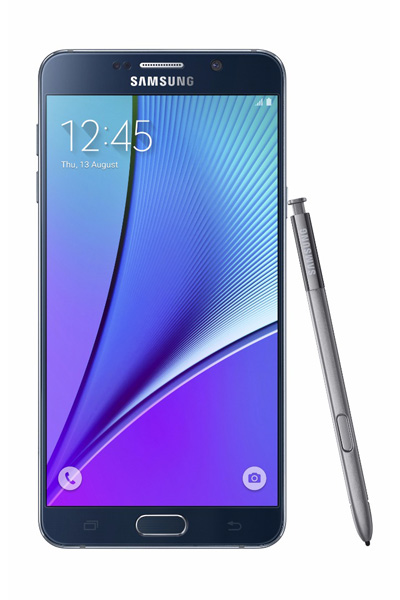 Galaxy S6 edge+ Best for Multimedia Experience
Samsung Galaxy S6 edge+ succeeded the unique and distinctive design of Galaxy S6 edge, and becomes even more elegant, understated, and finely crafted. It features the new 'Apps edge' for easy 2 access to favorite apps, and enhanced 'People edge' for easy communications with preferred contacts. 'Apps edge' allows users to access their favorite apps by just swiping the edge display. 'People edge' helps users to connect their close contacts easily. From the edge screen, users can quickly find their preset contacts and send message or give a call directly.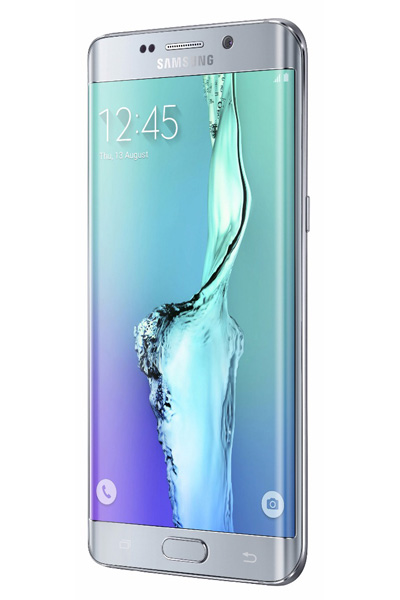 Powerful Core Galaxy Features
Both the Galaxy Note5 and S6 edge+ feature unprecedented multimedia capabilities with deeper screen contrast and details through Samsung's industry-leading 5.7-inch Quad HD Super AMOLED display. As social networking becomes more ubiquitous, consumers expect to share the moments of their lives through photos and video and Samsung is enabling that desire with improved video capabilities.
The Galaxy Note5 and S6 edge+ feature Samsung's fast wired and wireless charging technology and the embedded wireless charging technology is compatible with virtually any wireless pad available today. With wired charging, both devices can be fully charged in approximately 90 minutes, and through Samsung's latest wireless charger, they can be fully charged in approximately 120 minutes.
Samsung's newest devices are further upgraded to support SideSync, which offers both wireless and wired PC-smartphone integration for seamless connections across devices. Thanks to auto-detection and an ultra-quick setup, users can instantly connect their Samsung device to their PC or tablet for easy access to files and data across all platforms and operating systems.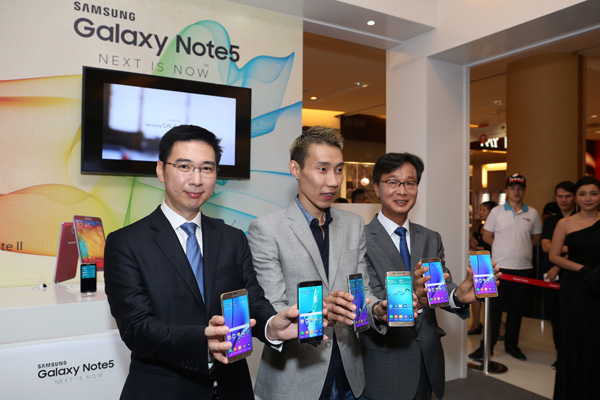 Pricing and Exclusive Promotion
The Galaxy Note5 is offered at the recommended retail price of RM2,699 (inclusive of 6% GST) in two colour options – Gold Platinum and White Pearl. The Galaxy S6 edge+ on the other hand, is offered at the recommended retail price of RM3,099 (inclusive of 6% GST) in two colour options – Gold Platinum and Black Sapphire. Both devices are available in a 32GB storage options from 4 th September 2015 onwards.
Samsung is also introducing a limited-time promotion campaign to celebrate the arrival of the Galaxy Note5 and Galaxy S6 edge+ with its fans and loyal users. The first 200 people in line to purchase a Samsung Galaxy Note5 at Samsung's Galaxy Note5 and Galaxy S6 edge+ roadshow events will be given a Golden Ticket that will allow them to purchase a second (2nd) unit at half the price.
Additionally, an exclusive trade-up campaign will commence on 4th September, where Samsung fans can trade in their old smartphones for a brand new Samsung Galaxy Note5. Fans will just need to bring their phone to the nearest Samsung authorised retail store for assessment (value depending on model) up to RM1,150), and receive a discount on the new Samsung Galaxy Note5 purchase.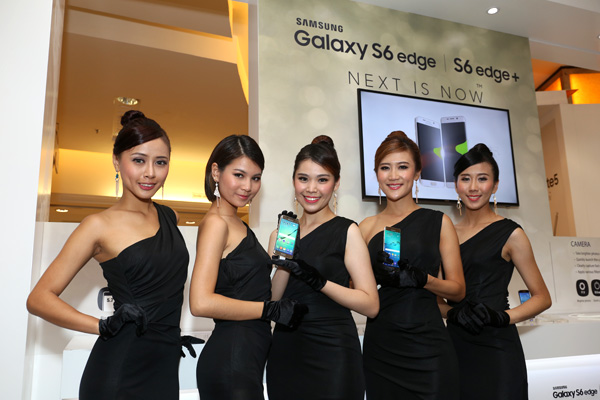 Under its free accessories campaign, Samsung is rewarding its fans with a FREE *11,300mAh battery pack and wireless charger (worth up to RM538) for every purchase of the Samsung Galaxy Note5 or Galaxy S6 edge+ during the roadshows.
For more product information, please visit www.samsung.com.my.