25 Aug 2015 Kuala Lumpur, Olympus launches second-generation OM-D E-M10 Mark II with best-in-class 5-Axis stabilisation.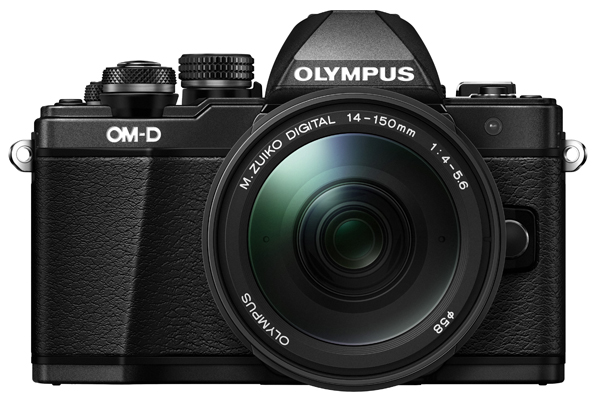 Olympus Imaging is pleased to announce the second generation of premium compact OM-D cameras, the E-M10 Mark II. This new model features Olympus renowned 5-Axis In-Built Image Stabilisation (IBIS), a high-clarity 2.36 mega-dot OLED viewfinder, advanced picture sharing functionality, and a modern-classic design. It is aimed at the first-time SLR owner, enthusiastic travellers, and families.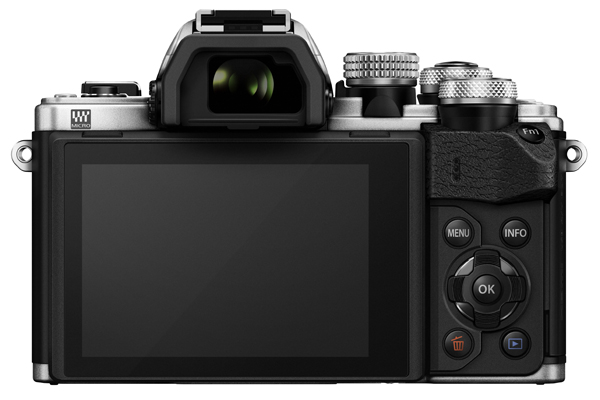 The E-M10 Mark II's 5-Axis IBIS lets you shoot with greater mobility and freedom than you can with other entry-tointermediate class interchangeable lens cameras. Its consummate effectiveness means consistently sharp, naturally-lit pictures taken sans tripod. It provides convenient handheld shooting flexibility for photography novices with a wide-range of subject interests. From wide-angle landscapes, portraits, social snapshots, travel movies, macro close-ups to exciting telephoto action sports, Olympus' advanced 5-Axis IS effectively counteracts camera shake to deliver brilliantly sharp handheld imaging results. It encourages compositional creativity as the superb anti-shake enables you to position or hold the camera much more freely than you can with other cameras. With the IS mechanism built into the camera body, every lens used with the new E-M10 Mark II automatically benefits from stabilisation, ensuring that your choice of lenses is truly fuss free.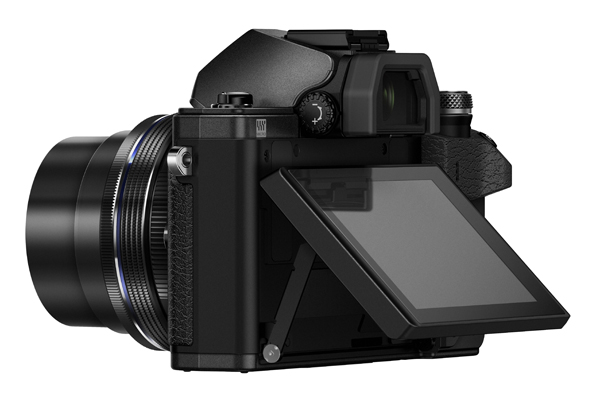 For eye-level framing, the E-M10 Mark II's uses a superb 2.36M dot OLED based digital viewfinder that shows you what the camera will capture in real time, with a 100% view of the scene. You are fully in control of the photographic process with live preview of exposure and camera settings; simplifying the learning of photographic concepts, and encouraging creative experimentation. The finder's advanced aspherical optics provide a distortion free 1.23x magnification, with an eye-glass comfortable 19.2mm viewpoint. A special 'simulated' optical viewfinder (S-OVF) setting mimicks the visual experience of the traditional SLR camera. Using HDR technology to enhance the live view dynamic range to provide a realistic optical viewfinder experience, S-OVF live view improves viewing visibility in backlit photography, and reintroduces the element of creative unpredictability inherent to SLRs. To further enhance the experience of using the viewfinder, the new innovative AF Targeting Pad allows the change of focus points by tracing your finger on the rear touchscreen, without having to move away from the viewfinder while composing a shot.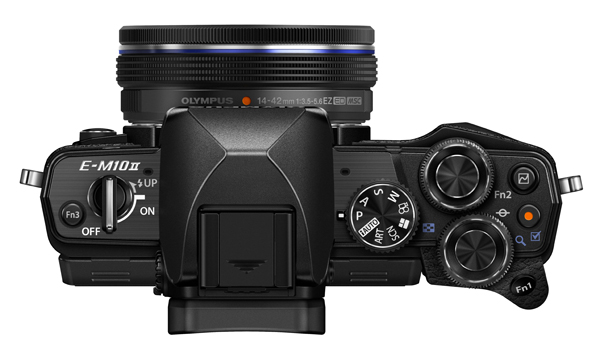 For high quality Full HD movie recording, Olympus' 'OM-D Movie' technology first introduced with the enthusiast EM5 Mark II model is incorporated into this new E-M10 Mark II. OM-D Movie combines high-performance mechanical and digital 5-Axis stabilisation to help you smoothly capture exceptional shake-free movies with the camera in hand. A special "CLIPS" recording mode lets you easily produce high quality short films using time limited, pre-planned video segments that can be conveniently combined within the camera.
The E-M10 Mark II is designed for to be socially well connected with its advanced smartphone integration. With the Olympus' OI. Share app (iOS & Android), you can wirelessly transfer pictures and videos from your camera to phone, and instantly post them to your favourite social groups. OI.Share provides the ability to attach picture geotags, as well as remotely control (with remote live view) the camera from a distance.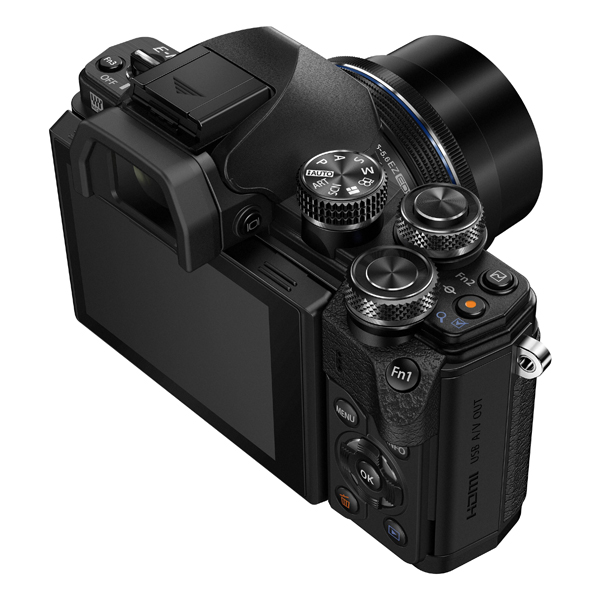 KEY FEATURES
1. Advanced 5-axis in-built image stabilisation
Image quality has been traditionally described as a function of the camera's lens, its image sensor, and the image processor. Olympus believes that in real world photography where the camera is largely used hand held by photographers, image stabilisation (IS) is the fourth variable in the image quality function. It is the camera component that lays the foundation for a camera system's total imaging performance potential. To provide an effective IS solution to the problem of camera shake on the E-M10 Mark II, Olympus has incorporated a 5-axis VCM image stabiliser into its premium compact E-M10 series for the first time. Powerful compensation of up to 4 steps of shutter speed*1 is now possible. In addition to the 2-axis image stabilisation that corrects for angular shake (yaw and pitch) on most SLR cameras, Olympus' 5-axis image stabilisation system additionally compensates for lens-axis roll movement common in handheld slow shutter speed night scene shooting, and horizontal and vertical shift camera movements endemic in handheld macro-range photography. OM-D Movie refers to the commercial grade video stabilisation first introduced with the enthusiast E-M5 Mark II model. This groundbreaking video stabilisation system combines 5-Axis mechanical IS with advanced digital IS to effectively counteract camera shake due to motion and handling movements; resulting in super smooth, super stable video footages. It's so effective that you can capture high quality shake-free video even when the camera is held one-handed.
2. High-speed performance that ensures you rarely miss important moments
The E-M10 Mark II is equipped with a Touch AF Shutter and FAST-AF for instant tap and shoot capability. A class-leading shooting time-lag and quick operational responsiveness ensures that you're able to easily capture split-second action. Its sequential shooting speed of 8.5 fps is a significant improvement over the original OM-D E-M10 model.
3. Large electronic viewfinder
The 2.36-million-dot OLED electronic viewfinder (EVF) makes it easy to frame your shots even in direct sunlight. It has a 100% field of view – a specification superior to the optical viewfinders found in most entry level SLR cameras. Advanced aspherical optics provide a native viewfinder magnification of 1.23x (35mm equivalent: 0.62x) with an eyepoint of 19.2mm; superior to the original E-M10. With an optical viewfinder (OVF) on an SLR camera, poorly light subjects can be hard to see especially when a slow taking lens is used. The E-M10 Mark II's electronic viewfinder provides a liveview of low-light scenes at an optimal brightness for easy framing. With always-on live preview, the EVF provides a true WYSIWYG photographic experience where you're in full control of exposure, white balance and creative settings. The E-M10 Mark II is the first OM-D model equipped with the AF Targeting Pad functionality: With your eye looking through the viewfinder, simply trace your thumb on the rear LCD touchscreen to select the desired focus point for enhanced precision and control over autofocus.
4. AF Targeting Pad
A new approach in changing the focusing points quickly while shooting has been introduced. While using the electronic viewfinder, without having to move the camera away from the photographer's view while framing the shot, the focusing points can be moved by tracing your finger on the rear touchscreen.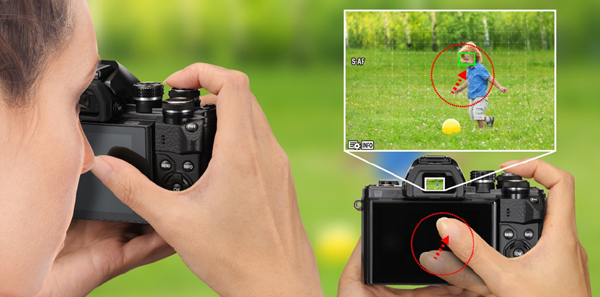 5. Creative shooting features
I) 14 Art Filters (with Art Effect variation)
Preview-able digital filters that instantly enhance stills and videos.
Pop Art, Soft Focus, Pale & Light colour, Light Tone, Grainy Film, Pin Hole, Diorama, Cross Process, Gentle Sepia, Dramatic Tone, Key Line, Watercolour, Vintage, Partial colour
II) Photo Story (5 patterns)
Combine multiple photos into templated photo montages OM-D E-M10 Mark II
III) Live Bulb and Live Time
Advanced long-exposure settings that show the progressive development of the image on the rear LCD during exposure. Useful for nightscenes.
IV) Live Composite
Advanced long exposure shooting mode. Live Composite combines multiple exposures of the same scene into one single image composite with automatic prevention of overexposure of the brighter parts of the scene. This special shooting mode vivid and beautifully captures light paintings (even in bright ambient light), makes star trail photography easy, and ensures that firework photos are captured with rich black skies.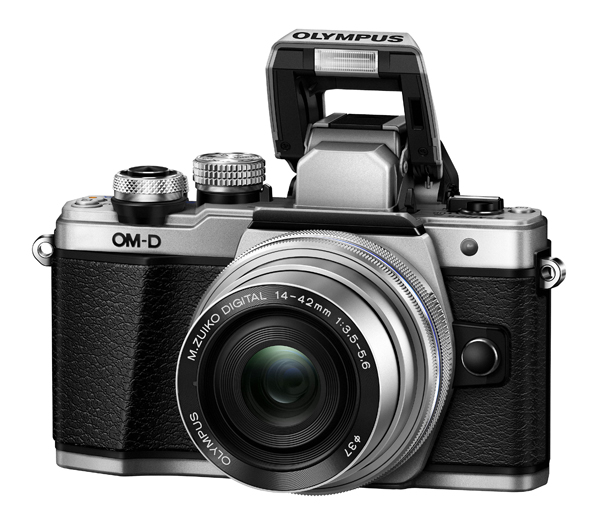 The E-M10 Mark II 14-42mm F3.5-5.6 EZ kit will be available in September 2015, while the E-M10 Mark II 14-150mm F4-5.6 II Kit will be available in October 2015.
E-M10 Mark II with 14-150mm II  RM4,299 incl GST
E-M10 Mark II with 14-42mm EZ RM3,399 incl GST
E-M10 Mark II Body RM2,699 incl GST
A special Introductory Offer is valid for purchase of any E-M10 Mark II kit option as stated above by 31 October 2015 to get the following items for free:
1) CSS-S119L Leather Strap (Brown) worth RM249
2) Extra Battery BLS-50 Worth RM239
The free gifts in the special introductory offer can be redeemed online by registration and successful redemptions will receive the free gifts by courier within 14 working days
For Full details, kindly visit www.olympusimage.com.my