Shah Alam (1 July 2015) — Ricoh (Malaysia) Sdn. Bhd., has the solution to all your work travel woes, as it introduces its brand new 'anytime, anywhere', Huddle Room concept, saving up to 60% of time, costs, resources and manpower.
Integrating three of its latest range of high-end visual communications products, the Interactive Whiteboard (IWB), Unified Communication Systems (UCS) and Projector series, the Ricoh Huddle Room enables employees within or outside the workplace, to share ideas virtually, quickly, and conveniently with enhanced and seamless communication.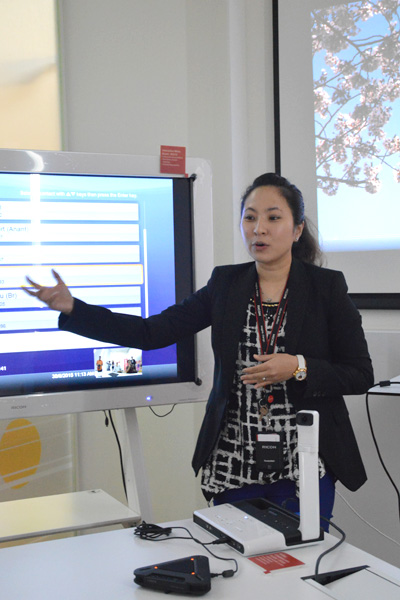 "The trend we see today is an increasingly mobile workforce that will minimise cost and unnecessary exhaustion of resources in order to meet the demands of an evolving work style. The need to identify a solution has therefore never been more prominent," said Mr. Nick Tan, General Manager of Marketing of Ricoh Malaysia Sdn. Bhd.
The IWB D5510 is the new and improved interactive 55-inch full HD 1080p LCD display, with the ability to display the faintest of handwriting and the nuances of detailed drawings, enabling remote sharing with up to eight D5510 units connected via intranet, and easy browsing of up to 20 computer or tablet users, creating an extra dimension for business meetings, presentations, teleconferences and many more.  With the ultra short throw desk projector, the PJ WX4141 series, its lightweight and compact design, equipped with wired and wireless connectivity, allows it to be placed just 11.7cm from the screen and still display vivid, eye-catching images of up to 80 inches in size, transforming the smallest spaces into convenient ad hoc meeting rooms. Considered a smart choice for the modern working practice, the PJ WX4141 series will also have greenies go wild with its energy-saving features, leaving a smaller carbon footprint.
Proving to be yet another invaluable asset to Ricoh's Visual Communication Services, the UCS P3500, a dedicated cloud based portable device is ideal for casual or regular meetings designed for high resolution, user-friendly video conferencing. It is independently capable of connecting up to 20 sites with nine simultaneous displays. Aside from offering secure screen sharing, the P3500's easily changeable camera orientation allows the screening of real objects while communicating at the same time, and is inter-connectable with other Ricoh display devices including the IWB and the PJ WX4141 series, value adding the product with remote image sharing, and carefree visual communication, creating a fast-paced, integrated mobile workforce ideal for any business.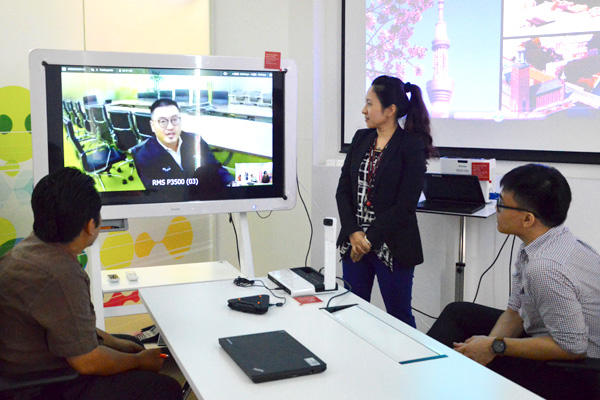 "With an intelligent communications suite, we are able to reduce the cost of communication to extend our customers' reach without stretching them thin. It is the ideal solution for entrepreneurs and Small and Medium-sized Enterprises (SME) working off small office units. Ricoh's Communications Services allow our customers to cut through the noise and engage effectively with their counterparts to receive the right information in the right form at the right price and at the right time," said Mr. Tan.
"As a leader in total office & business solutions, we at Ricoh live by our brand tagline 'Imagine. Change.' in which, we consistently strive to harness our collective imagination to create economical solutions for the workplace that would complement the growth of businesses by enabling better work efficiency across the world, while simultaneously reducing our carbon footprint tremendously," added Mr. Nick Tan.
The IWB D5510 starts from RM19,000 onwards, while the UCS P3500 and PJ WX4141 series starts from RM7,000 onwards.
For more information on Ricoh Malaysia, please visit: www.ricoh.com.my or call 1-300-88-8228.