BMW Group Malaysia today commenced the first day of NEXTGen Malaysia – the first of a three-day event on sustainability and electrified mobility, officiated by YB Dato' Seri Mohamed Azmin Ali, Minister of International Trade and Industry (MITI).
Managing Director of BMW Group Malaysia, Hans de Visser said, "When the BMW i was introduced in Malaysia seven years ago, we had envisioned the future of electromobility to look a lot like where we are at today. Beyond working with industry players and offering consistent support to the national electrification agenda, we want to empower the next generation of Malaysians to impact change in sustainability as well – which is a main motivation for NEXTGen Malaysia. Much like our partners, we believe the future is electric and there is a need for shared responsibility amongst stakeholders at every level to come together and develop sustainable solutions for the betterment of tomorrow."
NEXTGen Malaysia is a public multi-stakeholder sustainability event, which also saw a Memorandum of Understanding (MOU) signing held between BMW Group Malaysia and its partners, MGTC, TNB, and Siemens Malaysia, to further develop the ecosystem and infrastructure for Electric Vehicles in the country.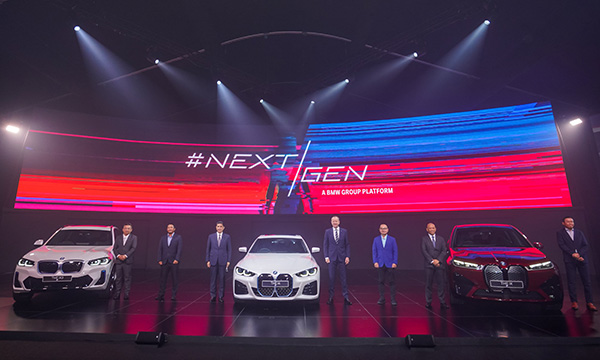 CEO of MGTC, Ts. Shamsul Bahar Mohd Nor said, "While we focus on accelerating green growth, climate action empowerment and the cultivation of a greener lifestyle, we also stand by steadfastly to the fact that sustainable mobility is key in realising Malaysia's Net-Zero greenhouse gas (GHG) goals by 2050. This partnership with BMW Group Malaysia to achieve greater adoption, implementation and uptake of electrification in the country is consistent to our strategy for low carbon mobility in the years to come."
While Chief Executive Officer of TNB, Datuk Ir. Baharin Din said, "As the largest electricity utility in Malaysia and a leading utility company in Asia, we are committed to empowering Malaysians through innovative and sustainable solutions towards a better and brighter future. Our aspiration is to be the leading provider of sustainable energy solutions in Malaysia and beyond, anchored on the aspiration towards Net Zero emissions by 2050. Electrification of mobility is a natural next step for the automotive sector, and we are thrilled to be able to accelerate its uptake alongside BMW Group Malaysia through our long-standing partnership in making charging infrastructures more accessible across the country."
President and CEO of Siemens Malaysia, Adam Yee echoes a similar sentiment and said, "Sustainability is an integral part of our business at Siemens. We are constantly developing innovative solutions to tackle challenges in the areas of environmental protection and decarbonization, and to make the world more livable, sustainable and inclusive. We are excited to work with a like-minded partner, BMW Group Malaysia, to drive the development and adoption of electromobility in Malaysia, to create a more sustainable country for our next generations."
The opening day of NEXTGen Malaysia saw the attendance of the CEO of Malaysia Automotive Robotics and IoT Institute (MARii), Dato' Madani Sahari; President of the Malaysia Automotive Recyclers Association (MAARA), Datuk Haji Khan Bin Mohd Akram Khan; Senior Director, Technology Solutions Group at MGTC, Huzaimi Nor bin Omar; and Head of TV & Audio Visual at Samsung Malaysia Electronics, Calvert Yap.
With an aim to empower the next generation of Malaysians with information on varying facets of sustainable innovations, NEXTGen Malaysia will continue tomorrow to Saturday, at the NEXTGen Pavillion @ Mandarin Oriental KL. An exciting line-up of public keynote speeches and panel discussions featuring leaders and experts in the field of sustainability across various industries, as well as exhibitions by Sunway XFarms, Circular Future and KUALESA await.
With Samsung as the official screen partner, attendees will also have the opportunity to explore Samsung's state-of-the-art offerings that are displayed across the venue, ranging from The Frame Lifestyle TV to the latest Neo QLED 8K displays at NEXTGen Malaysia.
Doors will open to the public at 2:00PM tomorrow with a public panel discussion featuring Subang Jaya State Assemblywoman YB Michelle Ng amongst others, and at 10:00AM on Saturday with a special unveiling by BMW i. For event updates and to learn more about NEXTGen Malaysia, visit the official site here.