That's the last of our tiger puns, we promise. Yoodo – Malaysia's first fully customisable and 100% digital telco – is entering the auspicious Year of the Tiger with a terrific line-up of Chinese New Year-themed offerings, especially for Yoodo users!
"The year of the tiger denotes bravery, confidence and more importantly, a new year full of thrilling possibilities that we at Yoodo fully intend to seize," shared Chow Tuck Mun, Head of Yoodo. "After the events of the past two years, we're taking this year head-on with plenty of amazing offerings to come. We truly can't wait to take our users on a whole new journey in 2022."
Yoodo's Spend & Win campaign looks to reward users with the hooat-est of prizes such as the Apple iPhone 13, Huawei Nova 9, Vivo V23e, Reno 6 Z 5G, and more than RM2,000 in e-ang pao's to be given away. The giveaway is open to both existing users and new users porting in to Yoodo.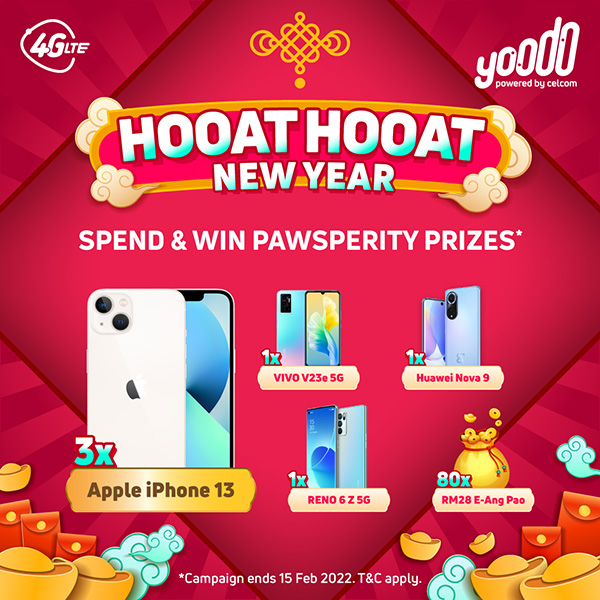 New users simply need to switch to Yoodo and spend a minimum of RM25 on their mobile plan, while existing users need only spend at least RM25 on their current line's plan, and that's it! The lucky winners will be chosen at random.
The fun doesn't end there! Starting on 29 January, users can also stand a chance to win an iPad and GSC movie tickets with Yoodo's Instagram Reels contest. To participate, all you need to do is post a Chinese New Year Tiger-themed Reel on Instagram with the hashtag #whatyoowant and @yoodomy in the caption. Users will also need to set their profiles to public until the contest ends on 15th February 2022.
On top of this, Yoodo is also celebrating the festivities with a subversive Chinese New Year video, now available on all Yoodo platforms to be enjoyed. Yoodo's Chinese New Year Pitch video lends a breath of fresh air to the traditional, tried-and-tested strategy of producing a sentimental video that tugs on one's heartstrings.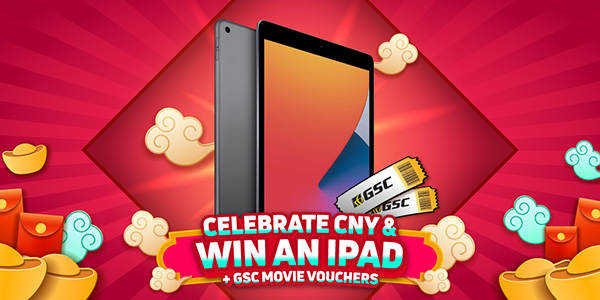 Adding Yoodo's signature bold and cheeky twist to the age-old formula, the video takes us behind the scenes of creating a Chinese New Year video, with the story of an advertising agency man pitching a Chinese New Year commercial to his client. His family then unexpectedly drops by his office to have a meal with him. What follows next is a heart-warming story that culminates in the value of celebrating Chinese New Year in your own way, with the people that are nearest and dearest to you.
"Yoodo's core belief lies in empowering people to do things their own way, however they want it, and the Chinese New Year Pitch video reflects our commitment to doing just that," continued Tuck Mun. "Our Hooat Hooat campaign is one of many similar, exciting offerings that we have planned for this year, so join in the fun and stand a chance to win cool prizes. On behalf of the entire Yoodo team, Happy Chinese New Year and happy holidays to all Malaysians!"
For more information on Yoodo's Spend & Win campaign, head to hwww.yoodo.com.my/hooatcny. You can also stream Yoodo's Chinese New Year Pitch video on Yoodo's YouTube and social media pages.