The Premier League today launched the second phase of its 2021/22 anti-piracy media campaign in Malaysia. The 'Boot Out Piracy' campaign, which runs across digital platforms, highlights the poor viewing experience and dangers that fans face when watching matches via illegal streams. Not only do fans face delays, broken links, and pop-up ads, but they potentially expose themselves to the threat of malicious malware and ransomware, which often lead to data theft and fraud.
The second phase of 'Boot Out Piracy' will feature new videos from Premier League stars, including Liverpool's Virgil van Dijk and Leicester City's James Maddison. Past campaigns brought together some of the League's top players to raise awareness of the dangers of piracy, including Manchester United's Marcus Rashford, Liverpool's Mohamed Salah and Tottenham Hotspur's Son Heung-Min. Aside from Malaysia, the campaign is also running in Singapore, Indonesia and Hong Kong.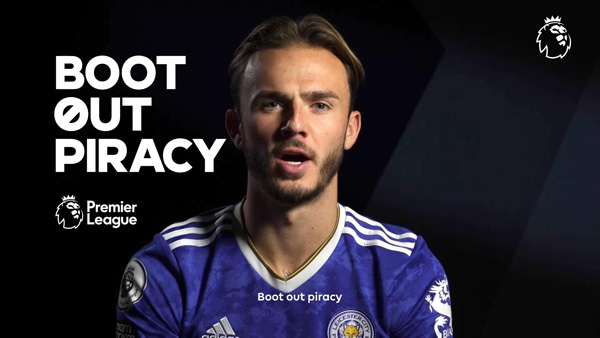 Kevin Plumb, General Counsel for the Premier League, said: "We are launching the second phase of this season's Boot Out Piracy campaign at a time of the year when there is a huge number of fixtures for fans around the world to enjoy, to continue raising awareness of the dangers of watching Premier League matches through illegal streams.
"Fans can experience a number of serious issues if they choose to watch pirated content, including having their data stolen and exposing themselves to cyber-attacks. They will also have to endure a sub-standard viewing experience which is likely to be disrupted by pop-up ads and frequent buffering.
"The only way to avoid all those dangers is to watch Premier League football through our official broadcast partners. We will continue working with them and local authorities in Malaysia and throughout Asia to protect fans from accessing pirate sites."
Research by intellectual property and data analytics company White Bullet Solutions shows that, of the most popular pirate websites in Malaysia for illegally watching Premier League content, 44 per cent carried advertisements considered risky, containing either fraud, malware, adult or gambling content.
White Bullet Solutions founder and chief executive officer Peter Szyszko said: "Cybercriminals are taking full advantage of insecure illegal streaming sites to spread malware, gain access to personal data and commit fraud. Our message to the public is that piracy is simply not worth the risk."
Raising awareness among fans of the risks and downsides posed by illegal streams is just one part of the Premier League's comprehensive anti-piracy work in the region.
Since the establishment of its Asia-Pacific office in Singapore almost three years ago, the Premier League has initiated blocking action against illegal websites in Singapore, Malaysia, Indonesia, Vietnam and Thailand, and has worked closely with local authorities to bring criminal action against website operators and suppliers of illicit streaming devices across the region, including in Singapore, Malaysia, Thailand and Vietnam. The League works closely with its local broadcast partners on much of this work.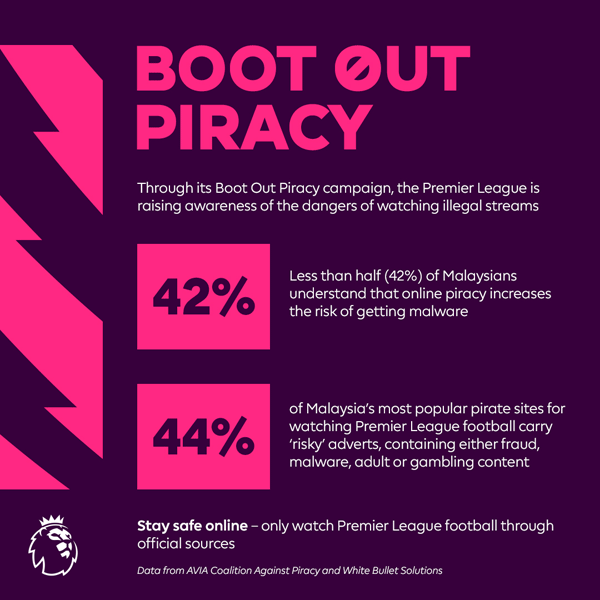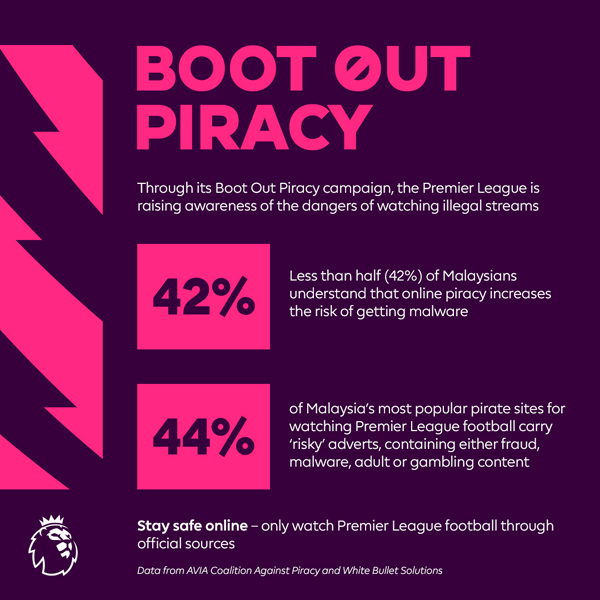 Nicholas John, Head of Sports of Astro, said: "Like the Premier League, Astro takes a serious view of piracy, and will not hesitate to take legal action against those found to be distributing unauthorised content on illicit streaming devices. As the official broadcaster of the Premier League in Malaysia, we are committed to work alongside the authorities and our partners like the Premier League on anti-piracy campaigns to protect Malaysian sports fans against cybersecurity attacks.
"We are seeing positive signs that Premier League fans in Malaysia are beginning to understand the severe risks attached to illegal streaming and we are committed to helping the community enjoy the best viewing experience of the Premier League in HD and 4K UHD on Astro."
The Premier League is a member of the AVIA Coalition Against Piracy, the industry association for leading video content creators and distributors in Asia, which focuses on tackling the threat of piracy across Asia.
Aaron Herps, General Manager of the AVIA Coalition Against Piracy said: "The dangers of accessing pirated material continue to rise for consumers.  According to our research, less than half of Malaysians understand that watching pirate content increases their risk of getting malware, which can lead to becoming a victim of cybercrime. It's great that the Premier's League's stars, who have huge influence, are coming together to help fans understand the significant cybersecurity risk of pirating matches."
---
The Premier League's anti-piracy programme
The Premier League has one of the most comprehensive anti-piracy programmes in the world, working with broadcast partners and authorities to bring down illegal streams and investigate and prosecute suppliers of illegal streaming services.
The Premier League has worked closely with Malaysian authorities and Astro to take successful legal action against pirate operations resulting in the blocking of over 70 pirate website domains as well as successfully criminally prosecuting an illegal streaming device seller for the first time in Malaysia. Action is taken against offenders regardless of size or scale of the operation.
Globally, the world's largest infringing streaming app Mobdro ceased all operations in March of this year after a major investigation and criminal referral by the Premier League and the Alliance for Creativity and Entertainment (ACE) resulted in law enforcement action by Spanish police and Europol. Mobdro illegally made available a large catalogue of live TV and video content from around the world, including sports, for use on smart TVs, smartphones, tablets and illicit streaming devices. It was a very popular app across Asia-Pacific including in Malaysia.