Experience impressive performance and power with Castrol's All-New POWER1 ULTIMATE
Castrol, one of the country's leading automotive lubricant companies has launched Castrol POWER1 ULTIMATE, a brand-new line of fully synthetic engine oil embodies with its 5-in-1 formula –– a perfect concoction for two-wheeler engines.
The newest member of the Castrol family, the Castrol POWER1 ULTIMATE Full Synthetic engine oil range is designed to provide superior acceleration and performance for both the motorcycle and its enthusiastic, thrill-seeking riders. The range offers unique flexibility in different viscosities such as 5W-40 for scooters, 5W-40 for bikes, and 10W-50 which is specially designed for superbikes.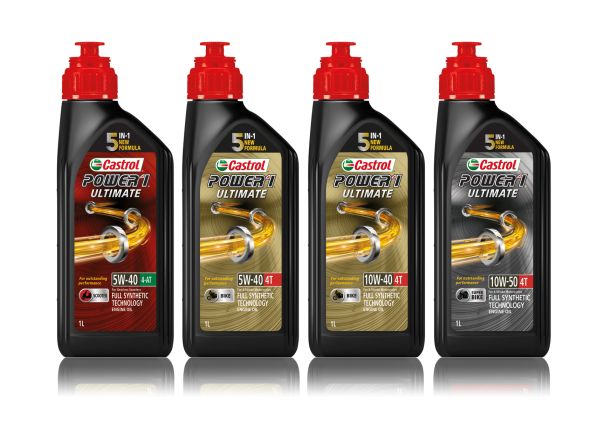 "Our primary goal is to amplify the riding experience for the riders by providing them more power, confidence and acceleration. The newly introduced engine oil was created not just for the power it provides, but also to keep up with Castrol's reputation of protecting the heart of the vehicle. Motorcycles, just like us, experience fatigue and stress. Castrol POWER1 ULTIMATE goes 'the extra mile' to provide and protect your bike and its engine," said Keow Mei-shan, Marketing Director of Castrol Malaysia and Singapore.
The new range has undergone rigorous testing in its development and has been tested under extreme conditions on different parameters. Castrol POWER1 ULTIMATE's 5-in-1 formula promises outstanding performance in five key areas:
Impressive acceleration – proven to exceed the performance of other major bike and scooter lubricants as tested on Honda CBR300 and Honda ANC125 engines.
Better protection – provides 50% better wear protection versus industry limits on bikes and scooters.
Smooth riding – enables smooth riding over a wide range of engine speeds, ensuring that the clutch engages smoothly and does not slip or judder.
Keeps engine cool – even in an extreme 12,000 km test, demonstrating brilliant temperature control performance.
Enduring performance – maintains 95% of its original performance in a 48,000km race track durability test, showcasing enduring performance capabilities.
The Castrol POWER1 ULTIMATE range will be made available at Castrol Bike Point and Castrol's Official Store in Shopee (www.shopee.com.my/castrol.os) in new 1-liter packaging with introductory prices as below:

To learn more about this new range of engine oils, visit www.facebook.com/castrolmalaysia or here.