ProppyApp, a property-all-in-one portal, has launched a new 'neighbourhood economy' service on its app called 'ProppyCares', where local businesses will be able to connect with consumers and customers within their locality.
With local neighbourhood businesses affected badly during the pandemic, they are exploring alternative ways of doing business, including embracing technology to keep their livelihoods alive. ProppyCares helps property-related businesses and tradesmen including electricians, air-condition service repairmen, plumbers, home renovation contractors and cleaners by listing their businesses on its merchant listing platform.

There are over 30 categories of services where customers looking for property-related businesses can find the service they are looking for. The geo-tagging feature on the app lists the relevant merchants closest to the customer, where customers can connect and interact with the merchants via the in-app chat feature called 'Beep!'. The app also allows customers to post reviews and endorsements on the merchant, enabling anyone searching for these services to assess and select the merchant of their choice.
"When the Covid 19 MCO was first announced in Malaysia one year ago on March 18, 2020, the local economy was significantly hit and businesses, especially micro, small and medium enterprises (MSMEs), which forms the backbone of Malaysia's economy suffered huge losses and businesses were coming to a standstill as it was unclear how long the MCO would last," said Lee Willson, the Chief Coordinator and Founder of ProppyApp.
Small and Medium Enterprises (SMEs) contribute about 38.9% of Malaysia's economy and about 48.4% of Malaysia's employment. A few weeks into the MCO, these businesses had to make the tough decision of having to pivot online by adopting digital technology into their businesses or facing the harsh reality of shutting down. For essential services like food, eateries and the restaurant business, the option of moving onto a digital platform were easier. However, it is different for services and tradesmen like the local electrical repairmen, plumber or home renovation contractors and many others.
"Whilst some have successfully embraced the digital transformation and moved their businesses online by enrolling on third party apps, there are important services provided by electricians, plumbers and services which are not part of the digital economy," Lee added.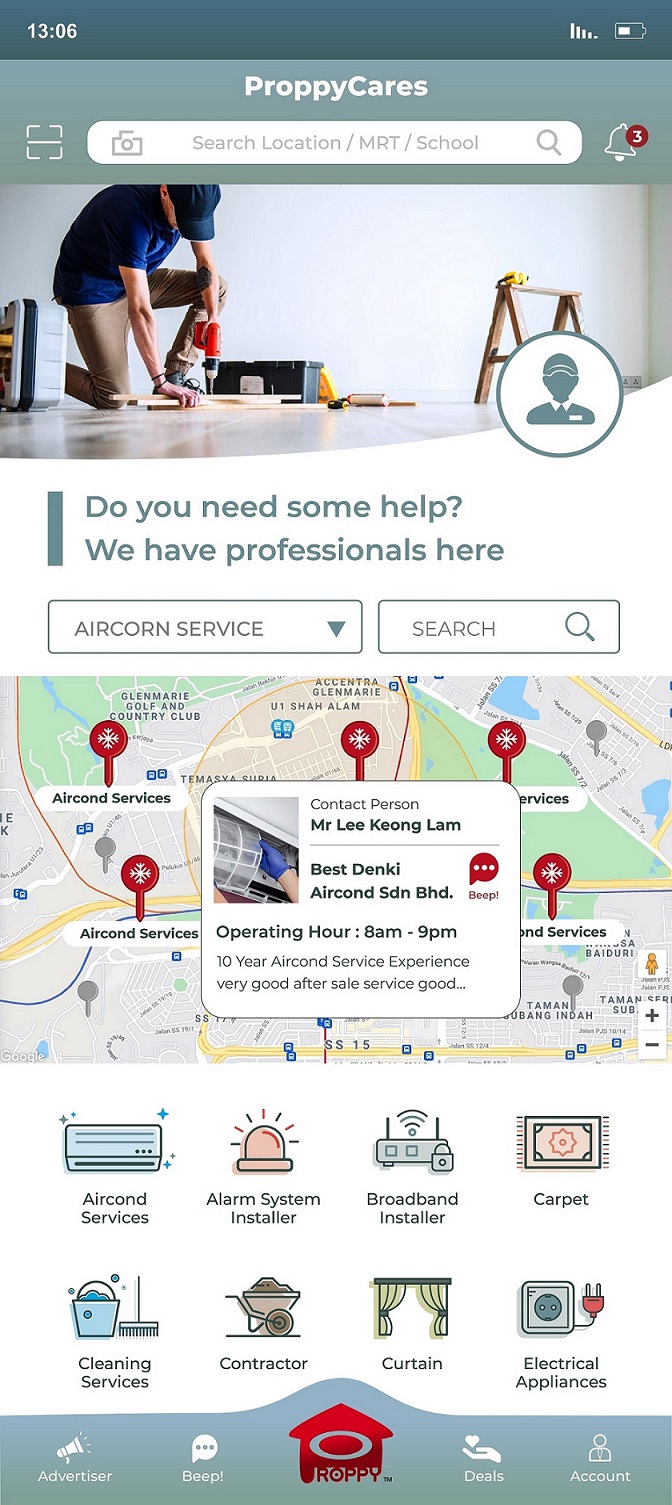 Recognising this challenge, ProppyApp has decided to launch and roll out its neighbourhood service under 'ProppyCares' to support property-related businesses and services stay relevant especially during strict MCO measures and SOPs that restricts cross border travel.
"We believe that it will be up to our local neighbourhoods and neighbours to reach out and support each other as we help one another overcome this very difficult time. However, we can only do that if we first know who our neighbours are. ProppyCares aims to help merchants build their reputation and brand name by joining our Merchant360 neighbourhood economy campaign," added Lee.
ProppyApp is a new property technology startup chaired by Y.A.M. Tunku Naquiyuddin ibni Tuanku Ja'afar, the Chairman of Antah-Healthcare and Techna-X. The company aims to disrupt the online Real Estate and Property Tech industry by incorporating the latest AI technology and GPS geo-tagging to provide a fast and quick recovery strategy for small businesses to be more competitive, by enabling them to offer more products and services to customers nearby.
ProppyApp is currently open to all merchants, general tradesmen and home-related service repairmen to register for Free for its Basic Merchant package as its introductory promotion. They will also open their property listing marketplace listing to the Property Agents and homeowners soon.
Download ProppyApp: