Esports Fight Club (EFC), a Verasity company, announces its partnership with the VALORANT Champions Tour 2021 (VCT) by Riot Games and through official licensed operators in Southeast Asia, The Gaming Company (TGC) for Malaysia and Singapore, Mineski Global for the Philippines, ESL Asia for Thailand and 1UP Gaming for Indonesia. The partnership will see EFC as the official esports platform for regional VALORANT Challengers across Southeast Asia covering Malaysia, Singapore, Thailand, Indonesia and the Philippines.
VCT is Riot Games' first global competitive tournament for VALORANT. Esports Fight Club is also partnering with the region's organizers to roll out the full execution including tournament management, content and broadcasting.
This tournament is a great opportunity to improve the existing user experience for viewers and participants by delivering custom rewards such as in-game credit codes, in-game items, and physical items which can be redeemed for engagement. By leveraging a patented technology known as "Proof of View" – Esports Fight Club eliminates fraud from bots and non-human traffic to ensure accurate human viewership.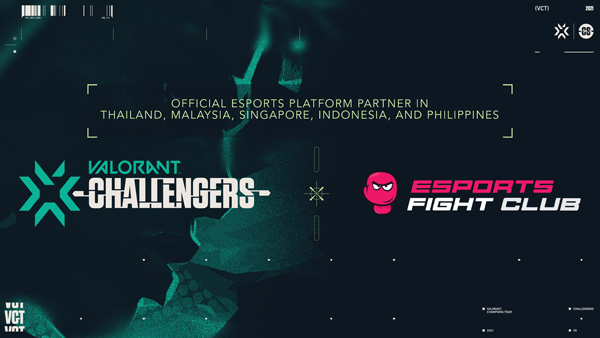 "This partnership is an exciting step forward for gaming. We have many natural synergies across this partnership with VCT and together we can springboard gaming in terms of technology and adoption. We are really excited to be part of VCT in Southeast Asia and Esports Fight Club is focused on providing the ultimate engagement experience through rewards and Proof of View.", said the Founder and Chief Executive Officer of Esports Fight Club and Verasity, RJ Mark.
The regional series of the VCT, or better known as VALORANT Challengers launched February 2021 across Southeast Asia, including Malaysia, Singapore, Indonesia, Philippines Vietnam, and Thailand, as well as Hong Kong and Taiwan regions. Players will compete in a tiered-tournament with winners from Challengers SEA advancing to the VALORANT Masters, a global event featuring teams who represent the best talent from their region. Teams will earn points and qualify into VALORANT Champions; the top 16 teams from around the world will compete to be crowned the first VALORANT global Champion.
Registration for Stage 3 of the VALORANT Challengers will open in early July 2021 across Malaysia, Singapore, Indonesia, Philippines and Thailand. To watch the action unfold, follow Esportsfightclub.com and our regional VCT Challengers partner social pages at: