Shell Malaysia is proud to announce its Mint Hotel Station as the first petrol station in the country to be awarded the Provisional Gold Standard by Green Building Index (GBI).
The station is integrated with a multifaceted approach of combining both renewable energy (RE) and energy-efficient (EE) innovations that reflects the GBI Gold Standard requirements. The solar Photo Voltaic (PV) rooftop system at the station is able to generate almost 90,575KWh of electricity per year, enough to power an average of 382 households per month*. The electricity generated through the solar power panels are also able to reduce the station's carbon emission by 62.8 tonnes per annum, which is equivalent to saving 1,118 tree.
To lessen the station's usage of water from municipal systems, a rainwater harvesting system is utilized to collect and store rainwater for the station's facilities. The water conservation system coupled with efficient waterflow fittings saves approximately 167,749 gallons of water per year, which is equivalent to supplying water to 24 households for a month.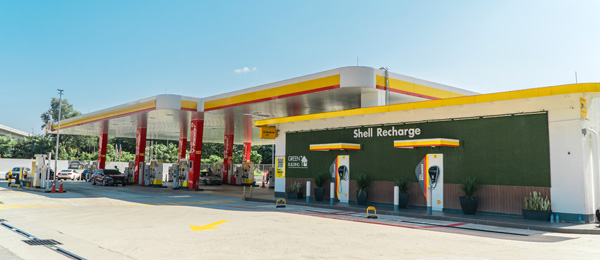 Another feature at Shell Mint Hotel station is its food waste composting machine that converts food waste into fertilizers. The station is capable of collecting about 30kg of food waste every day and convert it into approximately 6kg of fertilizers; which is equivalent to producing up to 2,190 kg of fertilizers in a year that can fertilize up to 4,000 potted plants*. Other low carbon innovations include energy-efficient air conditioners and chillers, recycling facilities and smart LED lighting system at the forecourt.
In January 2021, Shell reached another milestone in its journey to lower carbon emissions in its mobility operations by the installation of solar panels at 100 of its petrol stations in Malaysia. Together with Cleantech Solar, Shell has installed solar panels at another 51 stations as of May. A total of 15,929 solar PV panels with a total capacity of 7.17-megawatt peak (MWp) were installed on the stations' roofs, enough to power 1,853 households per year. These 151 solar-powered Shell stations can reduce carbon dioxide emissions by 4,448 tonnes per year, which is equivalent to planting 79,185 trees.
"At Shell, we are committed to our purpose to power progress by providing more and cleaner energy solutions. Shell Mint Hotel Station is our latest milestone towards fulfilling this commitment. By powering Malaysia with cleaner energy and innovation mobility solutions, Shell hopes to mobilise the energy sector and increase its efficiency by offering products and services with lower carbon emissions. We must all come together to ensure a greener future." said Shairan Huzani Husain, Shell Malaysia Trading Sdn Bhd and Shell Timur Sdn Bhd Managing Director.
Shell's commitment to making life's journeys better for its customers and the communities it operates in is reflected in its dedication to reducing carbon emissions by Reusing, Recycling and Repurposing. For example, innovative low carbon initiatives include Shell Recharge and bringing innovative Reverse Vending Machine to its petrol stations.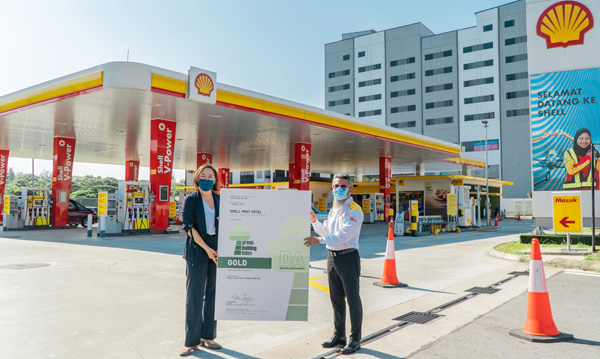 Shell Recharge EV charging bays are available at 7 locations: Shell Mint hotel, Sunway Medical Centre, iOi City Mall, Lot 10, Sunway Pyramid, Sunway Velocity and 163 Retail Park Mont Kiara. The Plug-in Hybrid Electric Vehicles/ Electric Vehicles (PHEV/EV) charging bays can be utilised via the ParkEasy mobile app available on both iOS and Android. Furthermore, to enhance the electric mobility experience in the country, Shell and Porsche Asia Pacific recently announced the implementation of Southeast Asia's first cross-border high performance charging (HPC) network with 12 charge points at six Shell stations strategically located along Malaysia's North-South highway, offering EV drivers the possibility of smooth and convenient travel between Singapore, Kuala Lumpur, and Penang.
The innovative Reverse Vending Machines called Klean Machines at Shell Taman Tun Dr Ismail and Shell SKVE Serdang (Kajang-bound) allow customers to be rewarded 1 BonusLink point per PET plastic bottle or aluminum can recycled at the machine. The recyclables collected are then transported to authorized recycling centers, thus preventing deeper landfill pollution. Within 2 months of launching, more than 5,000 PET plastic bottles and aluminums cans were collected. Shell is currently working on plans to bring Klean Machines to more Shell stations in the coming years.
Currently, Shell has 3 GBI-certified sites while 5 other stations are being assessed for GBI certification. In their pursuit of mitigating carbon emission, Shell aims to have a total of 300 solar-powered and 40 GBI-certified sites by 2021.
In 2021, Shell brings to focus its refreshed strategy called Powering Progress which sets out goals in support of its purpose to power progress together by providing more and cleaner energy solutions, to accelerate the transition of its business to net-zero emissions. Sustainability at Shell means providing energy in a responsible manner, respecting people, their safety and the environment.
For more updates and information on other Shell's initiatives, please visit www.shell.com.my.