Garmin introduces Venu 2 Series GPS Smartwatch
Today, Garmin Malaysiaofficially announced the much awaited Venu 2 and Venu 2S GPS smartwatches. As successors to the first Venu series popularised in 2019, the Venu 2 and 2S introduces brand new smart and fitness features that cater to a crowd looking for a lifestyle smartwatch suitable for their style.
The new feature, 'Health Snapshot' from the Venu 2 series is the fitness age and sleep score health monitoring feature. The new 'Health Snapshot' innovation allows users to log, record and share important health stats with healthcare providers.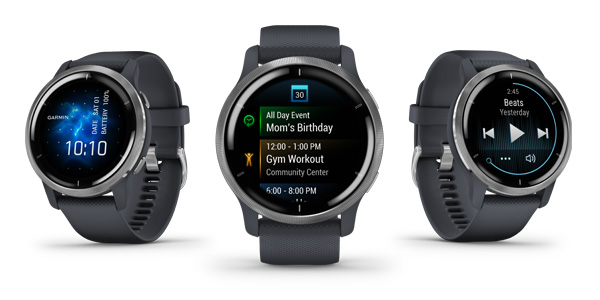 A Look Into Design & Display
Garmin encourages more to explore the Venu 2 at a greater extent. Equipped with more than 25 built-in sports applications, users can access enhanced strength training profiles and muscle map graphics brought to life on the smartwatches' bright AMOLED display. The Venu 2 series invites you to experience enhanced battery life of up to 11 days in smartwatch mode on the Venu 2 and 10 days on Venu 2S.
"At the core of the Venu product line is the belief that you can work on building a healthier lifestyle so you live better," said Mr. Scoppen Lin, Director, Garmin Asia. "The Venu 2 series builds on this story with exciting new features that help explain what is going on inside your body as well as the wellness tools needed to make healthy choices every day. This is so that you can work on a better, newer you in a scientific-based tracking and effective manner."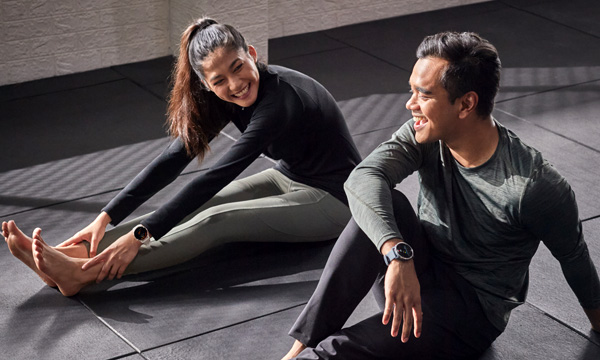 Work On Better Health
Fitness features
The Venu 2 and Venu 2S is designed to help you understand your body better with its broad range of 24/7 health monitoring features including: heart rate (with user-configurable alerts for high or low readings), fitness age, advanced sleep with sleep score and insights, respiration, Pulse Ox, all-day stress, hydration, and women's health (menstrual cycle tracking and pregnancy tracking). The Body BatteryTM function informs users how "charged" their body is, which proves to be helpful for scheduling workouts, rest and sleep. Lastly, the new 'Health Snapshot' feature allows users to log a 2-minute session to record key health stats and generate an overall report for any healthcare provider.
Secondly, the advanced strength training profiles and workouts put weight scaling and strength PRs right on the device, inclusive of new graphics to show which muscle groups were active. The Venu 2 series has also recently added new activity profiles for HIIT workouts (including AMRAP, EMOM, Tabata and custom timers), indoor climbing, bouldering and hiking.
When it is time to recharge, the Venu 2 and Venu 2S provide advanced tracking of light, deep, REM sleep stages and movements. Similar to the other Venu series, the Pulse Ox and respiration is also automatically monitored during rest. With the new sleep score powered by Firstbeat Analytics, users are able to receive a score based on the quality and quantity of a previous night's sleep. These details plus personalised insights on how to improve sleep quality are available on the watch itself as well as in Garmin ConnectTM. The Venu 2 and Venu 2S also offers structured breathwork activities designed to promote focus and relaxation.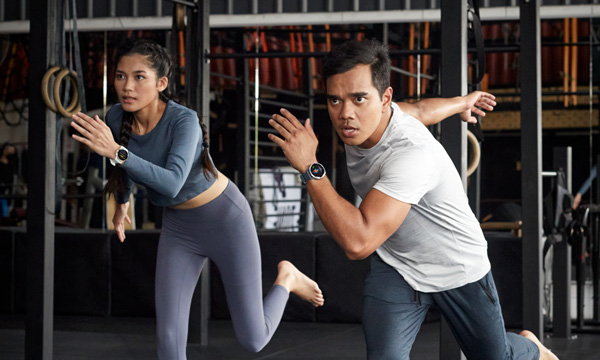 Work On Training Efficiently
Safety
Garmin's Venu 2/2S safety and tracking features provide a peace of mind with automatic incident detection (during outdoor walks, runs or rides) and manually triggered assistance alerts, both of which sends real time location to emergency contacts. To add, the LiveTrack function allows friends and family to monitor the user's outdoor activity.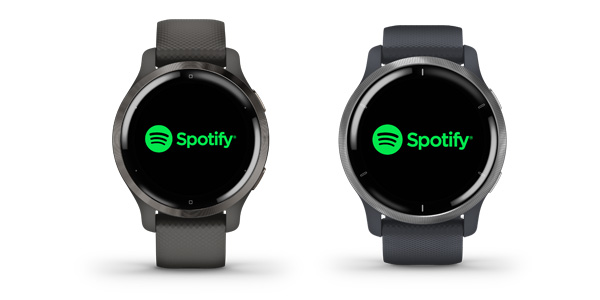 Smart Connectivity
When exercising at home, in the gym or in the great outdoors, the Venu 2 makes it easy to stay active and engaged.
Enjoy all-day connections and convenience with a host of smart features including built-in music (download up to 650 songs including playlists from Spotify®, Amazon Music, and Deezer, and smart notifications for text messages (AndroidTM users can reply within the device), calendar reminders, incoming calls and more. Personalise the Venu 2 with apps, watch faces and more from the Connect IQTM store. The Venu 2 can be used with either Android or Apple® smartphones.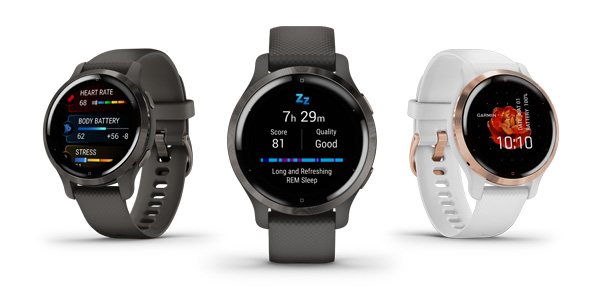 Pricing and Availability
The Venu 2 and Venu 2S both have a suggested retail price of RM 1,799.
The Venu 2S is available now on Lazada, Shopee, AECO e-store and all authorised retailers. The Venu 2 will be available from June 2021.