OPPO launches OPPO Reno 5F in Malaysia
OPPO, the leading global smart device brand, announces the launch of the OPPO Reno5 F in Malaysia. OPPO Reno5 F is designed for trend seekers looking for a powerful, yet durable device that boasts a mix of fun, new video features that enable you to capture memories and moments from more than one perspective. OPPO Reno 5F's cutting-edge camera features will also offer its users a creative edge. In addition, it offers a higher performing phone than its predecessors with a higher battery capacity and faster speeds. All this is packaged in a simple, yet elegantly thin design that uses OPPO's new Flowing Light Design concept to introduce two new dazzling colorsthat trendsetters are sure to enjoy and will want to Live life at a full speed.
"Reno Series is popular with trendsetters as a phone that's tailored to enhance their love for social life and ambitions at study and work, but also represents their personal style. In addition, it brings out the creativity in its users with new video capturing features that put the power of creative video productions," said Nikki Chen, Marketing Director, OPPO Malaysia. "OPPO Reno5 F is the culmination of both user feedback and the extensive research conducted on the latest technology that's being deployed on OPPO Reno5 F. In fact, this phone meets the criteria our users have for Reno Series smartphone, which in this generation doesn't only capture momentous occasions from multiple perspectives, but also with a higher battery capacity and 30W VOOC Flash Charge 4.0 ensures that OPPO Reno5 F is a great accompaniment to your life. With the high demands from our customers, we're excited to introduce and get OPPO Reno5 F into the hands of local customers."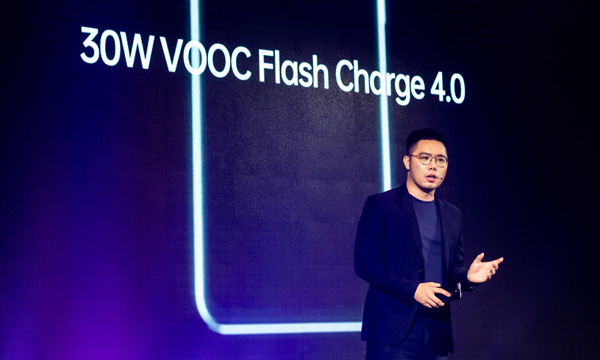 Photography and Dazzling Videos
Social media today defines how we might capture our life's best memories and what platforms we're sharing this on. In parallel, the demand for media formats that show off the best side of ourselves has grown. By sharing our lives, we want to strike a chord of awe among family and friends. And this demand has come to a boiling point.
OPPO Reno5 F leads the way by opening the door to new and trendsetting ways to make fun with Photography. With OPPO Reno5 F, you can film your moment from more than one perspective, all-the-while a personal, creative touch to your shots.
OPPO Reno5 F features a set of 48MP Quad Cameras with the main event its 48MP main camera. To add depth to your photos and videos, the main camera works in concert with an 8MP ultra wide-angle camera, 2MP macro camera and 2MP mono camera.
Of course, selfies are just as important to users, so the other side of the phone is accented by 32MP front-facing camera.
The camera hardware however is only the foundation to cutting-edge video and photography features on any phone. Knowing this, OPPO Reno5 F introduces a few new unique takes on adding a dash of flair to videos that will surely dazzle friends.
AI Color Portrait Video is getting an upgrade on OPPO Reno5 F and can now also be used to capture beautiful videos. Like its photography variant, AI Color Portrait Video works by recognizing the person in the video shot with OPPO Reno5 F and can intelligently distinguish the person from their background. The person in the shot is then highlighted with enhanced and bright colors, while a monotone black or white filter is applied to the background to ensure that the subject of the portrait stands out.
For OPPO Reno5 F users who'll enjoy experimenting or expressing their creativity with colors, Monochrome Video is for you. Monochrome Video highlights and enhances a single RGB color in any shot, while filtering out all other color pallets, adding a splash of drama to your footage by juxtaposing contrasting colors. Emphasizing the reds in a taxi, or blues in a dress of a friend strolling the city streets, Monochrome Video puts the control of drawing out your creative vision in your hands.
Finally, for vloggers or people that rely on their phones to record their daily lives, OPPO is introducing a new way to capture two perspectives at once. Dual-View Video records footage from the front-facing and rear cameras simultaneously. Recording the headline act of a concert with the rear camera, while immortalizing the excitement in your face as the beat drops ensures that this video shared on social media will be a hit with friends.
No matter how exciting the concert is, you'll have EIS Steady Video running behind the scenes so that you won't even have to think about making sure that your footage is stable and usable.
Sometimes a moment calls for a spontaneous shot, even if the background isn't to your liking. Fortunately, during both the day and at night, OPPO Reno5 F motion blurs the background and superimposes one of two photography effects. Dynamic Bokeh adds a bokeh effect that stretches light into streaks, while obscuring background details. The photo's subject in the foreground is treated with a low-light HDR algorithm and color tuning so that they stand out.
Night Flare Portrait adds gorgeous and round lens flares throughout the background, but doesn't overpower the subject of the portrait.
Of course, you can't Flaunt Photography without a laundry list of photography features. To start, AI Color Portrait makes it return, as does AI Beautification 2.0 to individually enhance the natural beauty, including facial contours and skin colors, of a person or group in a shot. OPPO Reno5 F also recognizes 20 types of landscape shots with AI Scene Enhancement 2.0 and improves the color saturation and contrast ratio pixel-by-pixel.
Finally, a video isn't complete without an easy way of stitching it together with Soloop. You can easily edit videos with filtered, subtitles and music into shareable movie-quality clips.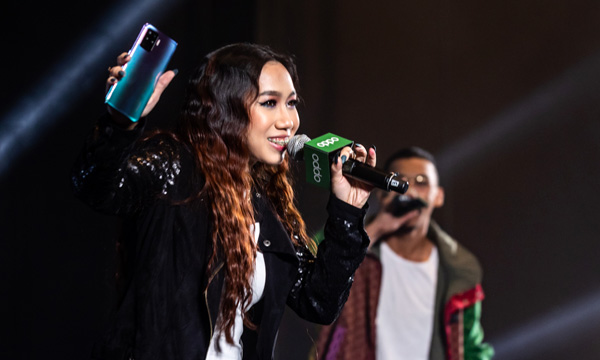 Slim and Fashionable Design
A Series known for its slim design concept and OPPO Reno5 F is no different. With this generation, you'll enjoy sleek thanks to a 7.8mm Ultra Slim Body weighing only 172g, and rounded out with a 3D curved battery cover.
But with OPPO Reno5 F, we paid particular attention to ensuring that the phone was carefully crafted so that when you hold it, you'll love it. It's not only easy to use and looks slim. It also feels great in your hand and fits snugly in your pocket and won't drag down your pants.
Of course, to pack in cutting-edge hardware including the Quad Camera and a larger battery, all the while keeping the phone slim, OPPO Reno5 F had to think big to keep the design small. The battery cover is only 0.55mm thick, while the screen dissipates heat through a slim 0.1mm graphite plate. OPPO Reno5 F's shock and drop resistance is enhanced by optimizing the stacking of small motherboard components and by strengthening the protection of its structural components.
OPPO Reno5 F also boasts three truly premium and trendsetting colors that were 2021's highest in demand. To get to this point, OPPO is introducing its brand new Flowing Light Design concept, which this time adds depth to what might deceivingly appear to convey a single color at first glance.
Flowing Light Design on OPPO Reno5 F showcases a gentler and warmer look to the phone in contrast to the colder colors and textures of Reno Series. What's notable about Flowing Light Design is that it uses a composite panel used on the back cover. This adds a high degree of transparency that's comparable to glass, but manages to convey a complex matte, yet glossy texture that's glare-free and soft. For a more traditional color, Fluid Black showcases a black light-to-dark gradient whose color resembles a fading ink blot in water.
We can't forget about OPPO Reno5 F's dazzling 6.43-inch hole-punch AMOLED display. With a screen size of 6.43 inches, the smartphone sports a large 90.8% screen-to-body ratio and In-Display Fingerprint 3.0 through a convenient fingerprint reader that sits under the display for quickly unlocking your phone. OPPO Reno5 F will surely immerse you in your favorite entertainment whether an intense game or a TV show that you're catching up on.
If you're one to get caught up with your media and eyes are glued to the screen, All-day AI Eye Comfort leverages two features and 4096 brightness levels to ensure that your eyes won't tire. OPPO Reno5 F's Sunlight Screen auto adjusts its brightness based on your preference and ambient light exposure. At night or in a dimly lit environment, Moonlight Screen lowers the brightness setting minimum to offer a comfortable viewing experience. In fact, OPPO Reno5 F has as many as ensuring your comfort.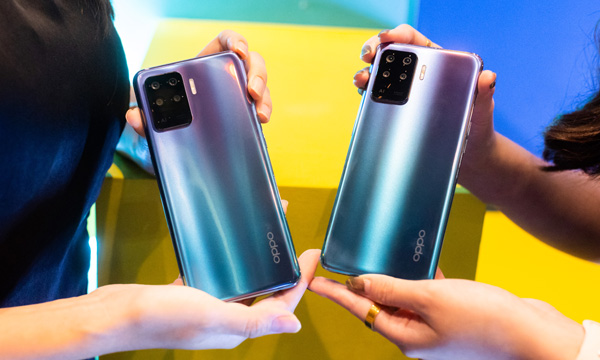 Live life with a Longer Battery Life
With the busy lives that OPPO users live, we made sure that OPPO Reno5 F will enable you to continue living your fullest life. Whether it's squeezing in a game in the middle of a commute home after a long day at work, or the tail end of a night out on town with friends, the last concern on your mind is being held back or inconvenienced by your phone.
To make this possible, OPPO Reno5 F pays particular attention on increasing the battery's capability. OPPO Reno5 F this time introduces a larger 4310mAh battery and 30W VOOC Flash Charge 4.0 technology.
During the day or in the evening when your battery has been nearly depleted, 30W VOOC Flash Charge 4.0 reliably and rapidly charges OPPO Reno5 F. To put this into perspective, a 5-minute charge will let you watch YouTube for 2.9 hours.
OPPO Reno5 F, thanks to its large 4310mAh battery, now also offers ample battery life and ultimately means you're charging your phone less during the lifetime of your phone. Not to mention that running out of power during the day is also a concern of the past. With OPPO Reno5 F, you'll now get 16 hours of online video playback on a single charge.
Of course, for those inevitable moments we all face when a charger is out of reach and you happen to be on your last few percentage points of battery life, OPPO Reno5 F has you covered.
All-day Smart Power Saving offers several power saving modes to keep your phone powered and operating even during the most harrowing of times. For instance, Super Power Saving Mode conserves battery by decreasing the CPU frequency, lowering the phone's brightness and more, so the last 5% of battery life your phone will run smoothly without interruption whether you're on the phone, texting or using a navigation app. While you're asleep, Super Nighttime Standby identifies and adjusts to your bedtime routine to make sure that your battery life only decreases by 2%. In addition, for nighttime charging, 30W VOOC Flash Charge 4.0 gets a safety measure that prevents overcharging with Battery Guard.
Live life at a full speed with a Phone You'll Use Longer
For trendsetters that require a phone that surely keeps up with their demanding lifestyles, a longer battery life is just a baseline when considering a smartphone. OPPO Reno5 F has an additional trick up its sleeve. While phones are known to slow down over time after prolonged use, OPPO Reno5 F has taken measures to slow down the typical aging processes with System Performance Optimizer.
System Performance Optimizer is OPPO's proprietary technology, which offers a suite of ten optimization features and ensures that your phone runs at optimal performance to ensure that it runs smoothly without lag for a longer period of time. For example, Idle Time Optimizer can recognize when the phone isn't being used or charged, and accordingly optimize its system resources by cleaning up the trash, defragmenting the disk, cleaning up the memory, and more. When low on storage, Storage Optimizer notifies users to delete or migrate data to the cloud in order to free up space. UI First 3.0 ensures that the resources for the most used apps are prioritized to ensure that they're running at optimal performance.But this is just the tip of the iceberg.
Under the hood, OPPO Reno5 F runs at optimal performance thanks to its powerful MediaTek Helio P95 Octa-core Processor. This runs on 2 ARM Cortex-A75 Prime Cores that operate at up to 2.2GHz. 6 ARM Cortex-A55 Efficiency Cores also operate at up to 2.0GHZ. This means you'll enjoy a faster app startup time, more responsive on-screen touches, and less lag.
Backed by a powerful processor, OPPO Reno5 F will also be sure to immerse you in your game with smooth graphics, optimized network latency and Real HD Sound that's powered by Dirac. In addition, OPPO Reno5 F comes with a baked-in Cooling System that's tailored to optimally dissipate heat emitted by resource-intensive games i so that your phone won't lag.
With OPPO Reno5 F, you'll enjoy every moment of the latest and your favorite games without distractions. A suite of gaming modes makes sure that messages are delivered subtly without completely interrupting your game. Game Focus Mode for instance is a feature exclusive to OPPO that blocks all notifications including calls, gestures and even on-screen volume prompts. Gaming Shortcut Mode reduces the time it takes to cold start previously opened games by cutting out background resources that would otherwise need to be loaded, splash screens that feature studio logos, and even game walk-throughs. For multi-taskers, Game Floating Window won't interfere with your gameplay as a minimized screen won't exit out of the game entirely. Rather the game continues running as a floating window on-screen while you're replying to emails or catching up on an urgent task for work. Finally, Bullet Screen Message is a convenient middle ground for mobile gamers that can't afford to block out notifications entirely. Instead, messages from supported apps including Whatsapp, Telegram, LINE, Messenger and SMS are scrolled across the screen, but doesn't force open pop ups or interfere with your gameplay with notifications that might otherwise ruin your gameplay.
Live life at a full speed with Multitasking on ColorOS 11
Not surprisingly, OPPO Reno5 F doesn't only have mobile gamers in mind. This phone is a key productivity tool that makes it easier than ever to multitask on-the-go or increase your productivity. We know that at the end of the day your work or personal life comes first.
Say that you need to reply to an email or Whatsapp message, but aren't keen on closing the app that you were just using, FlexDrop simply minimizes the app's window, continues running the app but as a thumbnail on your home screen. So you can continue watching your show without pausing it. At the office, sharing documents quickly and efficiently can sometimes be cumbersome. Nearby Sharing on OPPO Reno5 F takes care of this problem by enabling you to seamlessly and directly share documents with other OPPO users nearby. You can also capture screenshots and instantly translate its content with Three-finger Translate with Google Lens.
Live life at a full speed by Safeguarding Your Privacy
On the back of popular demand, OPPO Reno5 F offers security and privacy features that are strictly designed to retrieve your data or keep it away from prying eyes. For those people that have a tendency of misplacing their phones, which also includes their personal media and files OPPO's Private Safe offers a peace of mind. Through Private Safe you can access HeyTap Cloud to retrieve your personal data from your lost phone. Or, if you're frequently loaning your phone to family and friends you might have had moments when you'd wished to protect the content of your app from curious friends snooping in on your personal data. With App Lock, you'll have full control over which apps can or can't be accessed by other users so you can "lend your mobile phone but not your secrets." If you're connected to a projector or TV screen and mirroring your phone to share a presentation with colleagues, the last thing you want popping up on the screen is a personal and embarrassing message. Screencast Privacy Shield limits banner notifications and even drawer messages, while also filtering out messages that shouldn't be mirrored on screen.
OPPO Reno5 F is a powerful creative tool that fits in the palm of your hands thanks to a suite of new features to capture dazzling videos that you'd be eager to share with friends. But OPPO Reno5 F also embraces users that want a device that can help them balance their entertainment consumption, while prioritizing the most important things in life whether it's their personal or work life. OPPO Reno5 F above all is a smartphone that won't hold you back and encourages you to Live life at a full speed.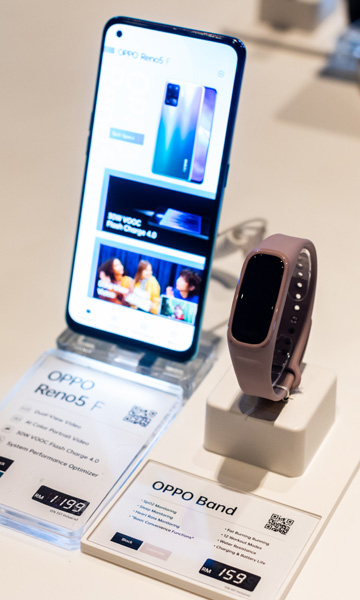 Market Availability
OPPO Reno5 F is available starting from 15th April 2021 in Malaysia and will come in two colors including Fluid Black and Fantastic Purple. With these two colors you'll also get the 8GB RAM + 128G storage. Pricing at RM 1,199, OPPO Reno5 F will be available at My OPPO Space, OPPO Brand Stores, OPPO Official Online Store, OPPO Telco Partners, OPPO authorised dealers and OPPO E-comm partners.
Besides that, customers who purchase the Reno5 F will get to enjoy My OPPO Member-exclusive privileges, which the Reno5 F users can redeem GSC Movie Ticket & Popcorn Combo in My OPPO App! Also, all existing My OPPO App members get to redeem a promo code to enjoy RM100 discount on OPPO Reno5 F! The promo code is applicable in any OPPO Brand Store and OPPO official online store.