realme unveils narzo 30a and Three Gaming Accessories for Young Players in Malaysia
realme, the world's fastest-growing smartphone brand, today launched narzo 30A with better performance to all gamers and thrill-seeking users in Malaysia. The narzo 30A assembles an outstanding gaming processor, MediaTek Helio G85, 6.5 inch Mini-drop Fullscreen and 6000mAh battery with 18W Dart Charge that ensures leap-forward experiences. realme Malaysia also introduced three gaming accessories to enhance users' e-Sports experiences with realme Mobile Game Finger Sleeves, realme Cooling Back Clip and realme Mobile Game Controller.
"The narzo 20 series received overwhelming responses among youths for its blazing-fast charging speed, powerful performance and ultra-long battery life. Therefore, the newly launched narzo 30A inherits its predecessor's advantages to bring a great gaming performance while keeping with the spirit of "Dare to Leap". As a youthful technology brand, we look forward to deepening our influence among Malaysian youth who seek powerful and superior ownership experience with our latest gadgets and accessories," said Tiffany Teh, Brand Manager of realme Malaysia.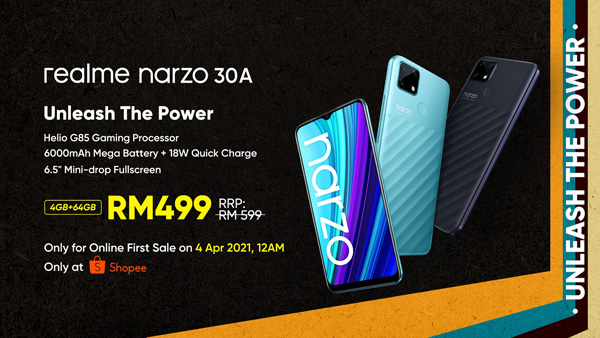 Unleash The Power – realme narzo 30A
MediaTek Helio G85 Processor
narzo 30A will be the king of gaming smartphones in the entry-level segment as it offers a true surge of power for gamers with MediaTek Helio G85 gaming processor. The processor is made using a 12nm octa-core process, exclusively designed to be the core of a superb gaming experience for Gen Z. The two high-performance Cortex-A75 cores at up to 2.0GHz and six high-efficiency Cortex-A55 cores paired with an ARM Mali-G52 GPU to deliver sufficient power, making it the perfect gaming companion for you.
6000mAH High-capacity Battery and 18W Dart Charge
In terms of battery, narzo 30A features a mega 6000mAh battery and 18W Dart Charge that support flash charging at incredible speed for worry-free usage among users. According to realme lab tests, the battery is capable of lasting for 46 days in standby mode which is better than some flagship smartphones. It can survive 52 hours of phone calls, 114 hours of unlimited music on Spotify, 10 hours of gaming and 27 hours of video streaming on YouTube.
narzo 30A also offers multiple battery life optimization features to lengthen the battery life. The App Quick Freeze can smartly freeze those less frequently used apps to idle background app power usage, while the Screen Battery Optimization will slightly lower some display effects without notice to increase battery endurance. You can also save more energy when you are sleeping by turning on the sleep standby optimization. In the Super Power Saving Mode, you are allowed to select six most-used apps to keep active to achieve an extremely long battery life. The device is also known as the Long-lasting Battery Hot Hatch as it adopts the largest battery capacity within its price segment.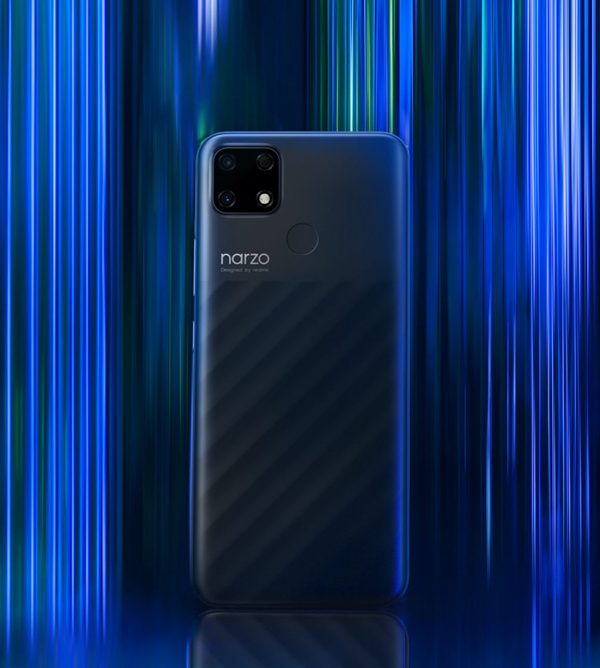 6.5 inch Mini-drop Fullscreen
The narzo 30A has a 6.5 inch 20:9 screen display that provides excellent gaming and video experience to users through a wider field of view. The internal structure of narzo 30A's screen undergoes the newly upgraded stack process that creatively draws the parts and components closer to each other. Therefore, the area of droplets is reduced, bringing the screen ratio up to 88.7% which allows you to have less visual disturbance while enjoying the comforts brought by a 6.5-inch large full screen.
Trendsetting Design
narzo 30A is available in two colours options which are Laser Black and Laser Blue. The device sports a diagonal stripe design and breaking directional conventions to create a slick and imbalanced visual space. The brand new visual sensation brought by narzo 30A is reminiscent of motion that shows off the freestyle.
13MP AI Dual Camera
The 13MP dual rear camera with an f/2.2 large aperture lens on narzo 30A is able to provide extra light in your night shots. With Super Nightscape Mode on, you can take clear, bright night shots without a tripod. Apart from that, the three night filters – Cyberpunk, Flamingo and Modern Gold are intricately designed by the realme imaging team to portray their unique style, making shots to the next level. On the front, the 8MP front camera includes AI Beauty, Portrait Mode and other features which enable your selfies to truly stand out.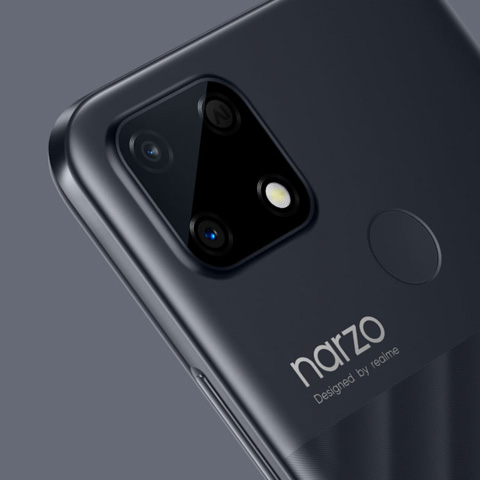 realme Gaming Accessories
realme Mobile Game Finger Sleeves
realme Mobile Game Finger Sleeves is particularly designed for gamers with sweaty hands to have a pleasant gaming experience. It is made up of 30% Superconducting Electric Silver Fiber where its sensitivity is 6 times higher than ordinary carbon fiber materials for users to achieve strong and smooth control.
The finger sleeves adopt Spin Covering Yarn Technology with 18 needles densely woven. As a result, they are 2 times more sensitive than the traditional 15 needles quality for users to be more responsive while gaming and stay dry.
You are able to restore the real touch while wearing them due to 0.25mm Ultra-Slim Design and they are almost as light as zero weight. The Four-dimensional Elastic Design could also perfectly fit all sizes of finger without feeling the tightness for a comfortable gaming experience.
realme Cooling Back Clip
The Cooling Back Clip helps smartphones to stay at a manageable temperature with its patented Dual Cooling technology. By turning on '1s Rapid Cooling' function, the device begins to cool down rapidly with the power-driven semiconductor ice chip and a 7-blade fan that pushes cold air across the entire device.
Gamers will never have to worry about overheating while gaming as the Peltier effect in semiconductor material enhances Heat Dissipation where heat can be absorbed and discharged to achieve the purpose of cooling. realme Cooling Back Clip also operates silently as low as 27dbso that users will be able to enjoy the game peacefully. The built in RGB Lighting distributes dazzling light effects evenly to create a passionate gaming atmosphere and serve as an excellent way to get into the zone.
realme Mobile Game Controller
With CapAir Mapping Technology, it can directly send the electrical signal to the screen with an almost imperceptible delay and provides ultra-short key ranges, ensuring high sensitivity and agile control over players' inputs. The Recordable Burst Mode is one of the most crucial features that enables players to realize the recordable one-touch burst, allowing you to easily attack regularly and defeat a horde of opponents quickly.
The realme Mobile Game Controller does not require frequent charging due to its 80-hour long battery life which is sufficient for 4 hours continuous playing daily and 20 days of standby. The whole controller uses Micro Switch Trigger with clear feedback where the keystroke is shorter and the trigger is faster, making the operation full of rhythm.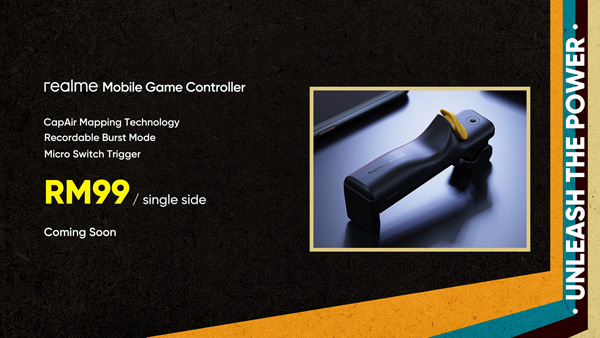 Product Availability
Version
Sales Information
narzo 30A (4+64GB)
RRP: RM599
First Online Sale on realme's official store at Shopee
-Purchase during Shopee 4.4 Mega Shopping Day 2021 at only RM499
-Link: http://bit.ly/rnaarzo30Apr
realme Mobile Game Finger Sleeves
RRP: RM29
First Online Sale on realme's official store at Shopee
-Purchase during Shopee 4.4 Mega Shopping Day 2021 at only RM9.90
-Link: http://bit.ly/rfinsleepr
realme Cooling Back Slip
RRP: RM149
First Online Sale on realme's official store at Shopee
-Purchase during Shopee 4.4 Mega Shopping Day 2021 at only RM99
-Link: http://bit.ly/rcoolingpr
realme Mobile Game Controller
RRP: RM99 (single side)
Coming soon!
Special Promotions on Shopee 4.4 Mega Shopping Day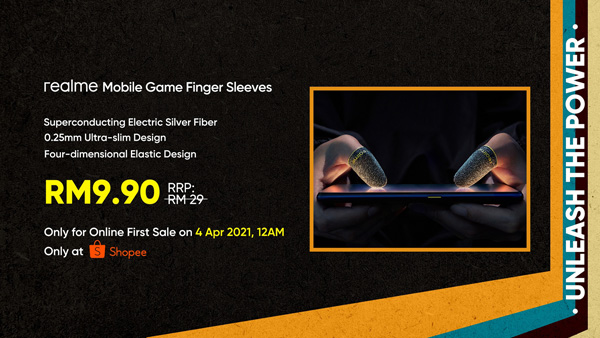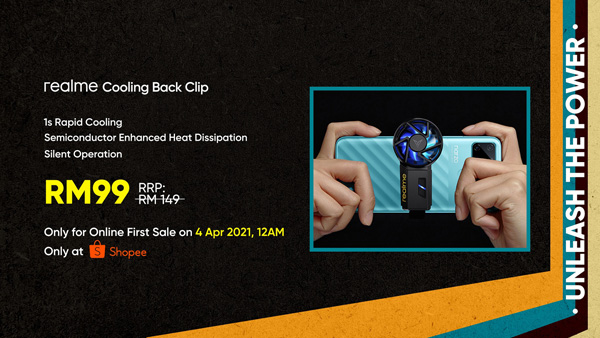 To find out more about realme's events and promotions, do follow our Facebook page as well as Instagram at @realmemalaysia.