5 Informative TikTok Challenges to Check Out this April!
As the third month of 2021 comes to a close, TikTok invites each and every one of you to take this time to learn something new while we continue to stay safe during the pandemic. With five exciting initiatives lined up for you to explore, there are endless ways for you and your family to discover new things without leaving the house.
These fun and educational TikTok challenges has something for everyone to take part in: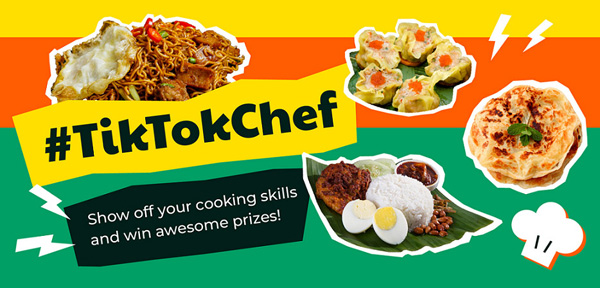 Whip up a storm with #TikTokChef
Are you a budding chef, or just dipping your toes into the gastronomical world of cooking? Show off your delicious creations with #TikTokChef and stand a chance to win up to RM5,000 worth of prizes! From 22 March – 4 April, all users can share videos of themselves cooking their favourite food or simply experimenting with new dishes to participate in this challenge. Want to stand a chance to win the grand prize? Submit 6 or more amazing videos to be in the running! Cooking newbies can take this chance to try out some easy and tasty recipes for themselves too!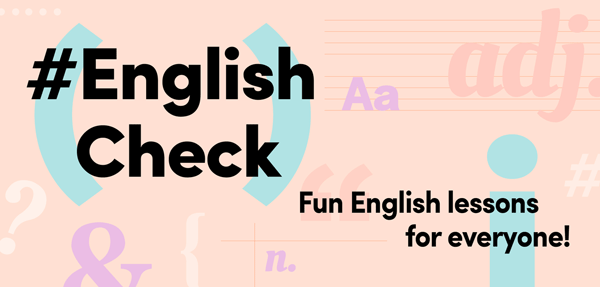 Class is now in session with #EnglishCheck
Aside from cooking, learning a language is also equally as important in our daily lives. The best way to master any language is by practicing it every day and now, you can learn English with #EnglishCheck! You can explore many tips and tricks to improve your English pronunciation and proficiency. There are also so many easy-to-follow videos you can dabble in from today. If you're a fluent speaker, do you have any helpful tips to share with your fellow TikTok users? Upload your video, share your love for English and help someone learn today!
Stay happy, stay healthy with #HealthCheck
It goes without saying that over the past year, taking care of our health has become an increasingly important factor in our daily lives than ever before. In conjunction with World Health Day, TikTok is inviting every single one of you to share your knowledge on all things health-related from 5 – 11 April, . We're sure that you have a health tip up your sleeves that no one else might know about – and sharing is caring! Join in the challenge and learn various ways on how you and your loved ones can stay healthy with #HealthCheck, especially during this pandemic.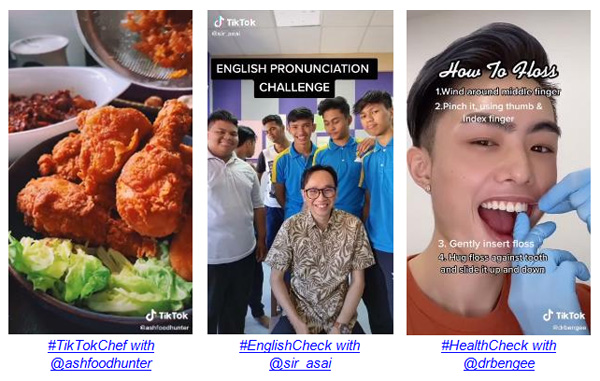 Get ready to celebrate with #PersiapanRaya
TikTok wants to bring joy and happiness during this festive season. After all, Hari Raya is always a time to get together with family and bring smiles to each other's faces! With the Holy Month of Ramadan coming up and Hari Raya festivities coming right after, TikTok wants to make sure that all of you have your #PersiapanRaya in check!
Be prepared for a memorable celebration by sharing your best tips and tricks for Hari Raya from 3 – 12 May. From house cleaning and decoration hacks, travel tips (fingers crossed that interstate travel will be allowed soon!), photography tips for the best Hari Raya #OOTD photoshoots, and financial tips especially for those giving our duit raya for the first time and more, there's so much to learn and prepare!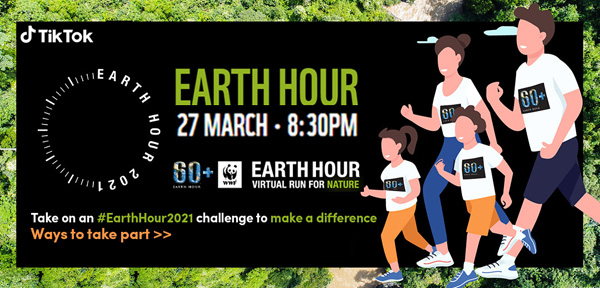 Show your love for Mother Nature with #EarthHour2021
While we take care of ourselves this year, we must not forget to also take care of our home, Earth. This Earth Hour on 27 March, TikTok invites you to put the spotlight on our beautiful planet and the environmental issues we face. Earth Hour is an annual, symbolic, lights-out event that happens every year, at 8.30 p.m. on the last Saturday of March. It is one of the world's largest grassroots movements for the environment, engaging millions of people from over 180 countries and territories to speak up for nature and inspire global action for the environment.
This year, TikTok encourages you to switch off your lights for an hour and show us how you celebrate #EarthHour2021 to stand the chance to win exclusive Earth Hour merchandise! Don't forget to hit the follow button for @earthhourofficial to be notified if you win.
Would you like to keep fit and help Mother Nature stay healthy as well? Then, join the Earth Hour Virtual Run for Nature! You can run anywhere anytime from 28 March – 15 April and get yourself a unique, eco-friendly e-certificate with your name on it. Registration proceeds will go to WWF-Malaysia's (@wwfmalaysia) efforts to protect nature, one of our greatest allies against climate change and vital for our survival and prosperity. Register at here by 27 March to take part.
So, what are you waiting for? Download the TikTok app via iOS or Google Play and learn something new and interesting today!