TikTok launches Family Safety Toolkit in Malaysia in conjunction with Safer Internet Day
TikTok, the leading destination for short-form mobile videos today further mobilized its vision of a safer internet by collaborating with DQ Institute and JA Worldwide to launch a Family Safety Toolkit. The first of a kind toolkit will be available on TikTok's Safety Centre within the app from Feb 9 onwards in Malaysia and other APAC countries, in conjunction with Safer Internet Day (SID) 2021.
SID 2021's theme, "Together for a better internet", is a call for unity amongst multiple stakeholders to join in a collective effort to make the internet a safer and better place for all, especially for children and young people. TikTok saw it fitting to leverage DQ Institute's Digital Literacy framework and to partner with JA Worldwide (one of the world's most impactful youth-serving NGOs), to further highlight its commitment towards trust and safety on such an important industry milestone.
Arjun Narayan Bettadapur, Director, Trust & Safety, TikTok, Asia Pacific elaborates, "We're excited to partner with DQ Institute to launch the TikTok Family Safety Toolkit aligned with the DQ framework, the world's first global standard of digital literacy and digital skills. One of our highest priorities at TikTok is to keep our community safe and we're happy to co-develop this Toolkit as a comprehensive digital parenting guide to help educate families on online safety and digital citizenship through a wide range of policies, tools and resources available on TikTok."
TikTok's partnership with DQ Institute and JA Worldwide is a series of carefully planned collaborations as the company doubles down on its commitment to Trust and Safety. In just the past year alone, TikTok has had two Transparency Reports published, enhanced its Family Pairing features, updated its Community Guidelines and has undertaken various partnerships with local agencies and organizations including the likes of the Malaysia Digital Economy Corporation and Yayasan Generasi Gemilang, all in the name of trust and safety.
Dr. Yuhyun Park, Founder, DQ Institute expressed her delight in collaborating with TikTok, "The DQ Institute is excited to work with TikTok, one of the top platforms influencing young minds today, in supporting families across the Southeast Asian region. According to the 2020 Child Online Safety Index, 64% of Southeast Asian youth have experienced at least one cyber-risk, such as cyberbullying, tech addition, and risky content and contact. With the COVID-19 pandemic sending more teens online, this number has increased – demanding online safety to be more critical than ever before. This is why the TikTok Family Safety toolkit is especially important. It empowers parents with simple and practical digital parenting tips to support their teens' digital life, and empowers teens to constantly check and improve their digital citizenship skills in navigating TikTok – and all other apps – safely and responsibly."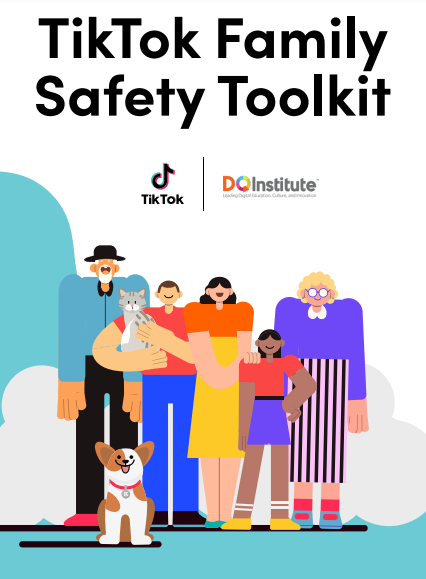 TikTok's Family Safety Toolkit provides the Top 10 Digital Parenting Tips which parents can easily follow with their children/teenagers and to support and nurture them in becoming good digital citizens. On top of that, the toolkit provides simple and practical pointers on how to implement these tips using TikTok Family Safety Tools.
Promoting a safe and positive app environment is and always will be TikTok's top priority. This partnership with DQ Institute and JA Worldwide is just another step forward that the short-form mobile video goliath has taken in its ever-growing list of trust and safety initiatives.
"JA Malaysia is elated to be collaborating with DQ Institute and TikTok to launch the TikTok Family Safety Toolkit in Malaysia. As more youth are surfing the web as well as interacting and engaging online due to the COVID-19 pandemic we know that internet safety is a concern for many parties especially for parents and educators. With these easy to follow steps provided by TikTok in their TikTok Family Safety Toolkit, we hope that youth, parents and educators can take the necessary measures to make our online interactions not only safer for them, but also safer for our virtual community. As an organisation that is committed to serving youths for a better and brighter future we feel this initiative will be important for them now and throughout their lives," concluded Stuart Dean, Chairman of JA Malaysia.
For families who want to learn more about online safety, TikTok has created a number of resources, including its Youth Portal, Parents page, educational safety videos and more. In Malaysia, TikTok has also launched previous challenges including #bettermebetterinternet and #thinkb4youdo to raise awareness and address key challenges in online safety.
For more information on TikTok's safety tools and resources, visit tiktok.com/safety or see our safety videos at tiktok.com/@tiktoktips.