HUAWEI unveils its New and Improved HUAWEI MateBook D14 2020 Intel Edition
In today's fast-paced digital world, HUAWEI firmly believes that laptops should be able to meet the needs of Malaysians. With that, HUAWEI will be rolling out the new and improved HUAWEI MateBook D 14 2020, packed with a faster Intel processor and better features this coming 26th February 2021 – at the RRP of RM3,399 and a free gift worth up to RM249.
Customers can expect a laptop combining aesthetics with performance when they purchase the HUAWEI MateBook D 14 2020 Intel Edition. This latest laptop features a modern and sleek design that is backed by a powerful performance. Eager to know more about the upcoming MateBook D 14 2020 Intel Edition? Here are three reasons why the MateBook D 14 2020 Intel Edition is a laptop for everyone.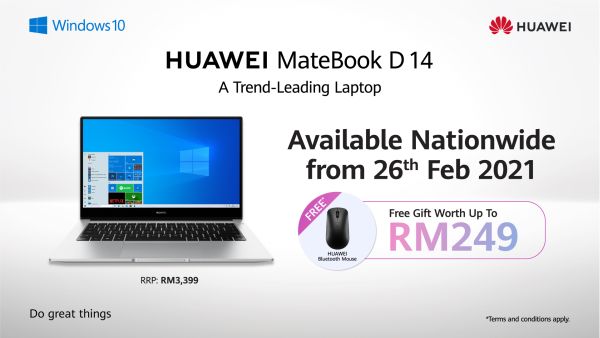 Sleek design that captures attention instantly
The first impression is what matters and that is why the HUAWEI MateBook D 14 2020 Intel Edition was designed to capture the eyes of those who appreciate a clean, modern, and sleek look – with its metallic body and a futuristic finish. On top of that, the 14-inch HUAWEI MateBook D 14 2020 Intel Edition weighs only 1.38 kg with a thickness of 15.9mm. The laptop comes in two colours – an edgy Space Grey and modern Mystic Silver.
Packed with innovative technology
If you are a heavy laptop user who is constantly multitasking, the HUAWEI MateBook D 14 2020 Intel Edition will be the ideal laptop for you. Fitted with some of the latest innovative technology, the laptop provides a seamless and smooth experience for day-to-day use. Equipped with the latest 10th Gen Intel® CoreTM processor and NVIDIA® GeForce® MX250 discrete graphic card, it is set to deliver an impeccable performance when multitasking or using heavy duty software and games.
Besides that, have you ever found it a bother to secure your laptop with complex passwords, and face the extra hassle of having to type it in each time you want to log in? You no longer have to with the MateBook D 14 2020 Intel Edition as the power button is also a fingerprint scanner. Now, you can switch on and log in at the same time almost instantly. If you are worried about security, HUAWEI is one step ahead of you. The fingerprint scanner has a separate security chipset which secures your privacy and data, enhancing the security of the laptop. The MateBook D 14 Intel Edition 2020 is also equipped with its iconic recessed camera, giving you peace of mind when you are working on the laptop.
Everyone loves a solid battery that can last hours on end without having to worry about charging your laptop. The good news is that the HUAWEI MateBook D 14 2020 Intel Edition can give you an outstanding 13 hours of regular day-to-day office use on a single full charge. Better yet, the laptop is also equipped with fast charging speed technology that can charge up to almost 50% in half an hour using its own USB-C charger.
The next best feature about the USB-C charger is that it acts as a dual charger for both your HUAWEI laptop and smartphones. There is no more need for you to carry an extra charger around whenever you are on the go!
Smarter than ever
For those who are familiar with the HUAWEI ecosystem, you will be pleased to know that HUAWEI allows you to mirror your HUAWEI smartphones onto your HUAWEI laptop through Multi-screen collaboration. This feature makes it easy for you to transfer and share files between your devices, where you can simply drag and drop the file. Not only that, but users also get to control their smartphone applications and perform tasks such as replying to texts, answering calls, and playing games.
It is given that working long hours while staring into the screen of your laptop can be tiring for your eyes. HUAWEI is helping you with the TÜV Rheinland certified screen which means it will reduce harmful blue light effectively to protect your eyes. Ultimately, it provides your eyes with the comfort it needs while using your laptop.
With all these improved features packed in the ultra-thin laptop, you can rest assured that the HUAWEI MateBook D 14 2020 Intel Edition will complement every lifestyle of yours and always deliver a powerful performance.
Click on the links to learn more about these amazing features on the HUAWEI MateBook D 14 2020 Intel Edition at HUAWEI Store and Shopee.