Shots On OnePlus – Discover The Night Starts Now!
OnePlus Malaysia today announced its latest contest, 'Shot on OnePlus – Discover The Night' for Malaysian fans to join and stand a chance to win plentiful prizes. The contest focuses on one of the key features of OnePlus devices, its Nightscape mode. Winners will be able to take home new OnePlus products as well as cash prizes through this content.
"There are different challenges when it comes to taking beautiful images during the day and night. This time, we'd like to push the limits and test our fans photography skills by using the Nightscape mode. We know it's challenging to take stunning photos at night even for any photographer, especially on a mobile device. It comes with patience, skills, technology of the device and many more elements for a perfect night photo. Here at OnePlus Malaysia, we are encouraging our fans to unleash their inner photography instinct and shoot for your best Nightscape image. All the best to all participants and we are looking forward to your stunning night photos," said OnePlus Malaysia Team.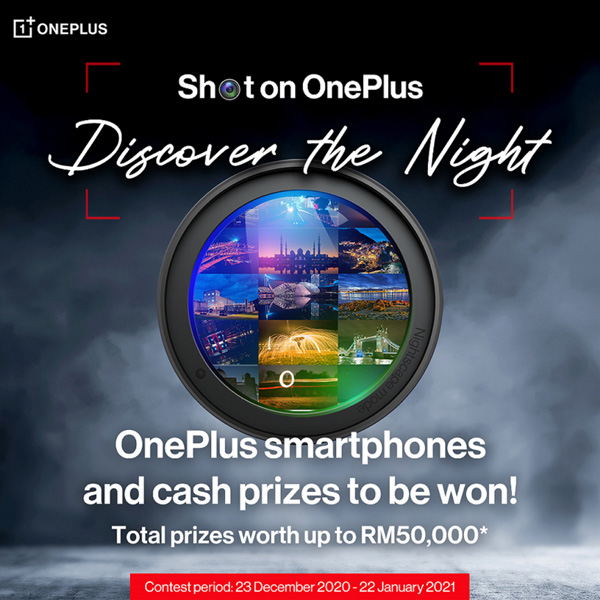 Steps to Join
All you need to do is just capture a night scene image using any OnePlus device and ensure 'Shot on OnePlus' watermark function is enabled in the Camera Settings before taking any photos.
Next, post the photo on Instagram or Facebook (feed) with 3 hashtags and tag OnePlus Malaysia Facebook page or Instagram account. Hashtags to be included in the caption:

#DiscoverTheNightwithOnePlus

#ShotonOnePlusMY

Hashtag of the phone model (eg. #OnePlus8T)

Make sure to set the Instagram profile, or Facebook post to 'Public'. Include the following information in the posting: device name (hashtag), location, and whether a 3rd-party lens was used.
Participants are required  to submit their entry to <link> starting from 23 Dec 2020 until 22 Jan 2021.
Fans are welcome to submit a maximum of 10 photos throughout the contest period, but only the best photo is eligible for winning the award. In order to win, participants should consider these four factors when taking their night scene photos;
WOW factor (25%) Exquisite light situation, outstanding creativity and skills.
Message Factor (25%) Strong messaging or visual communication.
Content Factor (25%) Contrast, elements, balance, harmony and beauty.
Technical Factor (25%) Exposure, sharpness, image manipulation.
A total prizes worth up to RM50,000 are available to be won by the participants!
Best Nightscape Photography of the Year x 1
Prizes: OnePlus 8T 12 GB RAM model worth RM2999 + RM1000 cash prize + Award e-certificate
Nightscape Photography Creative Award x 3
Prizes: OnePlus 8T 8 GB RAM model worth RM2699 + RM800 cash prize + Award e-certificate
Nightscape Photography Finalist Award x 50
Prizes: A set of Limited Edition OnePlus Nord Merchandize + RM100 cash prize + Award e-certificate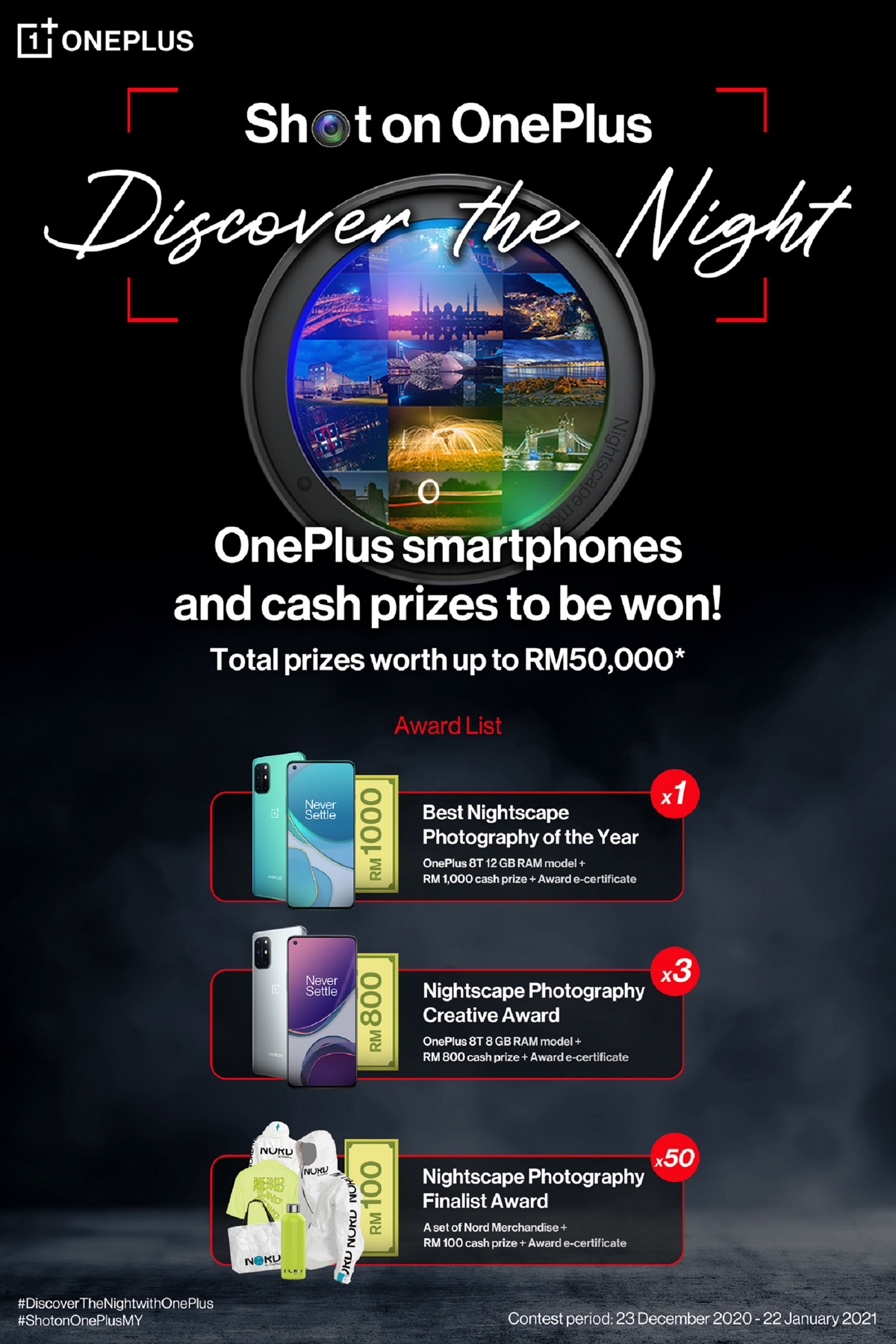 Fans have a month's time to prepare and participate in the contest starting from today (23rd Dec 2020). So start your engines and start shooting!
For more updates and details on products' availability, stay tuned to the official OnePlus Malaysia Facebook page, Instagram account (@oneplus.msia) and www.oneplus.com/my.