ShopeePay Goes Live with DuitNow QR
ShopeePay has gone live with DuitNow QR, after it became the first e-commerce platform mobile wallet to enable DuitNow QR, Malaysia's National QR standard operated by Payments Network Malaysia (PayNet). ShopeePay has joined a growing DuitNow ecosystem, currently comprising 14 banks, namely Alliance Bank Malaysia Berhad, AmBank Malaysia Berhad, Bank Muamalat Malaysia Berhad, Bank of China (Malaysia) Berhad, CIMB Bank Berhad, Citibank Berhad, Hong Leong Bank, HSBC Bank Malaysia Berhad, Industrial and Commercial Bank of China (Malaysia) Berhad, Malayan Banking Berhad, Public Bank Berhad, RHB Bank Berhad, Standard Chartered Bank Malaysia Berhad and UOB Malaysia. ShopeePay recently appointed UOB Malaysia to facilitate the end of day settlement with other banks.

With ShopeePay being a part of the DuitNow ecosystem, ShopeePay users can use their mobile wallet to make payments at physical stores by scanning the DuitNow QR, in addition to using the mobile wallet for making payments at the online Shopee platform. Users are also set to experience seamless top up to their mobile wallets as ShopeePay embraces DuitNow, an instant fund transfer service available in-app by June 2021.
DuitNow QR is an interoperable QR code which allows users to make payment or transfer funds to anyone by scanning a DuitNow QR code. For merchants, they have the convenience of displaying just one QR code at payment counters, thereby reducing confusion and enabling users to have a hassle-free and convenient payment experience, whilst providing the freedom to choose from participating banks or mobile wallets with no registration required.
According to popular bubble tea brand, Black Whale, this payment method is simple, convenient and affordable as there is no upfront cost of fixed fees. Callie Chan, Chief Operating Officer of Black Whale, said "Looking for exact change can be a nuisance. Using DuitNow QR payment is convenient for our customers especially when they do not have cash with them. Customers have also enjoyed great rewards such as daily cashbacks when they use ShopeePay."
Health Lane Pharmacy, a local pharmacy chain, could not agree more. Loh Hey King, Director of Health Lane Family Pharmacy Sdn Bhd said, "DuitNow QR payments is a safer way to pay particularly under the current pandemic situation. We minimise physical contact with our customers and eliminate the need to handle cash. Going cashless also benefits us by minimising the risk of dealing with cashier error, counterfeit notes and stolen cash. Besides, training our cashiers to familiarize with DuitNow QR would require minimal effort"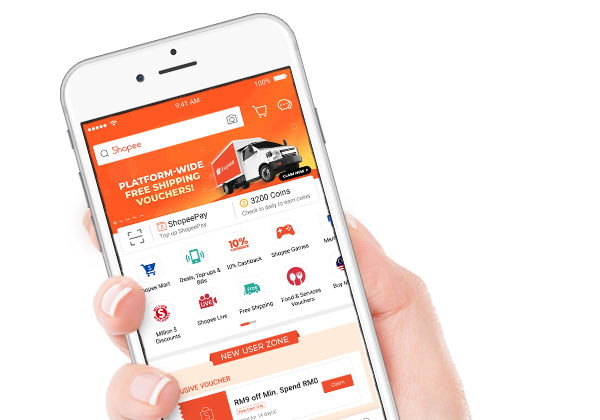 From 15 December 2020 to 31 January 2021, ShopeePay users also get to enjoy cashback of up to RM5 with a minimum spend of RM15 using DuitNow QR in a single transaction at 21 participating merchants, a total of 518 outlets nationwide.
Other special offers for those using ShopeePay via DuitNow QR include hand sanitisers from Sunway Pharmacy for RM1 (normal price: RM7.49), Black Whale Mini Whale Milk Tea for RM2 (Normal Price: RM7.90) and many more. Krispy Kreme, Haagen Dazs, Anakku, Salad Atelier, Big Pharmacy are among participating merchants. For more offers and deals, check it out on the Shopee app at here.