Malaysia's 'Year on TikTok' – Celebrating Favorites in 2020
TikTok, the short-form video app with a mission to spread creativity and bring joy, today unveiled its 'Year on TikTok' – a collection of videos, memes, music, creators and more that brought a smile and inspired creativity in the TikTok community in 2020.
2020 was a hard year as the world battled a global pandemic that introduced social distancing and loss, community hardships, and economic uncertainty. However, despite the whirlwind of change, one thing remained constant: the heart, soul, care, and creativity of the TikTok community.
"TikTok has always been about bringing people together to inspire one other and share moments of joy. Over the past year, we have witnessed many of such moments and found a deep sense of community and connection even though many of us have spent most of the year physically separated. We're truly proud to be part of this community," said Cheah Sheau Mei, User and Content Operations Manager, TikTok Malaysia. "By sharing our Year on TikTok, we want users to look back at the year in happiness and toast to the special memories we shared."
TikTok and its trends, hashtags, and challenges made us feel connected despite being apart this year. Here are the faces responsible for making Malaysia's 2020 a memorable 'Year on TikTok'.
As the home to many smiles, TikTok inspires creativity and brings joy to the table through its diverse mix of creators and massive content library, encompassing a wide selection of video genres for every liking. Featured in this section are the creators who made this year a tad better in today's trying times.
Malaysia's Top 10 Creators of 2020
Go For Pro! Here Are Malaysia's Top Sports Creators
A Healthy Mind for Healthy Bodies – Here Are Malaysia's Top Educators
Don't Forget Your Charm! – Here Are Malaysia's Top Fashion & Beauty Icons
Apart from its esteemed creators, TikTok also believes that creativity is only truly bolstered when an existing idea is shared and collaborated upon, making up the blueprint of its community. As most Malaysians spent their time locked at home this year, TikTok made it their mission to keep spirits high through an array of fun and meaningful hashtag challenges.
Malaysia's Top Trending Hashtags of 2020
#StayAtHome (27.6B Views)
#ItStartsOnTikTok (7.5B Views)
#WipeItDown (10.4B Views)
#TikTokGuru (1.9B Views)
#RamadanMubarak (1.4B Views)
#HeadDanceChallenge (1B Views)
#ThinkB4YouDo (602M Views)
#Raya2020 (344.5M Views)
#JingJitChallenge (184.7M Views)
#KesanaKesini (160.2M Views)
Anyone with a smartphone would know that music is an essential component to TikTok's overall identity. In fact, it may as well be the secret sauce to TikTok's fresh and rejuvenating videos. More than that, TikTok's culture of sharing changed the way people discovered music and even tempted the celebrities themselves to hop on board, making the app truly a space for everybody. Here in Malaysia, some of the most trending sounds and celebrities this year include:
Aside from building upon its community and app-functions, TikTok also doubled down on its commitment to keep spirits especially high this year to relieve anxieties brought by the pandemic throughseveral key initiatives, all while ensuring that users don't go spiralling down a rabbit hole with TikTok's in-app 'Family Pairing' safety tools for added control over one's activity on the platform. Users can expect more updates of this nature to be included in the future, but until then, here are some app-highlights aimed at giving users the best possible experience on TikTok.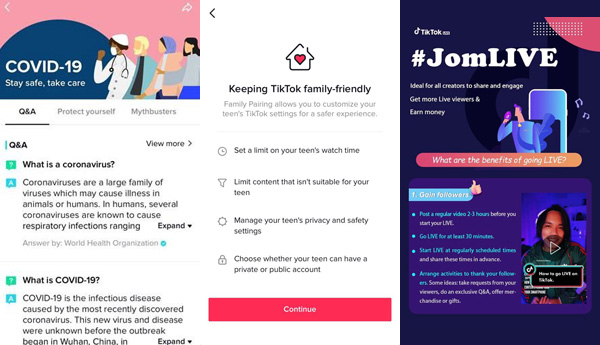 Product Update Highlights
COVID-19 FAQ – This 'Frequently Asked Questions' (FAQ) page provided verified information on COVID-19 facts, in partnership with the World Health Organization (WHO) to collectively curb misinformation on the internet.
TikTok Livestream – Live streaming allowed users to host, interact, and bond with viewers from anywhere they pleased. This initiative was firstly launched to encourage users to stay home via #StayAtHome LIVE! Specials featuring the likes of Alvin Chong and Faizal Tahir;but has now transcended to include TikTok Stage with international celebrities, as well as a recent cyber-wellness panel discussion comprising TikTok and key NGOs in Malaysia.
TikTok Rewards – TikTok Rewards is a seasonal program where TikTok and brands joined hands to bring its users exclusive vouchers and gifts via earning and redeeming points for rewards.
Family Pairing- The in-app 'Family Pairing' features can be accessed via 'Settings' and was aimed to enhance privacy, safety and browsing options for families on the platform. This protective suite includes added controls for parents over their child's activity on TikTok.
Although this year was especially hard on everybody around the world, TikTok and its global community persevered to make the best of it despite many uncertainties. Through its diverse library of content and meaningful challenges, TikTok sought out to keep users entertained and on their toes even though many were stuck at home. On top of that, users could rest easy on the platform knowing their safety and security is guaranteed. All this and more made 2020 a different, but memorable year for TikTok and its wider community. So, what are you waiting for? Start your journey with TikTok today!