HUAWEI announces HUAWEI FreeBuds Pro's New High-Quality Audio Recording Feature alongside the Latest HUAWEI Mate40 Series
During the HUAWEI Mate40 Series Online Global Launch Event, HUAWEI announced that the HUAWEI FreeBuds Pro will offer the new high-quality audio recording feature to enhance the sound quality in videos and livestreams. In addition to HUAWEI's native camera app, high-quality audio recording is compatible with third party video or livestreaming apps. As the world's first intelligent dynamic noise-cancellation TWS earphones, the HUAWEI FreeBuds Pro is incorporated with innovative technology and stunning design. The ground-breaking earphones are equipped with a hybrid active noise-cancellation technology to detect external and in-ear noise environments, reducing background noise by up to 40dB.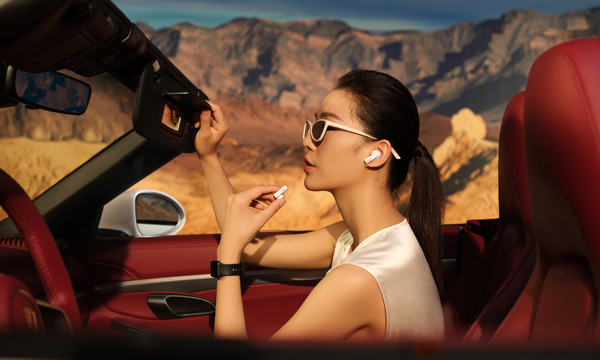 Local celebrities like Joey Leong, Goh Liu Ying and Baby Shima have shared their favourite features of the HUAWEI FreeBuds Pro, HUAWEI FreeBuds Studio and HUAWEI X GENTLE MONSTER Eyewear II. Check out the videos below.
Applicable to all HUAWEI devices with EMUI 11 onwards, when using a smartphone to record a vlog, users simply move away from the smartphone to stay inside the camera's field of capture. HUAWEI FreeBuds Pro can be transformed into a two-way audio equipment with high-quality recording. HUAWEI FreeBuds Pro makes recording vlogs easier by getting rid of the complicated equipment to freely record every moment without wires.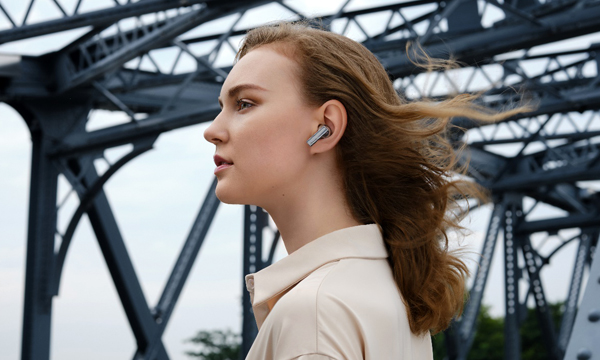 Despite the HUAWEI FreeBuds Pro being a small and sophisticated smart audio device, it features a 3-mic system to capture the user's voice accurately. HUAWEI's proprietary Bluetooth high-quality audio recording algorithm effectively distinguishes between human voices and environmental sounds, then compresses and transmits to the smartphone. HUAWEI FreeBuds Pro covers the sound frequency band from 20Hz to 20kHz, which can sensitively record a variety of sounds in daily life, capturing all the sound details to enhance the video quality. For example, at a concert, users can record the sounds of different musical instruments.
HUAWEI FreeBuds Pro comes in three timeless colour variations in Malaysia: Silver Frost, Ceramic White and Carbon Black, all available for purchase now from HUAWEI Store online and retailers in selected markets.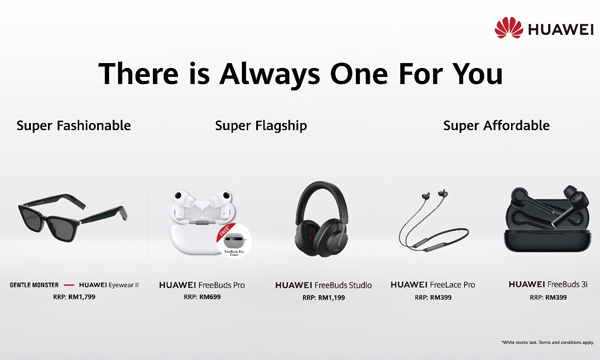 There's Always One for You at HUAWEI
Huawei has also launched a range of wearables to suit your daily lifestyle such as the HUAWEI X GENTLE MONSTER Eyewear II, FreeBuds Studio, FreeLace Pro and FreeBuds 3i. From leisure to sports to music enthusiasts, Huawei has got you all covered to deliver a seamless AI smart life. 
You can enjoy your favorite tunes with the FreeBuds Studio as it is the world's first headphones with Intelligent Dynamic Noise Cancellation. It lets users hear only what they want to hear, even in changing noise environments with Ultra, General and Cosy Modes to choose from. Each HUAWEI FreeBuds Studio ear cup is equipped with two Bluetooth antennas to provide 360-degree all-round signal coverage. The antennas can intelligently detect if a signal range is blocked and automatically switch to another antenna to ensure stable connection.
Furthermore, choose to be a stylish trend-setter by owning the HUAWEI X GENTLE MONSTER Eyewear II with improved technologies. The Eyewear II has adopted a sophisticated device stacking technology to ensure that the temples are slim, and the entire lens body has no buttons or ports, making the design stylish and understated. The slim temples are made of titanium plastic, which is lighter and less dense. Featuring an ultra-thin, large amplitude speaker, its amplitude has been increased by 100% compared with the previous generation, offering wider vocal range and a more immersive music experience with richer details. The semi-open dual speakers will give you high quality audio everywhere you go.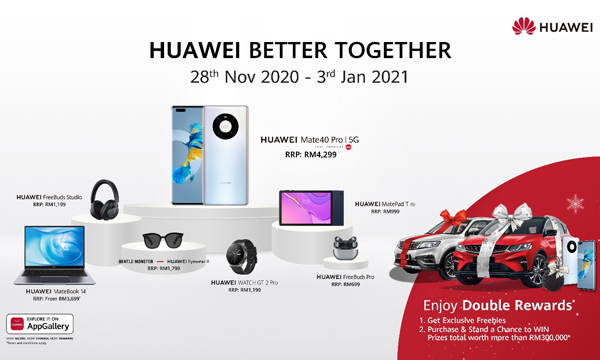 Better Together 2020
From 28th November 2020 till 3rd January 2021, consumers will enjoy double rewards when buying the HUAWEI FreeBuds Pro priced at RM699. With every purchase, consumers will receive an exclusive gift and stand a chance to win prizes worth more than a total of RM300,000 including the brand-new Proton X50. Don't miss out on this opportunity to own one of the best TWS earphones of 2020!
All in all, the HUAWEI FreeBuds Pro is a great pair of earphones for those looking for good value and innovative features. Check out the smartwatch online at HUAWEI Store or head over the nearest HUAWEI Experience Store to explore more.