Access over 260 Cybersecurity Educational Sessions from Trend Micro CLOUDSEC 2020
CLOUDSEC 2020, the largest virtual cybersecurity event across Asia Pacific and Middle East, is making its three days of keynotes and more than 260 breakout sessions available for free online, responding to overwhelming demand from registrants. The on-demand content will be accessible for a limited time until the end of December.
"While Covid-19 has pushed the physical world into four walls, the silver lining is that the virtual world has expanded infinitely. At Trend Micro, we saw an opportunity to bring the cloud security world together under one digital roof," says Dhanya Thakkar, Vice President, Asia Pacific, Middle East, and Africa. "Despite the pandemic, there is still an incredible appetite for information and knowledge-sharing from the cybersecurity community. We're making all the CLOUDSEC 2020 contents available so decision-makers and cloud builders can get a refresh and an update of the latest developments in the industry."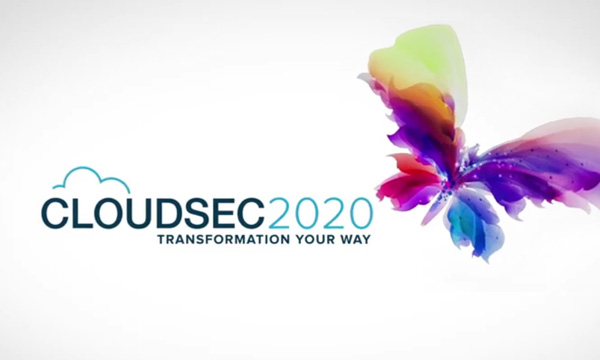 Hosted by Trend Micro, a global leader in cloud security solutions, the event drew 21,000 registrants, including C-level executives, CISOs, security operations personnel,  security engineers, and DevOps and cloud builders across the region. Eight Hands-On Labs (HOL) attracted more than 1,100 technical engineers and cloud builders from 44 countries. 132 certificates were awarded in total for their technical prowess.
The three-day power-packed keynotes at CLOUDSEC 2020 are the most viewed content at the event, covering themes spanning cloud security, digital transformation, and the cybersecurity threat landscape, and featuring global and regional business leaders from renowned companies.
Day one: Cloud security, for the next decade
Featuring speakers from Trend Micro, AWS, Lotte, Snyk, LINE Corporation, and Qatar 2022 Cyber Security Unit
Day two: Recipe for digital transformation success
Featuring speakers from Trend Micro, AWS, GovTech Singapore, IKEA, IBM, and IDC
Day three: Know your enemies and win cyber battles
Featuring speakers from Trend Micro, Infosys, DXC Technology, Proficio, Dyson, and an ethical hacker
"Organizations today face increasingly sophisticated threats, and many have outstripped the existing tools used in the SOC. CLOUDSEC is a great platform for customers who want to know more about next-generation security operations centers (SOCs) and how to leverage cross-device correlation to achieve better detection and response," says Alex Tok, Managing Director, Proficio.
"The XDR approach is the future for detection and response. It breaks the siloes that have long existed in the cybersecurity industry and can potentially unlock immense cybersecurity benefits for businesses.
"CLOUDSEC has ample great content about XDR and how organizations can leverage its power to uplift their security operations," says CK Chim, Global CISO, Dyson.
The breakout sessions totaled more than 55,000 views across the four major tracks:
Cloud, DevOps & Datacenter Security
Learn how to gain visibility and control of the cloud, whether you're moving a workload, extending a datacenter, or migrating completely to the cloud. Experience complete transformation where security is integrated and automated into your CI/CD pipeline. Get cloud security right.
Enterprise Security Strategy & Architecture
Discover the latest strategy and innovations in securing organizations against advanced persistent threats (APT) and top attack vectors such as phishing, business email compromise (BEC), and ransomware.
Threat hunting, Incident Response & SecOps
Understand and get experts' opinions on how organizations are enriching and upskilling their security operation centers (SOC) and incident response (IR) teams to combat new and sophisticated threats. Explore ways by which SOC teams are shifting from doing detection and response to proactively hunting for stealthy threats.
Threat Research & Intelligence
Knowing your adversary is half the battle. Hear from experts on attack campaigns, cybercriminal behaviors, today's vulnerabilities, and future threat predictions. Learn how to operationalize threat intelligence and assess the readiness of your enterprise security architecture.
Owing to the overwhelming demand and response from attendees, all keynotes and more than 260 breakout sessions have been extended for on-demand viewing. Registrants and attendees can access the content on www.cloudsec.com strictly until the end of December 2020.