The hottest and brightest Malaysian music stars continue to shine brighter than ever alongside international artists as JOOX, Asia's most dedicated streaming platform, proudly announced the winners of the first-ever 2020 JOOX Malaysia Top Music Awards (Mid Year 2020)!
With nearly 100,000 JOOX users casting their votes for their favourite songs and artists – amounting to a total of almost 1.5 million votes, the best of Malaysian pop took center stage alongside global music sensations to get their much-deserved industry recognition. The new award-giving event coincides with the High5JOOX campaign to celebrate the streaming platform's 5th anniversary in the country.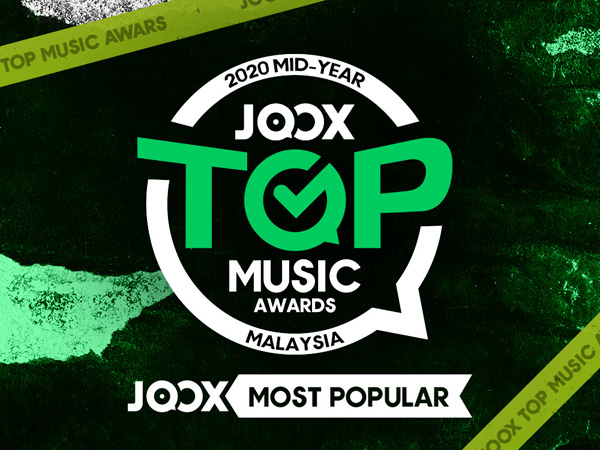 Malaysian music fans chose their local favourites across various genres from hip-hop to rock and pop ballads, putting YonnyBoii, Dato' Sri Siti Nurhaliza, Zynakal, Naim Daniel and Floor 88 in the "Top 5 Artist: Local" slots. Music lovers all over the country also chose their "Top 5 Hits: Local", with Nabila Razali's 'Peluang Kedua,' Naim Daniel and Man Keedal's 'Sembah,' YonnyBoii's 'Biar,' Sufian Suhaimi's 'Janji' and Floor 88's 'Yang Benar' emerging as Malaysia's biggest tunes for the first half of 2020. Among these explosive winners, fans hand-picked songstress Dato' Sri Siti Nurhaliza as the "Most Popular Artist: Local", and Naim Daniel's gripping and emotional 'Sembah' featuring Man Keedal as the country's "Most Popular: Local".
The passion shown by music fans in supporting Malaysian artists is also a triumph for JOOX, which has always been dedicated to supporting local music – as proven by the success of initiatives such as JOOX ORIGINALS, featuring many of the best local performers in the country. JOOX also strives to cater to users' various tastes by bringing them a wide range of music content from around the globe in different languages.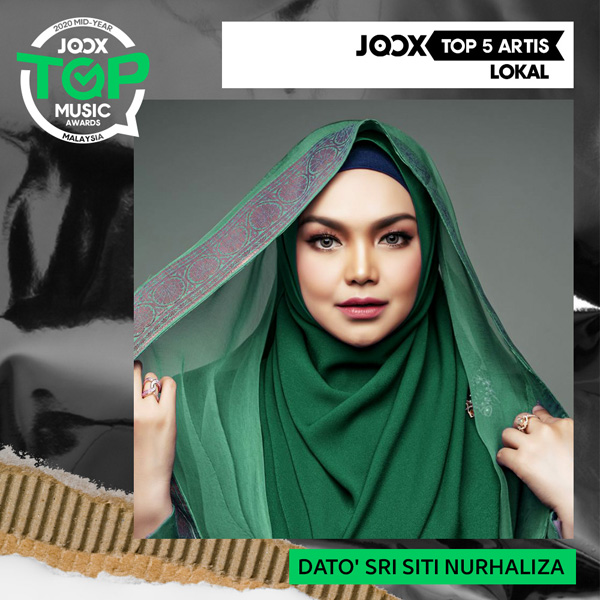 On the international stage, Malaysian music fans voted for Alan Walker as the country's "Most Popular Artist: International", also joining Justin Bieber, Andmesh Kamaleng, Maroon 5 and Ali Gatie to grab the "Top 5 Artist: International" spots. Ariana Grande and Justin Bieber's 'Stuck with U' was the fans' pick for the "Most popular: International", and shared the spotlight with 'Yummy,' also by Justin Bieber, 'Who' by Lauv and BTS, 'End of Time' by K-391 and Alan Walker, and 'To Die For' by Sam Smith to complete the country's list of "Top 5 Hits: International".
The party can't stop yet! As K-Pop remains to be one of the hottest music genres in the country, JOOX Malaysia users also danced and grooved their way into voting for the "Top 5 Hits: K-Pop". Zico's 'Any Song,' BTS' 'ON,' ITZY's 'WANNABE,' TWICE's 'Feel Special' and IU's 'eight (prod. & feat. SUGA)' have come out on top of the genre's list of biggest hits in the country, with BTS' 'ON' emerging as Malaysia's "Most Popular: K-Pop".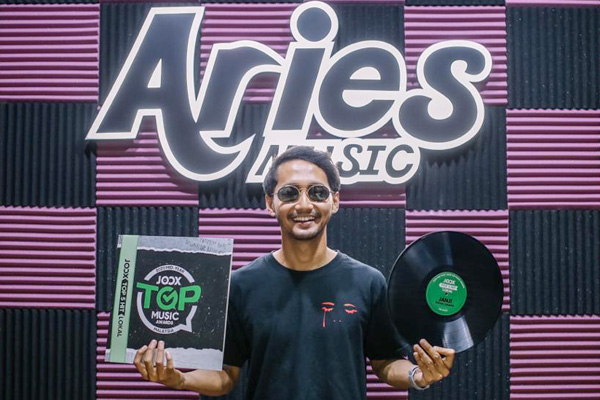 Looking for more music to inspire you? Check out International Express, exclusively brought to you by JOOX, featuring up-and-coming international hit-makers to host live sessions and interact with their fans in Asia. JOOX has also introduced the Korean blockbuster I-LAND, proving that there is something for everyone on JOOX!
Enjoy 24/7 access to 2020's smash hits in Malaysia on JOOX, which currently has an extensive library of over 30 million songs from local and international artists in its music library. Always be in sync with music trends anytime, anywhere via the JOOX mobile or desktop app – downloadable on the Apple App Store and Google Play Store or its website.
JOOX Malaysia Top Music Awards (Mid Year 2020) Results:
| | |
| --- | --- |
| Awards | Winners |
| Most Popular Artist: Local | Dato' Sri Siti Nurhaliza |
| Most Popular: Local | Sembah – Naim Daniel ft. Man Keedal |
| Most Popular Artist: International | Alan Walker |
| Most popular: International | Stuck with U – Ariana Grande ft. Justin Bieber |
| Most Popular: K-Pop | ON – BTS |
Top 5 Artist: Local
Artists
YonnyBoii
Dato' Sri Siti Nurhaliza
Zynakal
Naim Daniel
Floor 88
Top 5 Hits: Local
| | |
| --- | --- |
| Songs | Artists |
| Peluang Kedua | Nabila Razali |
| Sembah | Naim Daniel ft. Man Keedal |
| Biar | YonnyBoii |
| Janji | Sufian Suhaimi |
| Yang Benar | Floor 88 |
Top 5 Artist: International
Artists
Alan Walker
Justin Bieber
Andmesh Kamaleng
Maroon 5
Ali Gatie
Top 5 Hits: International
| | |
| --- | --- |
| Songs | Artists |
| Yummy | Justin Bieber |
| Who | Lauv ft. BTS |
| Stuck with U | Ariana Grande ft. Justin Bieber |
| End of Time | K-391 ft. Alan Walker |
| To Die For | Sam Smith |
Top 5 Hits: K-Pop
| | |
| --- | --- |
| Songs | Artists |
| Any song | Zico |
| ON | BTS |
| WANNABE | ITZY |
| Feel Special | TWICE |
| eight | IU (prod.& ft. SUGA of BTS) |
To enjoy a truly unique and awesome music experience, access JOOX here: