Mercedes-Benz Malaysia commends 54 trainees of the Advance Modern Apprenticeship Class of 2020
Mercedes-Benz Malaysia (MBM) felicitated 54 trainees from its Advanced Modern Apprenticeship Class of 2020 last week. The apprentice programme, in its 36th year, aims to nurture local Malaysian talent to become world-class technicians and join the Mercedes Benz network to put their skills to the test. As of August 2020, over 900 graduates have successfully entered the Mercedes-Benz network as advanced technicians after their successful completion from the programme.
Dr Claus Weidner, President and CEO of Mercedes-Benz Malaysia said, "At Mercedes-Benz, we believe in the continuous development of an individual, training them to be self-reliant and driven for perfection. Over the years, we have seen many graduates join the programme and excel in their automotive career with us. The programme is designed to not only nurture young Malaysians by exposing them to advanced technical skills but also helps them future-proof their careers by learning from the finest in the industry. It is our goal to have a pool of well-trained, technically skilled workforce for our network across Malaysia to ensure that our customers get the best driving experience and uncompromising quality of their vehicle."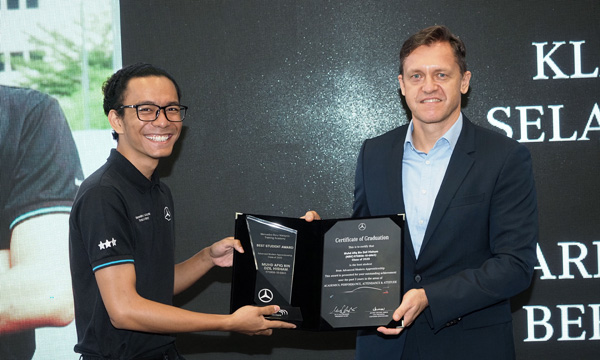 Vice-President for Customer Services at Mercedes-Benz Malaysia, Jeffrey Simon added, "We aim to nurture our local talent, moulding them into the best version of themselves as they embark on their journey in the automotive industry. Despite the ups and downs over the last few months in the automotive industry, we remain committed to delivering the Best Customer Experience, while we contribute to the nation's demand for highly skilled talent in the automotive industry.
The Advanced Modern Apprenticeship provides the best-in-class training module in developing the best automotive talents, unlike any other similar programmes in the country. It is a three-year training programme with full scholarship under the National Dual Training System (NDTS) in collaboration with the Department of Skills Development (JPK), Ministry of Human Resources.
During the course, students go through the latest technical knowledge and diagnostic skills in line with the advanced technology of Mercedes-Benz products. Upon completion, students will receive three certifications; Mercedes-Benz Automotive Mechatronic Training Certificate, Mercedes-Benz Qualified Maintenance Technician Certificate, and National Dual Training System Certificate, equivalent to the Malaysian Skills Certificate Level 3 (SKM 3), guaranteed with a four-year employment.
Throughout the three-year course, participants are trained by certified trainers assessed according to international standards set by Daimler AG in Germany. According to the guidelines set, the training academy maintains a trainee ratio of one trainer to 15 trainees, ensuring the optimum quality in the delivery of modules. The entire course comprises of a 70% practical based and a 30% theory-based curriculum with an on-the-job training component.
For the graduating class of 2020, The Best Student Award was presented to 24-year old Muhammad Afiq bin Dzil Hisham from Klang, Selangor. Afiq was voted the best student by all the vocational trainers as he excelled in every aspect over the three-year course, which includes Punctuality, Work Efficiency, Proper use of Tools, Knowledge, Safety Consciousness, Behaviour, Interpersonal Skills, Work Attitude and Responsibility.
With pride, graduating as a globally certified apprentice and the Best Student Award, Afiq said "I would like to express my sincere gratitude to Mercedes-Benz Malaysia for this valuable training. We have learned a lot and worked hard over the last three years to get to where we are today, and we could not have done that without the guidance of our trainers, family, and friends as we are now globally certified apprentices."
Trainees from the program are introduced and exposed to a wide range of skills which includes presentation, analysing, decision making, strategic thinking, mentoring, self-discipline and most fundamentally, teamwork.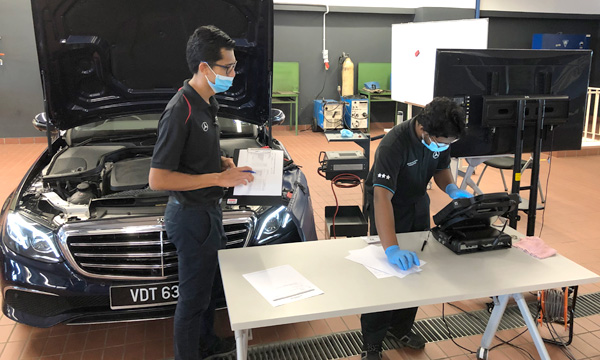 About the Mercedes-Benz Malaysia Apprentice Training Centre
Initiated in September 1984, the ATC was established to instil 'self-reliant learning' and 'life-long learning' philosophies among Malaysian youth. To date, over 900 highly-skilled apprentices have graduated from the initiative.
As a prerequisite to acceptance into the training programme, interested candidates have to undergo a strict selection process which involves a pre-enrolment assessment examination by Daimler AG, Mercedes-Benz Malaysia's parent company. Candidates then have to attend a face-to-face interview by the Recruitment Panel which gives the final approval to candidates who qualify to enrol in the training programme. ATC also provides a structured certification ladder for existing technicians who are keen to upgrade their skills and knowledge.
The Apprentice Training Centre is a 55,000 sq ft facility and staffed by 14 dedicated trainers. The training facility is equipped with state-of-the-art training equipment, purpose-built classrooms, and workshops that emulate real-life after-sales centres.
For more information on the Mercedes-Benz Advanced Modern Apprenticeship Programme, kindly visit www.mercedes-benz.com.my/apprenticeship.
advanceapprenticeshipbenzcarclassmercedesmodernprogrammetraineestraining