Lazada, the leading eCommerce platform in Malaysia, kicks off its 9.9 Big Brands Sale this year with 99 Lazada exclusive brand deals, while also unveiling LazMall's new interactive features and interface for a premium shopping experience. This year's 9.9 sales event will feature a host of exciting on Lazada-ONLY deals, with more Shoppertainment offerings including livestreaming and Coin rewards. Shoppers can expect 24 hours of non-stop promotions, including Crazy Brand Mega Offers with discounts of up to 90%, selected picks on RM1 Crazy Flash Sale, and a chance to redeem an Oppo Reno 4 smartphone.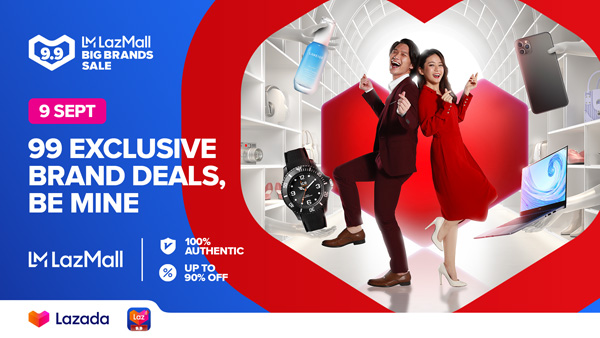 "Lazada's shopping festivals, including this 9.9 Big Brands Sale, have become a key growth driver for the nation's e-commerce space, as well as having a direct hand in revolutionising the way people shop. This year, we are excited to offer our consumers an upgraded shopping experience with LazMall 2.0. Having more than 99 exclusive brand deals on Lazada is also a sure sign of continued excellence and confidence placed on Lazada by international and local brands." Said Leo Chow, Chief Executive Officer, Lazada Malaysia.
LazMall, the biggest virtual shopping mall in the region with the widest assortments from over 18,000 brands will feature a new and refreshed look as well as enhanced shopping features on top of its existing promises. LazMall's authenticity guarantee now offers up to 5 times return for purchases found to be non-authentic, on top of a 15 days hassle-free return policy, guaranteeing 100% authentic quality products with specially curated attractive promotions and discounts.
To step up its brand promise, four new features that will be introduced on the platform are:
Beat the Price: Deal-seekers can discover market-beating prices on a daily assortment of top-selling products;
Brands for You: Shoppers can enjoy a customised set of recommended brands based on user interest and recent interactions with the LazMall channel;
Brand Directory: Consumers can access and navigate a comprehensive directory of all brands across categories to seamlessly find the brands they love; and
Follow Button Feature: The LazMall channel now comes with a 'follow' button to increase engagements and improve adhesion for consumers to subscribe to and get access to the latest updates on deals and offers.
The new LazMall look and feel accentuates its signature red and black hues, while its new features will elevate consumer shopping experiences and strengthen the end-to-end customer journey for brands, helping them to find new growth in an increasingly digital-first world. LazMall leverages technology to offer brands increased visibility, traffic, and quality leads that map the right target audience to brands as well as provide access to value-added marketing solutions and data insights that will further help to drive traffic and brand growth.
"Lazada has always focused strongly on innovating and improving the shopping experience to surprise and delight our shoppers. With LazMall stepping up to "version 2.0", we are fine-tuning our existing brand promise to redefine online shopping. By continually enhancing our services, we aim to deepen our customers' trust, and providing a peace-of-mind premium shopping experience for our consumers," Leo added.
Barry O'Connell, CEO for Malaysia-Singapore-Brunei, Bottling Investments Group, The Coca-Cola Company said, "At The Coca-Cola Company, innovation and growth are key pillars of our business. We continue to identify innovative approaches to partnerships which has enabled us to stay at the forefront of consumer trends in the beverage industry. We want to grow further in Malaysia and to do that, we need to be able to be a part of the growth strategies of trusted business partners such as Lazada, so that we can help each other to create the best consumer experience."
"As the leading cinema exhibitor in the country, GSC is constantly innovating to provide customers enriching cinema experiences that they can enjoy at their convenience and at the best value. We are excited and proud to collaborate with Lazada that give our customers even more privileges, rewards, and offers to look forward to. This partnership is just one of many to come, and we intend to continue to work with Lazada as part of our long-term business partnership." said Shirley Low, Chief Marketing Officer, GSC.
Matthew Ng, Deputy Country Director, Huawei Malaysia also said, "Fortunately, the HUAWEI consumer business has been boosted with the continuous support from Lazada as its e-commerce partner. To date, we have collaborated on multiple campaigns which received positive responses from our Malaysian fans. This time round, we are optimistic the 9.9 campaign will yield a favourable outcome especially since we have discounts up to RM1,600 off on the HUAWEI Mate 30 Pro."
"I am excited and pleased to announce the collaboration between Under Armour and Lazada in Malaysia. Under Armour's mission is to 'Make all Athletes Better', and with our brand officially launched on Lazada in Malaysia, we can now further extend our reach to athletes and fitness enthusiasts in a country so passionate about sports," said Pornthip Wanichnopparat, Director of eComm and IT, Under Armour South-East Asia. "In an unprecedented time that we are all facing due to the current pandemic, we want to provide the perfect gear for our customers to get #ThroughThisTogether with products for Training, Running, and so much more," added Pornthip.
Lazada's introduces new Chief Discount Officer, Ain Edruce, to "slash the price" for consumers, live.
To help consumers obtain the best prices for their favourite goods, Lazada has engaged well-known television personality Ain Edruce as the company's Chief Discount Officer (CDO). As CDO, Ain Edruce will participate in goods selection and bargaining to guide buyers when making their purchases. As an actress and TV personality who has been hosting since her teen years, Ain Edruce is no stranger in Malaysia entertainment industry where she is now a beloved icon among local audiences.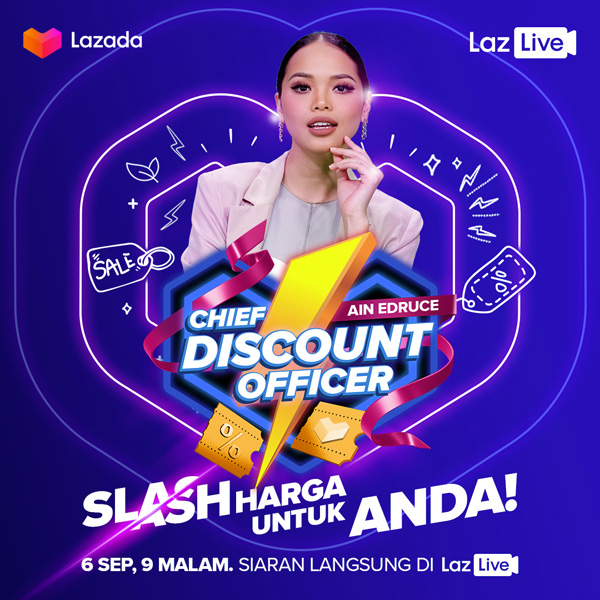 "Lazada has been my go-to online shopping platform over the years and so, I am truly excited to be part of this iconic brand and to be able to be involved in digging out and bringing consumers the best of the best deals on the platform. The team has been working tirelessly to bargain, discount and collate some of our favourite brands and products this 9.9 and I'm truly excited to share them with our shoppers 'live' on our LazLive show on 6-8 September 2020. So please don't forget to tune in and watch the show because you don't want to miss out." Ain Edruce enthused.
Chief Discount Officer Ain Edruce will host a specially curated livestreaming show called 'Lazada Chief Discount Officer Show" via LazLive on the Lazada app from 6-8 September at 9pm where she will introduce exciting surprise deals and unbelievable prices on selected brands and products only available during the live show. Consumers also stand a chance to win giveaways worth up to RM20,000, and enjoy deals with discounts of up to 90% off with free shipping. Up to RM100,000 Lazada vouchers will also be available for consumers to collect during the live show, which then can be used to get even further discounts on 9.9. The show will also be broadcast live on TV3 on the 8 of September at 9pm – 10pm.
Over 99 Exclusive Brand Deals for you to shout "BE MINE"!
Lazada's 9.9 Big Brands Sale online pre-sale begun on 2 September and will culminate on 9 September 2020, bringing a host of exciting and exclusive deals for consumers such as:
'BE MINE' Deals
9 September
More than 99 exclusively on Lazada and over 99 best-selling evergreen brand deals are up for grabs this September from Apple, Huawei, Samsung, Oppo, Xiaomi, Vivo, Realme, Dyson, Nespresso, Chicco, Iguana Online, Bugaboo, Enfagrow, Hasbro, Fischer Price, Vtech, Huggies, Drypers, PediaSure, Guardian, Watsons, Kinohimitsu, Bobbi Brown, Estee Lauder, Benefit, Clinique, Loccitane, Loreal, Garnier, Mamonde, Innisfree, Laneige, Eucerin, Maybelline, The Ordinary, Asics, Nava, Neckpro, Ogawa, Carote, BANFANG, Ecolux, BOSCH, Whiskas & Pedigree, NETEL, Essina, Goodnite, SPAO, Converse, Fitflop, Levi's, Topshop, Hush Puppies, Padini, Love Bonito, Timberland, Pandora, Siti Khadijah, Anker, NVIDIA, Bose, Philips TV, ECOVACS, Fitness Concept, Famous Amos and many more!
Free Shipping Vouchers 9 September
Enjoy platform-wide Free Shipping vouchers with a minimum spend of RM9.90 (first come first serve)
LazMall
Expect 100% genuine branded items, 15-day return, guaranteed delivery, Crazy Brand Mega Offers (12am to 2am) as well as the best discounts and big vouchers from well-loved local and international brands such as Dyson, Huawei, Midea, LAZMART, Realme, Xiaomi, Samsung, Apple, Philips, Senheng, Mamypoko, Pediasure, NANKID, Drypers, Huggies, Tesco, Watsons, Bose, Laneige / Mamonde, Carote, Luxasia Toys, Edifier, Kitchen Z, Logitech, Adidas, Ogawa, ugreen, Innisfree, Clarks, New Balance, Loreal, Tefal, Enfagrow, Abbot, Xiaomi, OPPO, Puma, La Roche Posay, Lego, Clarks, Ecovacs, Fossil, Unilever, P&G, RB Home and Health, Cheong Kwan Jang, OSIM, Skechers, Carlo Rino, Philips, Mamil, Apta, Johnson & Johnson, Photobook, Vtech, Nivea, Jean Perry, Colgate Palmolive, Etude House, F&N, Hada Labo, Sports Direct, Upspring, Hasbro, Dermalogica, HP, Timberland, Moony, Universal Traveller, Perfect Diary, American Tourister, Estee Lauder and more.
Crazy Flash Sale
9 September  
Only the best deals for you, via our Crazy Flash Sale. Look forward to your favourite items going for as low as RM1 such as the Gintell Massage Chair and the Suunto Spartan Trainer Sport Watch among others.
Chup Dulu
2 – 8 September  
Consumers can 'Chup Dulu' from 2 September to 8 September by paying a non-refundable deposit via Lazada app and reserve their favourite items to enjoy up to 80% off! Brands and products which will feature great discounts and prices include the Sweet Heart Paris 2 in 1 Travel System Pram, Clinique, Estee Lauder, Loreal, Fossil, Skechers, Carlo Rino, Levi's, Fitflop, Samsung Galaxy Watch, Marshall, Maggi, PerySmith, Apple Iphone 11 Pro 512gb, Xiomy Pocophone F2 Pro and more.
Mesti Beli 9 September
Lazada's Mesti Beli promotions are consumers' ultimate 9.9 shopping guide for amazing must-buy low price deals on products such as the Huawei Matebook D 15, Sony Playstation 4, Apple Iphone 11 pro Max, Sony WH-1000XM4 Wireless noise cancelling headphones, Puma, COACH, Deka, Khind, Tealive, Pensonic, MAC, Nescafe, Nestle, Baskin Robbins, Milo and more.
GSC & Coca-cola Deals
9 September
Get free GSC movie tickets and Coca-cola on some of your favourite food and beverage deals this 9.9 from brands such as Kenny Rogers Roasters, Dome Café, Dave's Deli, Burger King, TGI Friday, Italiannies, O-Briens, Lazada Grocery and Coke Official Store. Complimentary passes will be e-mailed to the customer upon successful order within 2 weeks of purchase.
Lazada Bridges Online and Offline Retail this 9.9 Big Brands Sale
Lazada is also bringing the 9.9 Big Brands Sale to consumers from online to offline through its 9.9 Big Brands Sale O2O event from 4th to 6th September in Sunway Pyramid and Gurney Plaza, to provide consumers with even more exciting Shoppertainment experiences. Consumers can expect exclusive deals of up to 50% off from participating Brands, Flash Deals every hour with discounts of up to 90% off and an additional 15% Lazada Wallet Instant Discount voucher which can be redeemed via the Lazada's O2O page. Consumers can use the e-wallet rebate when they scan the QR code on their favourite products at the offline store and checkout, to apply the discount and take home their purchases on the spot.
On 5 September, Lazada's Chief Discount Officer, Ain Edruce will also be at Sunway Pyramid between 2-3pm to showcase some of the exciting deals and discounts on offer this 9.9. A specially curated livestream session will also be conducted with our Lazada LazTalent KOLs who will be on-ground to entertain consumers and share their favourite deals, promotions and products on sale. The livestream will also be simulcast to Lazada's O2O event in Gurney Plaza.
Shop, Play and Win!
Lazada continues to bring exciting Shoppertainment experiences this 9.9 where shoppers can win exclusive grand prizes simply by being the fastest to accumulate LazCoins via the COINS page at the top of the app homepage or, through Daily Missions and LazGames.
Stand a chance to win a FREE Oppo Reno 4 smartphone with Lazada's Coin Race! There are other great prizes from Neckpro, Pandora, Habib, Edifier, iLIFE, Bosch, Taotronics and many more.
Consumers can also use their earned LazCoins to redeem voucher and great rewards:
Exchange coins for exclusive 50% discount and RM9 discount seller vouchers on 9.9
Exchange coins for EXTRA platform wide free shipping voucher
Exchange coins for Lazada Wallet voucher
Maximise Savings with Lazada Wallet this 9.9
Consumers can also opt to pay via Lazada Wallet which continues to be the preferred payment method on the platform due to its seamless, secure and hassle-free payment infrastructure. With more and more Malaysian's adopting e-wallets and digital payments as part of the 'new normal', Lazada Wallet continues to help consumers save more this 9.9 with a host of exciting wallet cash surprises and promotions.
Customers can enjoy a 50% special discount voucher redeemable when they use their Lazada e-wallet on over 50 brands during the 9.9 Big Brands Sale.
To find out more about Lazada's 9.9 Big Brands Sale, please visit here.