Earn 5x BIG Points for Insurance Purchase on Tune Protect Website or App
Tune Insurance Malaysia Berhad ("Tune Protect Malaysia", "Company") in collaboration with BIGLIFE Sdn Bhd, the owner and operator of BIG Loyalty will be rewarding customers with BIG points for all insurance purchases through Tune Protect Malaysia's website or its mobile application. Through the collaboration, the insurer is offering 5 BIG points for every RM1 of insurance premium for all online products purchases through its website (www.tuneprotect.com) and the recently launched mobile application, making it even easier for customers to earn points. This collaboration is part of the Company's efforts to attract and increase sales through its direct digital channels.
Tune Protect Malaysia offers eight attractive online lifestyle products namely Travel Easy, Motor Easy, PA Easy (Personal accident), Dental Easy, Ride Easy (Passenger protection), Easy Care PA (Disabled protection), Sports+ (Extreme Sports protection) and Guard Easy (Snatch Theft protection).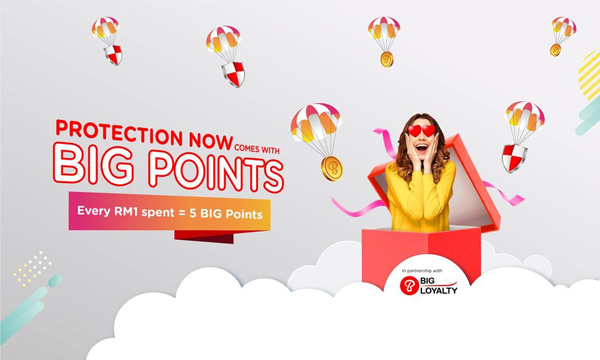 Customers purchasing any of these products are rewarded with BIG points for redemption of attractive rewards from the extensive list of BIG Loyalty partners. To ensure their points are credited, customers only need to maintain the same email addresses registered with the BIG Loyalty program during insurance purchase for an instant crediting.
William Foo ("William"), Chief Executive Officer of Tune Protect Malaysia said, "We are constantly looking at ways to engage with our customers as we expand our digital capabilities. In addition to purchasing via our website, the introduction of our mobile app gives us more opportunity to create long-term engagement with our customers who can now enjoy the ease and convenience of purchasing our online products while earning BIG points in the process – all in just a few clicks."
Moving forward, Tune Protect Malaysia will introduce more innovative and relevant online products in addition to enhanced benefits and rewards. Tune Protect Malaysia expects to collaborate with other service providers to feature suitable benefits and rewards for a more superior customer experience.
For more information on the Campaign, please visit Tune Protect's website at www.tuneprotect.com or contact 1800-88-5753 or [email protected].