After a monumental debut, Top Clans returns this year bigger and bolder. With an extravagant prize pool, more tournament titles, and a prestigious production value, Top Clans 2020 will set new records and bring excitement to more fans than ever before. With a total prize pool of US$85,000 and a host of exciting games like Rules of Survival, Dota 2, MARVEL Super War, Tom and Jerry: Chase, and Tekken 7, Malaysian esports fans will get to catch all the action LIVE on eGG Network (Astro CH800) starting this 25 September 2020.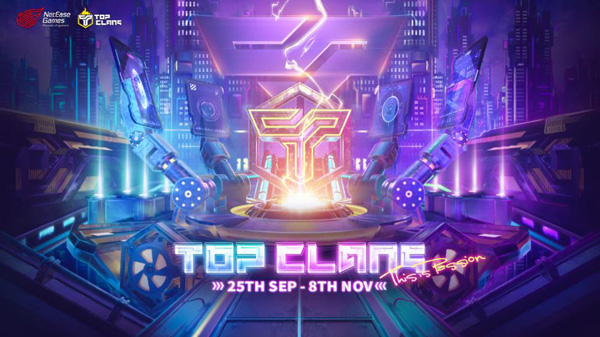 Last year, millions of fans enjoyed Top Clans 2019, one of the biggest esports tournaments of the year. With a reach of over 24 million, its official broadcast was viewed over 9 million times by viewers all around the world.
This year, NetEase will record even bigger numbers, topping last year's already-amazing debut, with not just one esports title, but with five esports titles.
PLAY YOUR PASSION – TOP CLANS 2020 HAS MORE GAMES THAN EVER
Top Clans 2020 will allow thousands of gamers in Southeast Asia to show their passion for video games. Rules of Survival will be a returning title, continuing the firefight between the best teams in the region. Joining it are newcomers Dota 2 for PC, Tekken 7 for PC, and MARVEL Super War for mobile. Completing the list is Tom and Jerry: Chase, also for mobile, with its Top Clans appearance being its first esports event in Southeast Asia.
Top Clans 2020 will not only be a bigger event, but also will have a broader reach on gamers, with a larger scope across genres, platforms, and communities. These competitions will let more players and fans to join in on the fun. More than just a tournament, Top Clans 2020 will fuel the passion of countless gamers around the world.
With a total prize pool of US$85,000, Top Clans 2020 will be one of the biggest esports events of the year. Players will compete in Rules of Survival, Dota 2, MARVEL Super War, and Tom and Jerry: Chase for US$20,000 each in their respective titles. Meanwhile, the fighters for Tekken 7 will be competing for a US$5,000 pot.
IT'S GAME TIME – TOP CLANS 2020 TOURNAMENT SCHEDULE AND FORMAT
The Top Clans 2020 tournament will kick off on 25 September, 2020 with the group stages. There will be a whole month's worth of exciting competition for the players and fans of the five games. The fiery competition between teams in the group stages and knockout stages will conclude on 26 October, while the crack of gunshots will continue to echo across the battlefield during the Rules of Survival Semi-Finals on 20 – 22 October.
Battle-hardened players who survive the group stages will continue their journey into the playoffs. Both Dota 2 and MARVEL Super War will have a Double-Elimination bracket for playoffs. Meanwhile, pugilists will trade punches in the Tekken 7 tournament over a single weekend, on 16 – 18 October.
Top Clans 2020 will be capped off by Super Heroes and Super Soldiers with a double Grand Finals weekend for MARVEL Super War and Rules of Survival. The final weekend of the tournament will commence with a battle between heroes and villains in the MARVEL Super War Grand Finals on Friday, November 6. As the dust settles for all the battles across the five competitive titles, the last soldiers of fortune will conclude Top Clans 2020 with a grueling Grand Finals match from 7 – 8 November.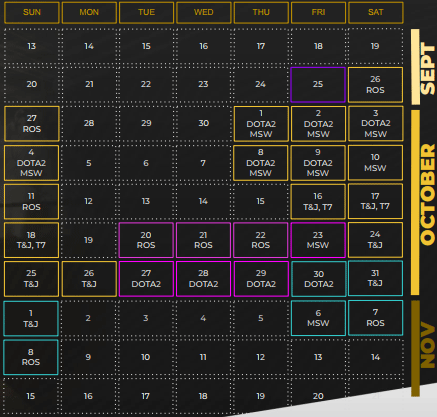 Calendar Summary:
Opening Day – 25 September
Group Stages/Knockout Stages – 26 September to 18 October, 24 – 26 October
Semi-Finals – 20 – 23 October, 27 – 29 October
Grand Finals – 30 October – 1 November, 6 – 8 November
Registration details and broadcast channels will be announced soon. Don't miss the biggest esports tournament in Asia. Follow us on our social media channels to stay updated with the latest news on Top Clans 2020.
For Malaysian fans who are keen to witness all the Top Clans 2020 action, get the weekly broadcast schedule of Top Clans 2020 (live and delayed broadcast) on eGG Network (Astro CH800) by visiting www.egg.network.