TikTok and MDEC partner to co-launch #YoungCreators campaign on TikTok
TikTok, the short-form video app with a mission to inspire creativity and bring joy, has partnered with the Malaysia Digital Economy Corporation (MDEC) to co-launch the #YoungCreators campaign on TikTok. The campaign, an initiative under the MDEC's #SayaDigital movement will provide an opportunity for young and budding content creators to learn how to leverage digital platforms as a means to upskill, empower their creativity and generate income.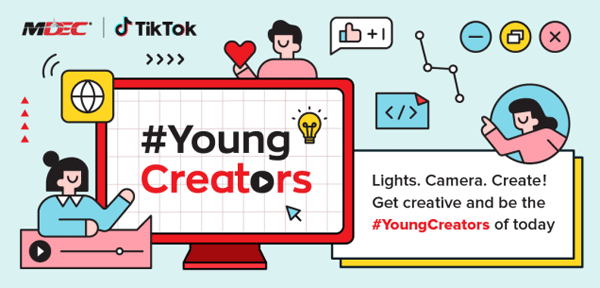 Cheah Sheau Mei, User and Content Operations Manager, Malaysia elaborates, "TikTok is thrilled to be a part of the #YoungCreators initiative together with MDEC. We are excited to see the creative extent of Malaysian youth in producing informative, educational and entertaining content for their peers and fellow Malaysians to enjoy. We believe that learning does not end with school, and is a lifelong endeavor, made all the more fun with innovative technology which is safe, positive and inclusive!"
"The #YoungCreators campaign will jumpstart the creative potential within Malaysian youths as it encourages and cultivates them to explore, learn, and leverage on these immersive content platforms to express themselves. Working with TikTok and other ecosystem partners, we want to help these young talents realize their full potential as content producers. This includes expressing ideas in exciting and engaging ways," added Raymond Siva, Chief Marketing Officer, MDEC.
To participate in this campaign, all Malaysian TikTok users aged 16 and over are encouraged to upload original informative and educational videos using the hashtags #YoungCreators and #TikTokGuru from 22nd to 31st August. Each video must be at least 10 seconds long and the themes include general knowledge, technology, health and fitness, beauty, culture and life hacks.
Those who participate stand a chance to win prizes worth up to RM60,000 and a chance to join the coveted creators incubation program by CastingAsia Creators Network, a 12 month incubation program aimed at expanding and nurturing young minds with up-to-date digital and social media knowledge. Eligible winners will then receive an in-app notification on 4 September of the results and steps for claiming their respective prizes and certificates.
Already, many TikTok creators have uploaded their videos to lend support to the said campaign include the likes Dr. Sylvia Lim (a certified dentist), Ong Siew Ling (a math teacher by profession), Wing Keh & Keifth (power dance couple) and DJ Mushroom (DJ & Entertainer).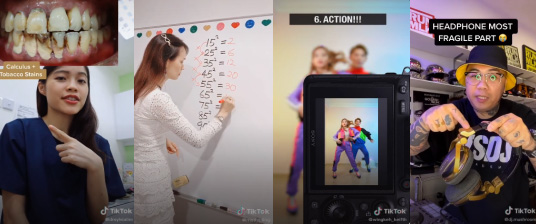 So what are you waiting for? Download or open the TikTok app now to learn more about the #YoungCreators campaign!
appcampaigncontentcreatorentertainmentmdectiktokvideoyoungcreatorsyoungster