Sunway University Researchers Work to Advance World's First Holistic and Comprehensive Index on COVID-19
As the world is grappling with Covid-19, there are news, data and opinions concerning the pandemic.
With the many going-ons, Sunway University is collaborating with PEMANDU Associates and Ministry of Science, Technology and Innovation (MOSTI) Malaysia on the Global COVID-19 Index (GCI), a method to consolidate data on the pandemic from verified sources of 184 countries into a comprehensive index which governments, businesses and communities can refer to.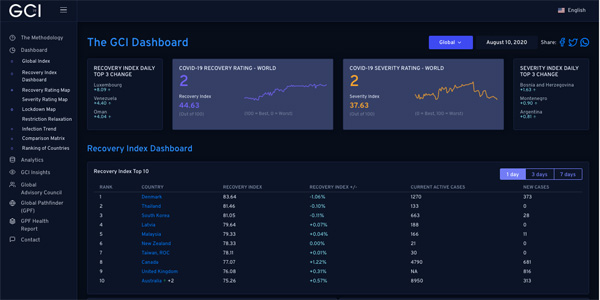 With the GCI, a country can compare its performance with that of another country that is performing better to identify best practices and efforts during the outbreak.
The GCI, updated on a daily basis, includes such data as the recovery rate, active cases and the number of tests conducted.
The GCI also factors in the ability of countries – those previously evaluated – to detect, respond and treat infections of any epidemic based on the publicly available Global Health Security Index published in October 2019.
The GCI can be used to track recoveries in countries of neighbouring regions and monitor when restrictions can be relaxed for a possible easing of border restrictions.
According to Peh Suat Cheng, Professor of Pathology and Dean, School of Healthcare and Medical Sciences at Sunway University, "we are currently deriving data that produce insights that can help governments and societies identify emerging trends from the GCI."
"For example, we have identified that countries with high-ambient temperatures and low latitudes appear to have low Covid-19 case fatality rates, which can serve to inform policy decisions and epidemiological research," said Peh.
Researchers from the School of Healthcare and Medical Sciences will also look into developing their own research papers using data from the GCI and other multivariate statistical analyses, machine learning and mathematical modelling data from researchers at the university's School of Mathematical Sciences.
The GCI encompasses the Severity and Recovery Indexes.
PEMANDU Associates executive vice president Woody Ang said the Country Severity Index is "a measure of how severely a country is impacted since the outbreak from a healthcare perspective as it factors in the total confirmed cases and proportionate death due to Covid-19 since the outbreak commenced".
"These contribute 70% of its weightage and behaves more like a 'scarring parameter', telling us whether the country is recovering from a lower case or death toll or a higher one," Ang added.
He also cited it is not a measure of the current ongoing severity.
The Severity Index factors in the overall Healthcare Preparedness as well by utilising a 30% weightage assigned to pre-existing static sub-indicators previously completed by the Global Health Security Index (GHS).
"We are improving and potentially replacing the latter static indicators through our engagements with the World Health Organization," said Ang.
The Recovery Index measures how well a country is handling the crisis from a health and safety perspective.
Professor Serge Demidenko, Dean of the School of Science and Technology at Sunway University, said his researchers are interested to provide their specialist support in Computer Database Technologies and the application of Artificial Intelligence (AI) for Data Analytics, aiming to not just analyse past data but also forecast and model future trends.
"During this Covid-19 period, AI and Analytics will allow us to use available data to better understand the pandemic's impact, thus assisting us to propose appropriate solutions.
"Our academics are available to team up with collaborators locally and internationally to explore new recovery solutions for the post- Covid-19 world," Demidenko added.
The GCI has enabled a best practice analysis in the form of the Global Pathfinder: Global Lessons in Tackling Covid-19, a 118-page detailed report on best practices in health interventions for Covid-19 – a collaboration that PEMANDU Associates undertook with UK-based Delivery Associates.
The report is available here: link
The Global COVID-19 Index (GCI) is an international collaboration among Sunway University, PEMANDU Associates and Ministry of Science, Technology and Innovation (MOSTI) Malaysia.
covid-19datagcihealthcareholisticindexresearchsunway uiniversity