SJK(T) LADANG Elaeis in Johor named Frog World Champion 2020
This year, SJK(T) Ladang Elaeis – a rural school in Kluang, Johor, with only 25 students and 8 teachers, emerged the winner of the Frog World Championship 2020. This Tamil school had overtaken two other schools from the United Kingdom – the Frederick Gough School and Yardleys School, which came in second and third respectively.
"We were delighted to see SJK(T) Ladang Elaeis emerging as this year's Frog World Champion. Competing against thousands of schools from all around the world is no easy feat. It was inspiring to see the dedication and perseverance of the teachers and students at SJK(T) Ladang Elaeis, and the vast amount of work they put in to learn and work hard, even when they were learning from home during the Movement Control Order (MCO) period. What's even more inspiring is the impact the Frog World Championships has had on the improvement in student motivation to learn and student performance over the last few months. This showed that learning continued seamlessly for the students in the Frog World Championships, despite the school closures," said Lou Yeoh, Executive Director of FrogAsia.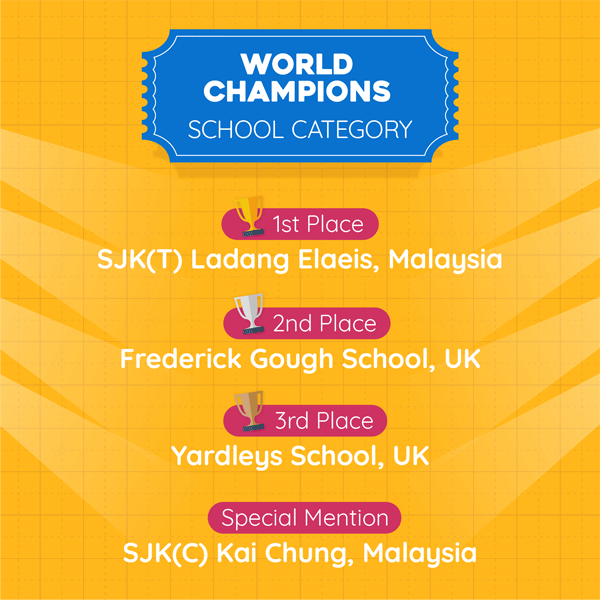 The championship this year saw over 3,000 schools across 13 countries completing more than 18 million quiz questions. Inspired by the novel Around the World in 80 Days, the championship challenged participants to take an educational voyage collectively with other Frog users around the world. The journey began in the United Kingdom and ended in Malaysia, with pit stops along the way. Students and teachers were given the opportunity to discover and connect with other countries around the world on how they use the Frog platform.
"During the Frog World Championship, accessibility to e-learning devices was a huge barrier and we had to do all we could to overcome it. We started an E-learning Programme in order for students to be able to use school facilities after lunch. I hosted classes in my home every day and our PIBG Chairman volunteered his house for students with transportation issues. We also arranged for school laptops to be loaned out to students during the Movement Control Order (MCO) period, to enable them to continue learning from home. We were beyond impressed to find that our students were diligently using FrogPlay even during recess and outside school hours and continued to do so from home during the MCO period," said Cikgu Eswaran, a teacher from SJK(T) Ladang Elaeis, who was also recognised in the Frog Teachers Award 2020.
Mrs Komala, the mother of Suresh – a Year 6 student in SJK (T) Ladang Elaeis, is one parent who has full confidence in e-learning. She believes that for children like her son who do not enjoy handwriting, digital learning is definitely more effective. "He used to give me excuses to avoid doing his exercises, but through Frog, he can just click to access his notes and do quizzes. He also used to avoid his school books. Now, he doesn't even hesitate for a second when I ask him to go online to do his revision. He has improved in his learning."
"Suresh enjoys the gamified learning that Frog offers and is very motivated by the competitions. He often asks to use my phone to go online and complete quizzes. I sit with him while he is logged into Frog, and I am not worried as I can monitor his activities online. Whenever he is online using Frog, he doesn't have time to go on other sites because he's just so focused on completing quizzes, reading his notes and so on," she added.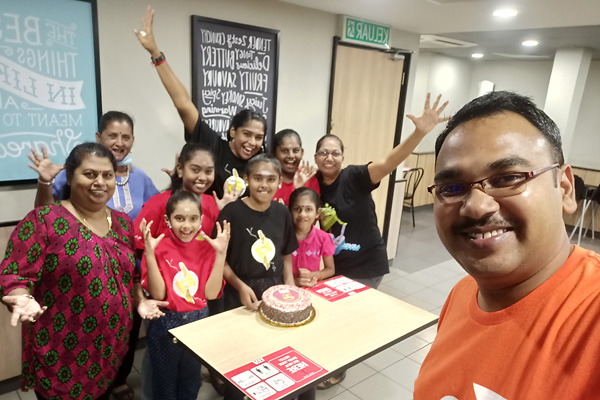 The Frog World Championship is an international competition held annually since 2018 that has garnered participation from over 7,000 schools in 15 countries worldwide. Hosted by FrogAsia in collaboration with Frog Education UK, the Frog World Championship showcases and celebrates how schools and students strive to be globally competitive through collaboration, perseverance and fun in learning. The competition centres around the use of the FrogPlay gamified-learning application offered within Frog VLE, where schools and students from around the globe compete for the world title and the chance to win a total of USD 10,000 worth of prizes. The main objective of this championship is to educate and create awareness about the values and cultures of other countries who are also on the Frog platform as well as creating a sense of community among international Frog users and fostering a sense of pride for being part of something bigger.
Meanwhile, in June 2020, FrogAsia launched FrogPlay Live, a new feature on FrogPlay that enables teachers to engage students in live competitive assessment. This feature also allows for real-time, inter-school sessions where students can compete with their peers from other schools. Studies have shown that when teachers use collaborative learning strategies, students produce better learning outcomes. While the feature is best used within a classroom setting, it has proven to be a great hit with teachers and students even during home-based learning.
In line with the launch, FrogAsia will be organising the Frog Championship: Arkedia from 3 August to 30 September 2020 for all national schools. This competition requires both teachers and students to participate in order to win. Students will need to answer as many FrogPlay quizzes as possible and join intra-school as well as an inter-school FrogPlay Live session, whereas teachers will need to teach as well as host FrogPlay Live sessions. Schools and students can look forward to cash prizes and book vouchers worth over RM70,000. For more information about Frog Championships, please visit www.frogchampionships.com.
appchampioncompetitioneducationfrog world championshipfrogasialadang elaeislearningschoolstudent