Rewarding Treats at Shell with BonusLink
Shell Malaysia and BonusLink today launched a new campaign dubbed 'Memori Indah Bersama, Bonus Berganda', aimed at making customers' everyday journeys into memorable and rewarding experiences when they spend at Shell. The six weeks nationwide campaign, which runs from 17 August to 27 September 2020 aims to reward customers with either a complimentary Cornetto Vanilla or Chocolate ice-cream, or a MILO UHT 200ml pack when they spend a minimum of RM40 and use BonusLink at Shell.
Shairan Huzani Husain, Managing Director of Shell Malaysia Trading Sdn Bhd and Shell Timur Sdn Bhd said, "At Shell, our customers are at the heart of everything we do. We understand that for most of us, refueling is a routine, and sometimes such errands can be predictable. We want to delight our customers by making these normal routines a treat, and we hope with these rewards we can inject some joy in their everyday journeys. I myself enjoy having an ice-cream especially at the end of a workday, what a 'cool' way to destress and enjoy life's little delights. We hope these pockets of joy will create some wonderful memories for all who come to Shell for your refueling needs. "
Melvin Ooi, CEO of BonusKad Loyalty Sdn Bhd said, "This is indeed an exciting campaign, and we are happy to partner with Shell once more to reward our BonusLink members. Our members are the backbone of the company, and we are fully committed to continuously enhance the BonusLink loyalty program in realizing every moment a bonus for our members. "With new features like transferring Vouchers and use of both the BonusLink Card and BonusLink Virtual Card, there are even more ways for people to make their days meaningful."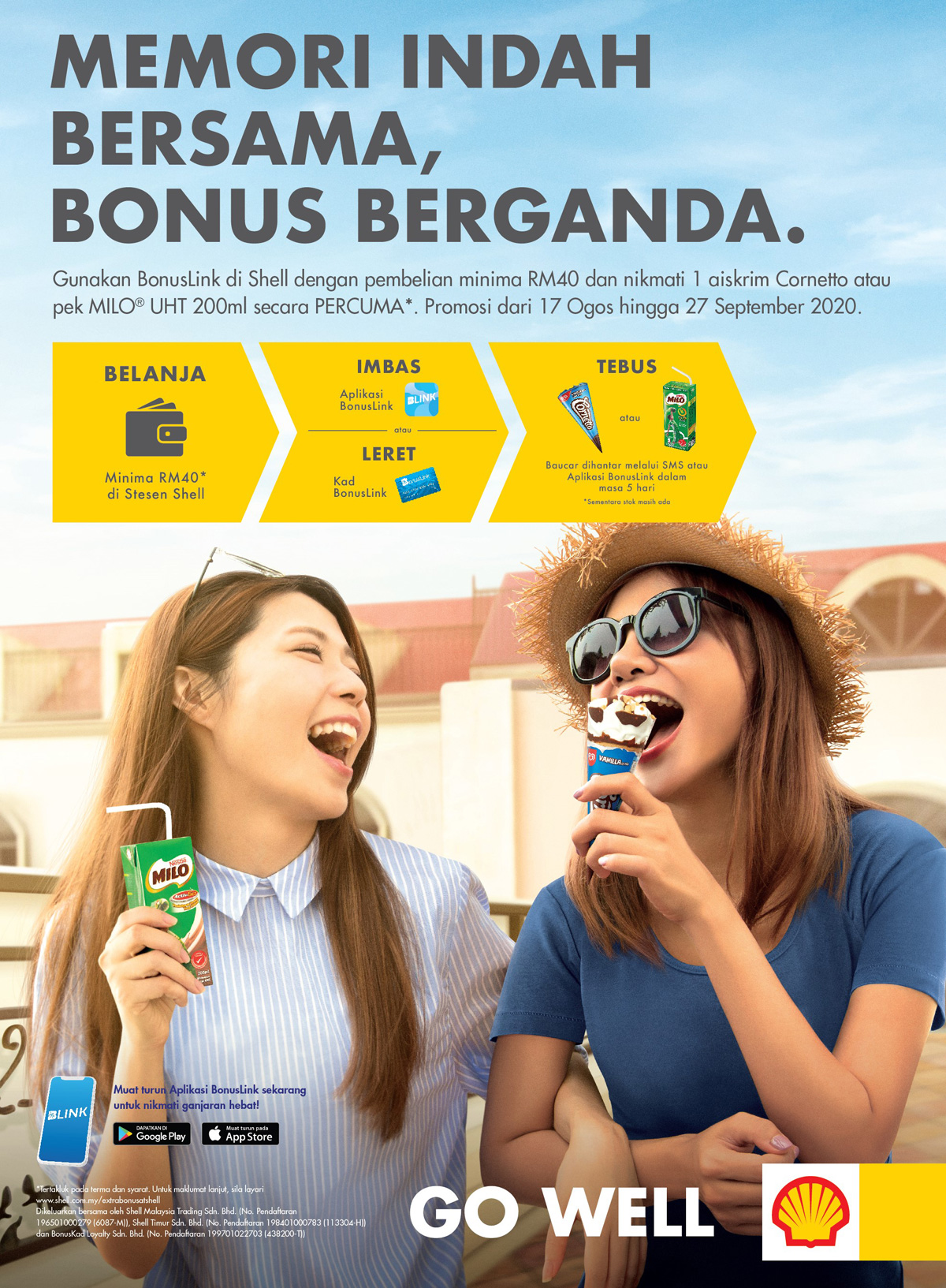 To enjoy the complimentary treats, customers need to spend a minimum of RM40 at Shell and use the BonusLink App or the physical card to redeem. An e-voucher will be sent via the BonusLink App or SMS within 5 days after the date of purchase. Furthermore, each BonusLink Member is entitled to redeem a maximum of 3 treats during the campaign period.
Customers who want to keep track of their points and be informed of new offerings from other BonusLink partners can download the BonusLink App from the Google Play Store and Apple Store. For those who are not a BonusLink Member, they can sign up today by visiting a Shell station or via the BonusLink website.
Visit the nearest Shell station today and redeem the treats with BonusLink while stocks last. For more information on this campaign, please visit www.shell.com.my.
bonuslinkcampaigncustomerfuelloyaltyprogrammerewardshellstationtreats