PENJANA aims to catalyse and accelerate Malaysia's Digital Creative Content Global Outreach
The RM35 million allocation that the government is channeling to the local digital creative content industry, via the National Economic Regeneration Plan (PENJANA), is expected to reinforce the continued growth for this sector. Called the PENJANA Dana Kandungan Digital (Digital Content Fund – PENJANA DKD), it will further expand and enhance two existing digital content programmes that the Malaysia Digital Economy Corporation (MDEC) – an agency under the Ministry of Communications and Multimedia Malaysia (KKMM) – manages.
The PENJANA DKD will be used to enhance two specific initiatives, namely:
PENJANA Digital Content Creators Challenge (PENJANA DC3+):
This initiative, a long-running programme that MDEC created, was designed to enable local talents to hone their creativity and ability in conceptualise new ideas for content. It also includes accelerating the development and commercialisation of these concepts. The end-goal is to increase the participation and capability of local talents in producing world-class digital content.
As an enhancement platform, PENJANA DC3+ will replace the previous DC3 structured programme with a concept that encourages the use of Malaysian themes. This includes adaptations of local stories, historical folklore, or making the setting identifiable as Malaysian. The PENJANA DC3+ programme also places more emphasis on works that are commercial in nature, containing a strong social message, or a combination of these elements in the form of short animated films, short films with visual effects and digital comics.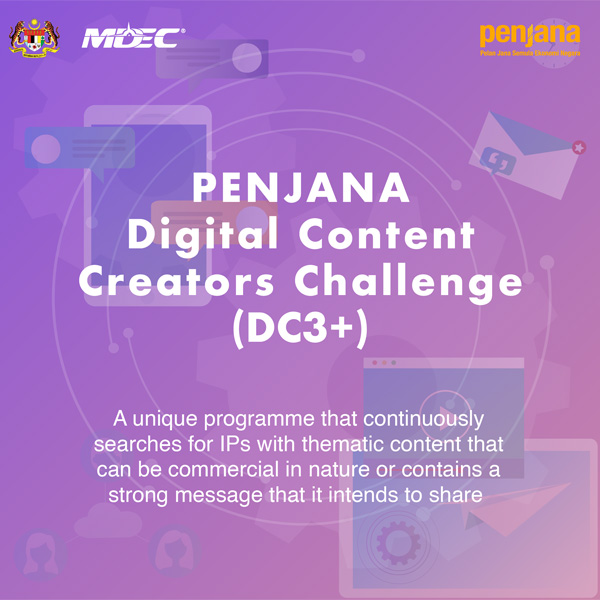 PENJANA Digital Content Grant (PENJANA DCG):
This initiative was created to help local creative industry players adapt to the 'new normal' amidst the continuing global pandemic. Local studios can take advantage of this programme to assist in their marketing activities, digital distribution and the creation of new and exciting intellectual properties (IPs). The goal is to ensure companies can continue to produce quality creative content in the field of animation and related digital content.
PENJANA DCG is an extension of the existing MDEC Digital Content Grant, an initiative that promotes the development of local digital creative content. The programme's main goal is to drive forward the digital creative content industry. The original fund that the Government previously introduced had successfully produced several animated works that penetrated international markets that have achieved global recognition. This includes Upin & Ipin The Movie, Boboiboy The Movie, Ejen Ali the Movie, Hogie the Globehopper, Origanimals, No Straight Roads, and Re: Legend .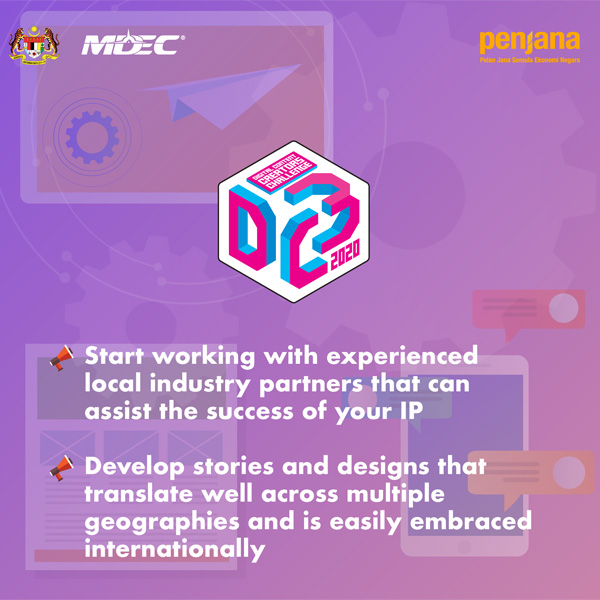 Both original initiatives were the result of increased public-private engagements that continue to empower the digital creative content industry. This also created various opportunities for Malaysia's pool of potent creatives.
"PENJANA DKD is a critical initiative that aims to strengthen Malaysia's digital creative content industry. As is, this sector recorded strong growth over the last year. In fact, this sector has seen great successes for animated features, including Upin and Ipin: Keris Siamang Tunggal, BoiBoiBoy The Movie 2 and Ejen Ali: The Movie — all these successes give a clear indication that Malaysia is on the right track to develop this sector. Undoubtedly, the PENJANA DC3+ and PENJANA DCG programmes will play a big role that ensure Malaysia is already in the best position and is still the trailblazer for the digital content industry for ASEAN," said YB Dato' Saifuddin Abdullah, Minister of Communications and Multimedia.
Through DC3+ and the updated DCG, MDEC aims to support 50 digital content projects. Additionally, four new animation projects that have international appeal must also be produced.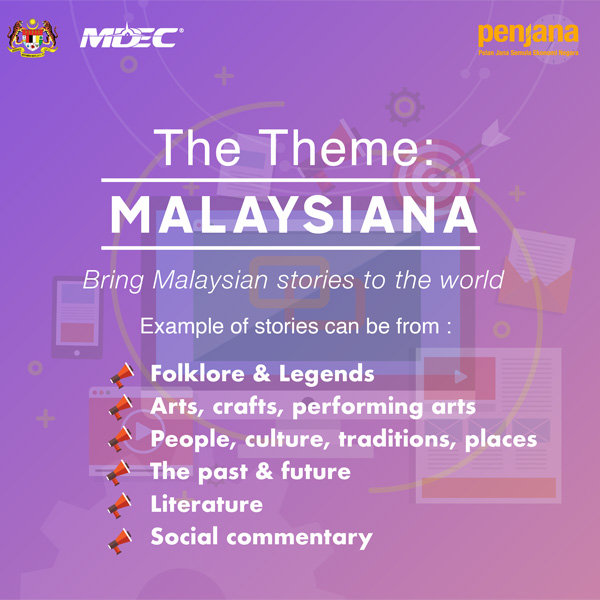 "Strengthening our ability to engage creative ecosystem, IP developers, award circuits and festivals and related markets are a major challenge when developing the country's digital creative content sector. It's good that this industry is dominated by Malaysian youths who have proven their ability to produce unique content that meets the taste-buds of local and international audiences, " shared  Senator Tengku Datuk Sri Zafrul Tengku Abdul Aziz, Minister of Finance.
"This sector is also very important for the long-term benefits to the country. Apart from contributing to the national economy, this sector is able to export Malaysian ideas and culture to the world stage. The PENJANA DKD program signifies the Government's commitment to continue supporting local talent and expertise; producing and exporting more digital content that highlights the uniqueness of Malaysia," he added.
By enabling more active collaborations among industry players and the public sector, these latest initiatives are expected to enhance the competitiveness of Malaysian-based artists and digital content enterprises globally.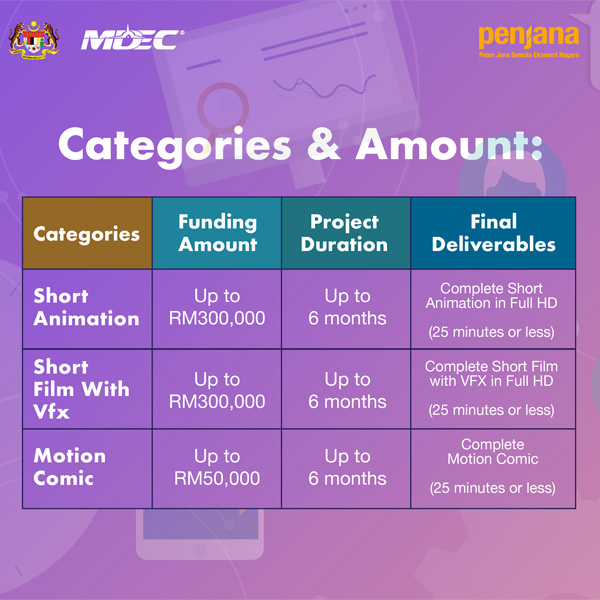 "MDEC has consistently championed the digital creative content ecosystem as it represents one of the key segments of the digital economy. The IPs and services produced with the assistance of MDEC has garnered various successes, including dominating the list of box-office collections last year. Even so, they have also been hit hard by COVID-19 and the current economic slowdown," said Surina Shukri, Chief Executive Officer, MDEC.
She believes the PENJANA DKD, channeled through the PENJANA DC3 + and DCG programmes, is timely as it can help increase business opportunities and expand market access in the short term. It will also help Malaysia's digital creative industry sustain itself during these trying times.
Applications are now open for PENJANA DC3+ with the closing date being set at August 31, 2020. As for PENJANA DCG, it is ready to receive submissions since August 1, 2020.
Further details about both programmes are available at here.