OPPO, the world's leading smart device brand, is making its mark in Malaysia with its brand new store opening in IOI City Mall. The new sales and service centre is set in mind for people in the outskirts of Kuala Lumpur, allowing ease of access to OPPO's premium products as well as customer services.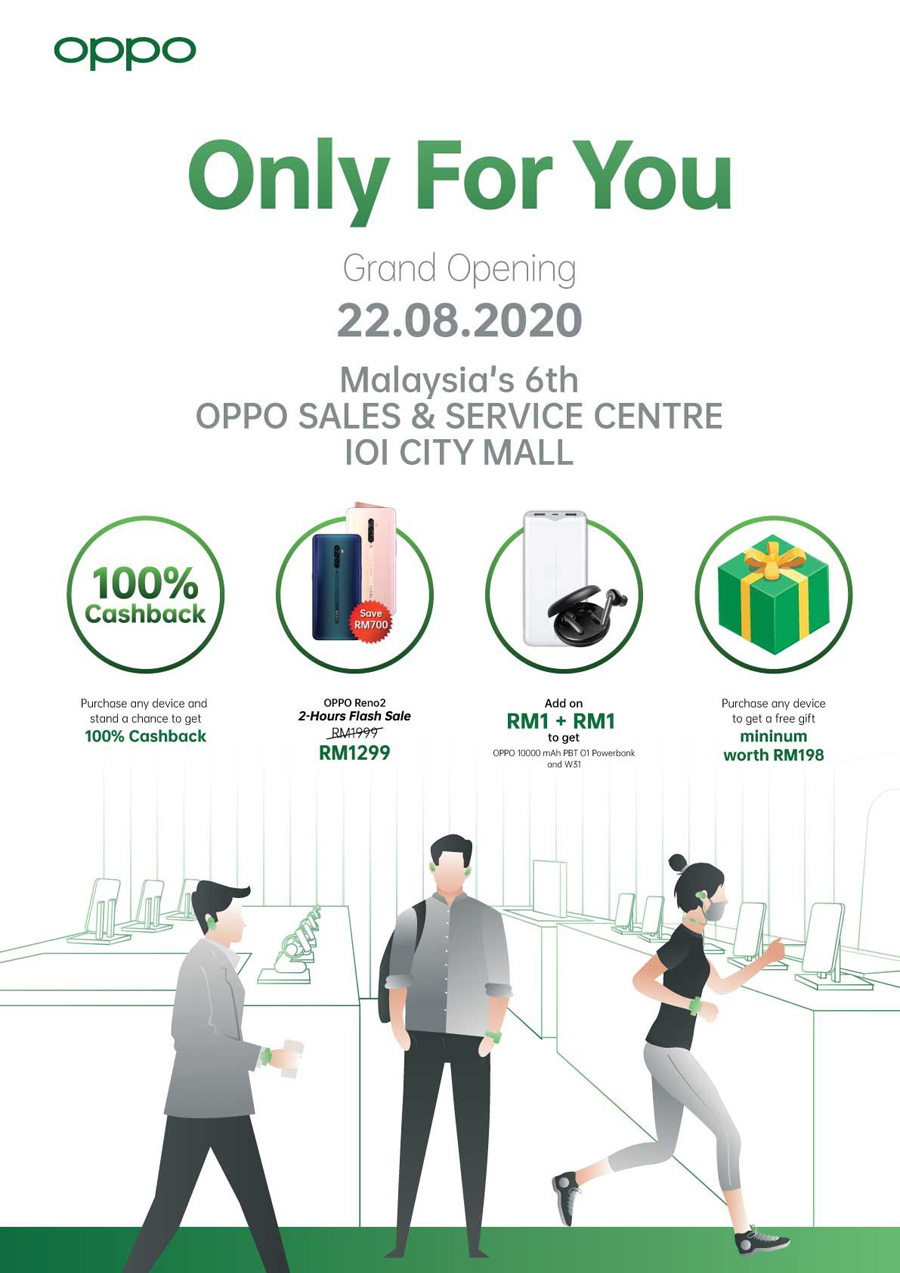 Located on Level 2 65&66, the sales and service centre offer O-fans an opportunity to step into OPPO's ecosystem and experience the devices available in the market. Not only that, the unique service centre provides face-to-face customer service and device servicing, allowing transparency and better consumer understanding of the device.
OPPO will be celebrating its grand launch this 22 August 2020 with several gifts and promotions for O-fans! On launch day, O-fans will stand a chance to win RM1,350 worth of free gifts by participating in several mini games. Prizes includes Starbucks cards, KLC vouchers and OPPO discount vouchers.
Apart from that, from 22nd to 23rd August 2020, O-fans can get their hands on their favourite devices with free gifts when they purchase in the store. For any A series devices, O-fans will receive an extended 1 year phone warranty and a smart thermos worth RM198 combined. For Reno series, O-fans will receive RM347 worth of gifts which includes an extended 1 year phone warranty, a smart thermos and a Reno bag pack. As for the Find series, O-fans will receive a total of RM497 worth of gifts, consisting of an extended 1 year phone warranty, a smart thermos and an OPPO Enco Q1.
Uniquely only on the launch day from 1.30pm to 3.30pm, O-fans are entitled to a lucky draw, with the grand prize of a 100% cashback. O-fans will also stand a chance to win MH320 ear piece, a powerbank, discount vouchers and USB cable.
In the same duration as the lucky draw, the OPPO Reno2 is offered at RM1299 to all Reno fans, a discount of RM700. To take things further, with a top up of RM2 only, O-fans will receive an OPPO Enco W31 worth RM259 and a 10,000mAh powerbank worth RM139.
With so many promotions going on, be sure to visit the grand launch of OPPO's latest Sales and Service store in IOI City Mall this 22nd August 2020!