Mah Sing Foundation and Hopes Malaysia collaborate to uplift the Lives of Rural Communities in Sabah through the Sustainable Livelihoods Project
In efforts to continue to uplift the socioeconomic development of rural communities, Mah Sing Foundation (MSF), is once again joining hands with non-profit organisation, Hopes Malaysia (Hopes) for the Sustainable Livelihoods Project 2020. This project, amounting to approximately RM222,000 is targeting 50 households of mostly rural farmers in Sabah such as Kampung Bokilong, Kampung Podos and Kampung Kaung Ulu.
The project is aimed at tackling the five main problems faced the villagers i.e. the community's public safety and accessibility; education and empowerment; sustainable agriculture and environment development; food security and better livelihoods; and community socioeconomic development.
This initiative is part of the Foundation's on-going commitment to enhance the lives of the underserved community in the remote Sabah through the support of Hopes, following the success of the Kampung Tudan Mushroom Cultivation Project and the Mega Scale Gravity Water Project in 2018 and 2019 respectively. In line with one of MSF's key pillars – Community, the programme under MSF Life+ series of programme is aimed at uplifting the standard of living and creating pathways for sustainable livelihood, better health and safety of rural communities.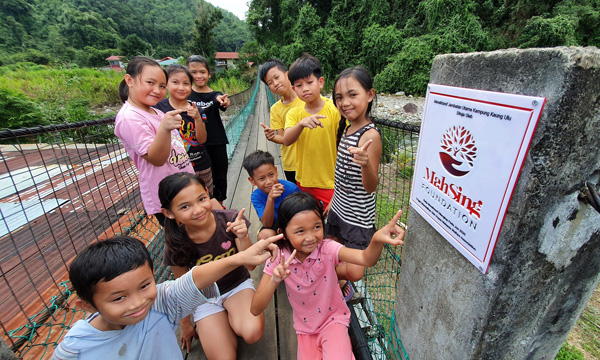 Mah Sing Foundation's Chairman, Dato' Indera Syed Norulzaman Syed Kamarulzaman said, "We are delighted to once again join force with Hopes to continue our on-going commitment to enhance the wellbeing of the underserved community. Last year, the Mega Scale Gravity Water Project focused at providing clean water to the villages. We are ramping up our efforts further as for this year, we are driving towards our goal to educate the villagers to upskill themselves to generate multiple revenue streams, allowing them to diversity from low value staple food commodities into higher value commodities. We also want to encourage environmental sustainable farming to ensure production of consistent and high quality crops. Following the success of our two previous projects together with Hopes, we are optimistic for more positive outcomes."
The Sustainable Livelihood Project 2020 is divided into three phases and will take about five months to complete. Kick started in June, repairing of the 86-meter suspension bridge, the only passageway into Kampung Kaung Ulu and preparing the agricultural land is the first phase of the project. Over 40 hardworking and dedicated villagers of Kampung Kaung Ulu came together to clean the area and repair the bridge, which took approximately one week upon completion. The second phase is estimated to start in end July, with the sowing of seeds and educating the villagers on sustainable farming. The final phase will be between late September and early October where the harvesting is slated for completion and the crops will be sold at the markets in Kota Kinabalu.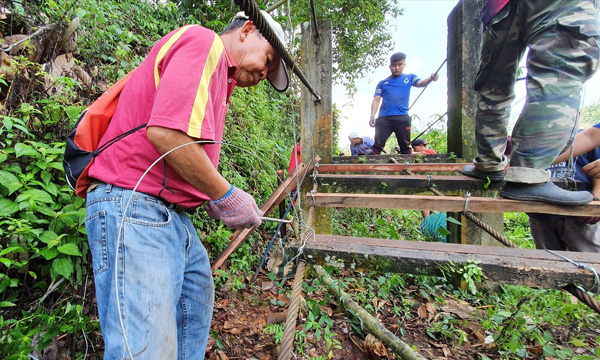 "The project is incredibly crucial to these three villages as many farming households were severely affected by the recent Movement Control Order. As a result, many of these often-large families have seen a reduction in their income and food supply, which have severely impacted their quality of life. This project will allow for these families to rebound from the adverse impact of the pandemic by fully realising their potential and becoming self-sustainable. By empowering these villagers through this community-based project, they will be able to achieve better livelihood that will significantly aid to ease their burden," said Hopes Malaysia's Founder and Executive Director, Sam Lee.
The Sustainable Livelihood Project 2020 is a continuation of the Mega Scale Gravity Water Project 2019, which brought sustainable and clean water to five villages in Kota Belud. The project has impacted approximately 3,400 villagers, where water supplies are now easily accessible for daily usage and agricultural purpose. Encik Saikom Watis, Unit Pemimpin Pembangunan Masyarakat's Pemimpin representing Sabah's Minister of Rural Development, Datuk Ewon Benedick officiated the project last year on 6 November.
bridgecollaboratecommunityfoundationhopeslivelihoodlivingmah singmalaysiaprojectrepairruralsabahsustainable