Lenovo, the world's leading PC and smart device manufacturer introduces up to 45% discount on the Lenovo 8.8 Deals, on 8 August 2020 on selected products across the Lenovo product range (link). Customers can also look forward to the ThinkPad E14 & E15 AMD, ThinkPad X13 AMD, and ThinkPad T14 AMD which will be available for sale online.
Along with this announcement, Lenovo has also launched LenovoPro which offers early access and daily deals for 8.8 from now until 15 August with discounts up to 50% for its members. On top of the discount, members can enjoy:
50% off on Monitors if they purchase any other products
Free upgrade for Intel Core i7 (worth RM880) and free upgrade to AMD R7 (worth RM870) + Win10 Pro for selected PCs
Free Microsoft Office Home and Student 2019 for purchase of the Lenovo Yoga C740
80% off for 3-year Premier Support for all Thinkpad products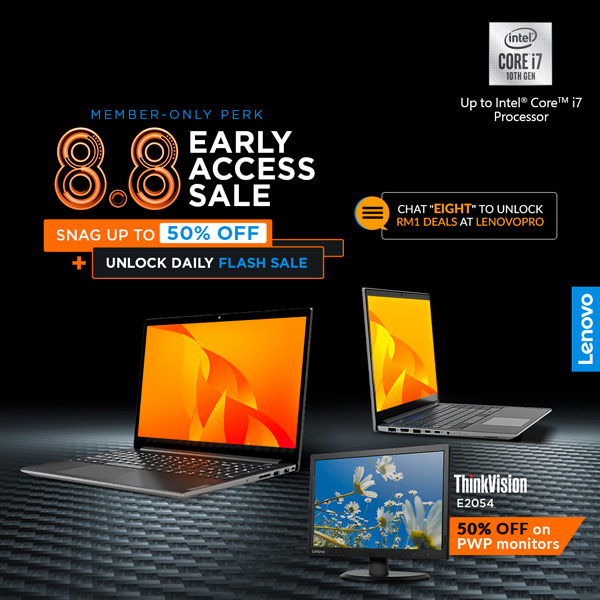 LenovoPRO – Benefits that grow with your business
LenovoPRO is a one-stop solution for business owners to expand their businesses with preferred IT solutions and competitive pricing. This will help them to scale up their work productivity and agility while reducing overall expenses. There are three levels of membership which businesses can qualify for based on their annual spending with Lenovo. The three levels are LenovoPRO, LenovoPRO Plus, and LenovoPRO Elite.
By joining LenovoPRO membership program, qualified members can enjoy preferred business pricings and early access to exclusive limited-time deals on business laptops (link). All that is needed, is a corporate email address to access the LenovoPro Store. Other benefits include –
Assigned a dedicated business tech specialist, whom they can approach to have their business-related questions answered.
Access Lenovo solutions, such as 30 days credit terms where members will have hassle free account set up, online credit approval up to RM 250,000 credit line with payment due within 30 days after being invoiced. Members can also view their order, invoice and payment history from a digital secure platform (link)
Take advantage of Lenovo Trade In, where members can trade in their old laptop, desktop PC or monitor in working condition and get discount off their new purchase, regardless of the brand (link).
Enjoy Lenovo Premier Support (link) that provides all Lenovo customers with direct access to Lenovo expert technicians for comprehensive hardware and software support.
Access to Simpli Learn to upskill themselves through digital courses worth up to $2,899.
New Products on Lenovo Ecommerce Website
For business owners looking for an upgrade, Lenovo is also launching new products on their ecommerce website, including the recently launched ThinkPad E14 AMD and ThinkPad E15 AMD. These devices could be your next choice of PC, helping you to power through your day-to-day work with ease (link).
 Lenovo ThinkPad E14 AMD

Powered by AMD Ryzen 5 4500U Processor, the ThinkPad E14 AMD delivers top performance while preserving battery life. Equipped with security features such as Trusted Platform Module (dTPM) 2.0 chip and ThinkShutter, the ThinkPad gives users peace of mind while they work through the day. LenovoPRO member price starts from RM 3,936.75

Lenovo ThinkPad E15 AMD

The AMD Ryzen™ fueled ThinkPad E15 AMD to run seamlessly all day for on-the-go professionals. Powered with up to 24GB DDR4 memory and up to 1.5TB of high-speed PCIe dual-SSD storage, it allows users to enjoy the speed and power they need at work. LenovoPRO member price starts from RM 3,584.25

Lenovo ThinkPad X13 AMD

ThinkPad X13 AMD boosts 20 to 40% performance increase and 40% lower battery consumption with its up to 3rd Gen AMD Ryzen™ 7 PRO processor. The ThinkPad includes productivity-enhancing features like Modern Standby, which enables the system to wake in one second and connect to the internet one second later. LenovoPRO member price starts from RM 3,749.25

Lenovo ThinkPad T14 AMD

Between processor, memory, storage, and display options, the ThinkPad T14 AMD offers nearly unlimited configurations, making it one of the most customizable computers in the market. Catering to not only your work needs, the device has your off-the-clock entertainment covered with features such as Dolby Audio™ Speaker System which brings enhanced sound for streaming movies or listening to music. LenovoPRO member price starts from RM 4,664.25
"We have seen in the past months that technology has become extremely important in meeting people's basic needs and keeping our world going. At Lenovo, we understand the demands and needs of our commercial customers who are seeking business-grade financing and customized IT solutions for their businesses, especially during these recovery times. When we bring smarter technology to our customers, we also aim to assist them in addressing the challenges they are facing. Hence, we introduce LenovoPro to provide flexible solutions that will simultaneously grow with their organizations." said Varinderjit Singh, General Manager, Lenovo Malaysia.
For more information, please visit LenovoPro (link) or call 1800-88-5266 to learn more. The Lenovo 8.8 deals are valid from 8 August 2020 while LenovoPro members have early access from 29 July to 15 August 2020.
Visit here for more details on the 8.8 deals.
Availability
The Lenovo ThinkPad E14 AMD, ThinkPad E15 AMD, ThinkPad X13 AMD and ThinkPad T14 AMD are now available on Lenovo Malaysia Official Website, ThinkPad (link)