HUAWEI Video and Astro join hands to offer Malaysians with Malaysia-made Films this Merdeka
In conjunction with Malaysia's Independence Day, HUAWEI Video, the video-on-demand (VOD) streaming platform by HUAWEI is partnering up with Astro to offer Malaysians with the "Merdeka Bundle" video package and free view on the local popular horror investigation film, 'Pusaka'. This initiative is in efforts to support local movie producers in presenting their stories to Malaysians.
In celebration of the Merdeka spirit, starting from 29 August until 16 September 2020, HUAWEI Video and Astro will be offering a slew of promotions for Malaysians with an attractive bundle price of RM20 to marathon-view any eight movies under the 'Merdeka Bundle' package selections. The 'Merdeka Bundle' include local productions such as 'Wira' Bundle, Horror Bundle, and Family Bundle.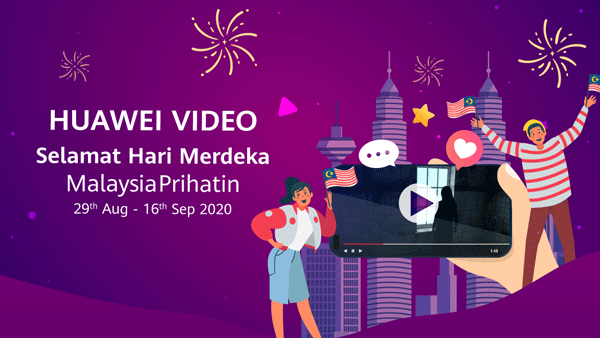 Additionally, a 20% discount is given for single purchase of any Astro movie which is not included in the Merdeka Bundle Promotion.
For every purchase of any Merdeka Bundle package, users will get a chance to redeem prizes worth up to RM60,000 which include a HUAWEI P40 Pro. Users may also purchase all three bundle packages to increase their chances of winning the prizes up to three times.
Free view of Malaysia-made film 'Pusaka' at home this Merdeka
HUAWEI Video users can also enjoy a popular horror investigative film, 'Pusaka' for free, from 29 August to 16 September.
'Pusaka' tells the story of a skilled detective, Inspector Nuar who discovers twins mysteriously locked up in an abandoned house. He suddenly starts suffering a series of unexplained hauntings and soon, individuals linked to the case begin mysteriously dying. With his better judgement progressively affected, Inspector Nuar must race against time to solve the dark mystery behind the two girls before it's too late.
Released in 2019 and grossing RM14 million in the local box office and nominated during the Malaysia Film Award 2020, 'Pusaka' wowed Malaysians with its outstanding storyline that combined horror and investigative elements. Since its initial release, the movie garnered critical acclaim and was labelled as one of the best local horror movies.
Besides 'Pusaka', other popular local movies will also be featured in HUAWEI video including 'Misteri Dilaila' and 'Sangkar', available on rental basis priced from RM 3 to RM 9.90.
Visit to learn more about the campaign: consumer.huawei.com/my/press/news.
astrocelebrationcollaborationfilmHuaweimalaysianmerdekavideo