ASUS announces all-new ZenBook 13 & 14 – the World's Thinnest 13″ / 14″ laptops with Full I/O ports
ASUS Malaysia today announced the all-new ZenBook 13 (UX325) and ZenBook 14 (UX425), two new-generation 13.3-inch and 14-inch ultraportable laptops in the ZenBook Classic series.
The ASUS ZenBook 13 and ZenBook 14 are even thinner and lighter than the previous generation. ZenBook 13 weighs just 1.07 kg and both models are a mere 13.9 mm thin, but uniquely for such an ultrathin design they offer comprehensive I/O capabilities, including full-size HDMI and USB Type-A ports in addition to Thunderbolt 3 USB-C and a microSD card reader. They are the world's thinnest 13.3-inch and 14-inch laptops to offer such comprehensive and versatile connectivity.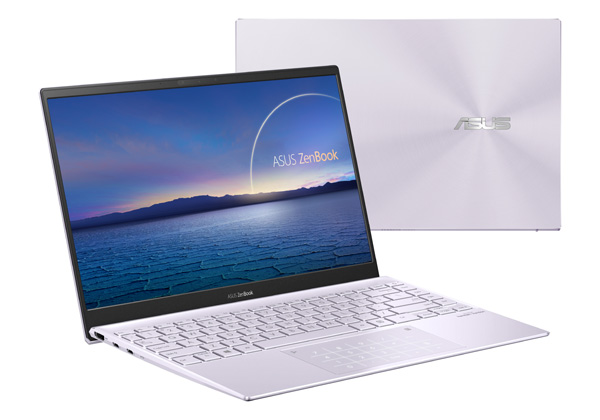 Compact four-sided NanoEdge displays offer a 90% screen-to-body ratio for immersive visuals. The user experience is also fully updated, featuring ASUS NumberPad 2.0, up to 22 hours battery life, a new edge-to-edge keyboard design, ErgoLift hinge mechanisms, and IR cameras for fast face-recognition. ZenBook 13 and 14 are available in two sophisticated new colors, Pine Grey and Lilac Mist.
Powered by the latest 10th Generation Intel Core processors with 8 GB RAM, the ASUS ZenBook 13 and ZenBook 14 make light work of multitasking, productivity and entertainment. It also features 512GB PCIe 3.0 x4 SSDs and the latest WiFi 6 (802.11ax) to round off the specification for a superb all-round performance.
Timeless beauty, effortless portability
The latest ZenBook Classic series offers two screen sizes. For the ultimate traveler, there's the ultralight 1.07 kg ZenBook 13; and for those who prefer a larger screen, there's the sleek ZenBook 14. Both models are designed for effortless portability, with a compact and elegant all-metal chassis that's a mere 13.9 mm thin.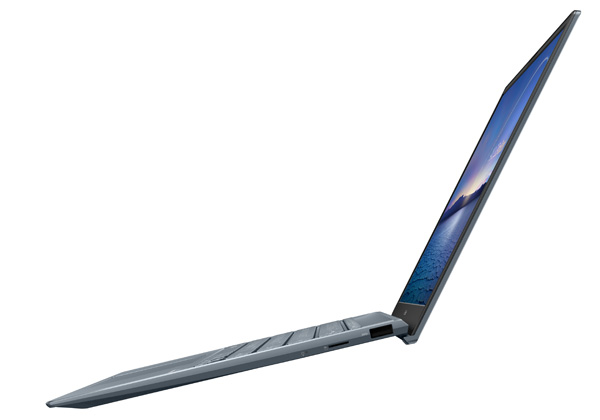 The ASUS ZenBook 13 and 14 are also incredibly power efficient, with up to an amazing 22 hours of battery life on a single charge, meaning that the charger can be left at home for many trips to minimize weight and bulk. The ZenBook 13 and 14 are a perfect match for today's on-the-go lifestyles.
The stylish new design of ZenBook 13 and 14 is enhanced by two timeless new color options. Pine Grey is a glossy shade that is calm and peaceful. It projects professional wisdom, and features a special off-center version of the iconic ZenBook spun-metal finish. Lilac Mist conveys a subtle touch of high-end luxury. Elegant and modern, charming and sophisticated, this gorgeous matte shade is a perfect match for the classic ZenBook spun-metal finish.
Unrivaled Full I/O Ports
The ASUS ZenBook 13 and ZenBook 14 redefine what's possible in an ultrathin laptop: they are the world's thinnest laptops in their class to offer uncompromised I/O capabilities. Both laptops are just 13.9 mm thin, but uniquely for their size still include full-size HDMI and USB Type-A ports, two high-speed Thunderbolt 3 USB-C ports, and a microSD card reader for easy mobile data transfer: No other current 13.3-inch or 14-inch laptop offers all these I/O ports in such a thin design.
The two Thunderbolt 3 USB-C ports — with their convenient any-way-up connectors — support fast charging, up to two 4K UHD external displays for an expanded visual workspace, and up to 40 Gbps data speeds for ultrafast file transfers.

ZenBook 13 and 14 also support the new ASUS USB-C Easy Charge feature⁵, which allows them to be conveniently charged from a wide range of standard USB-C chargers. USB-C Easy Charge allows users can enjoy ultrafast charging with any USB-C Power Delivery-certified charger, such as the bundled 65-watt charger, or charge at slower rates when wall sockets are unavailable using airline chargers, portable chargers or power banks. USB-C Easy Charge takes the frustration out of long journeys or travel in locations with limited mains power.
Ergonomic design
ZenBook 13 and ZenBook 14 have bright and clear four-sided NanoEdge displays, with slim bezels that create an 90% screen-to-body ratio for a more immersive viewing experience. An optional low-power 1-watt display delivers an incredible 450 nits of brightness, while maximizing battery life.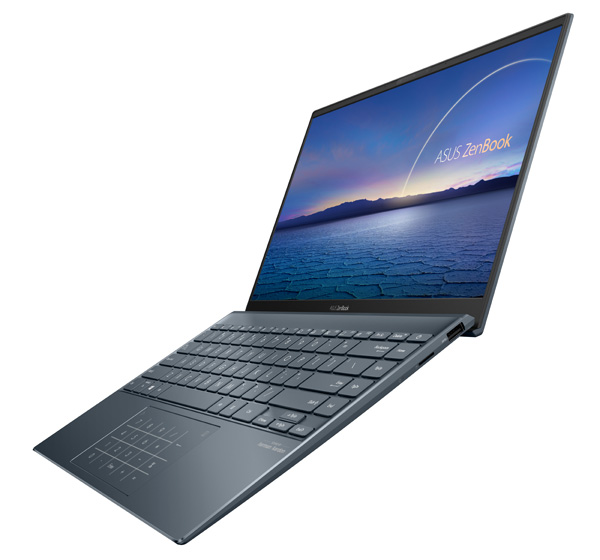 The new edge-to-edge ergonomic keyboard design increases the size of the keyboard for a more comfortable typing experience. It also creates space for an extra set of useful function keys at the right-hand side of the keyboard. For maximum typing comfort, the precision-engineered ErgoLift hinge automatically tilts the keyboard to the optimum typing angle when the lid is opened. This action also creates space under the laptop for extra cooling airflow.
For easy data entry, there's the productivity-enhancing ASUS NumberPad 2.0. This is a dual-function touchpad with an integrated LED-illuminated full-size numeric keypad: simply tapping the icon on the touchpad turns NumberPad on and off. An integrated infrared (IR) camera located on the top bezel makes password-free face login fast and easy with Windows Hello. It also works in dim lighting conditions, so accessing ZenBook 13 and 14 is easier and faster than ever in any environment.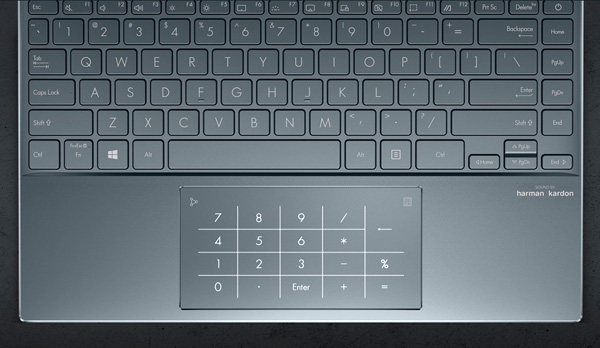 Superb performance
The ASUS ZenBook 13 and ZenBook 14 harness the power of the latest 10th Generation Intel Core processors — all the way up to the Core i7 series. These processors deliver faster, smoother and more responsive performance than the previous generation, and they're teamed with 8 GB of high-speed RAM to help users blitz through daily tasks.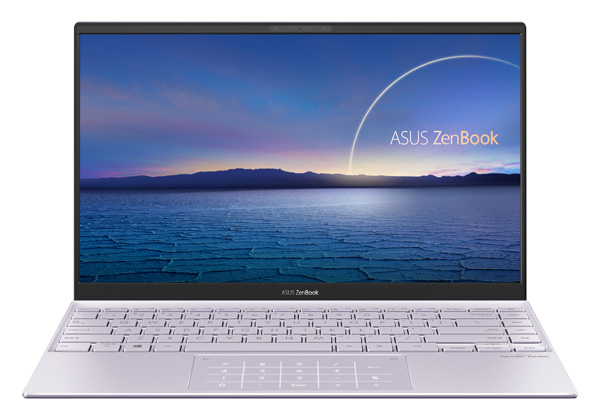 The laptops also have some of the fastest solid-state storage available, with up to 512GB PCIe 3.0 x4 SSDs that ensure fast boot times and near-instant app loading. With the latest WiFi 6 (802.11ax) users can enjoy wireless speeds that are up to 3X faster than WiFi 5, with 4X more network capacity and up to 75% lower latency.
Whether working, creating, or simply enjoying entertainment, the new ZenBook 13 and 14 make everything effortless.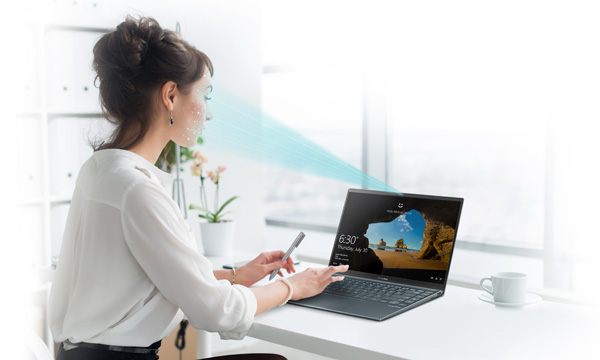 MIL-STD 810G Military-grade Reliability
The ASUS ZenBook 13 and ZenBook 14 have been tested to meet the ultra-demanding MIL-STD-810G U.S. military standard for reliability and durability. Tests consisted of a punishing regime designed to ensure survival in harsh environments, and included power-on drop tests and operation at extremes of altitude and temperature. The ZenBook UX325/UX425 have also passed ASUS laptop stress tests that far exceed the standards set by the industry.
SHOPEE Special Promo – RM 100 discount for ASUS ZenBook 13 & 14
First 20 buyers of ZenBook 13 (UX325) & ZenBook 14 (UX425) to enjoy RM100 discount rebate at ASUS online stores in SHOPEE. Early birds can purchase these models, by applying voucher code "ASUSZB100" upon order checkout.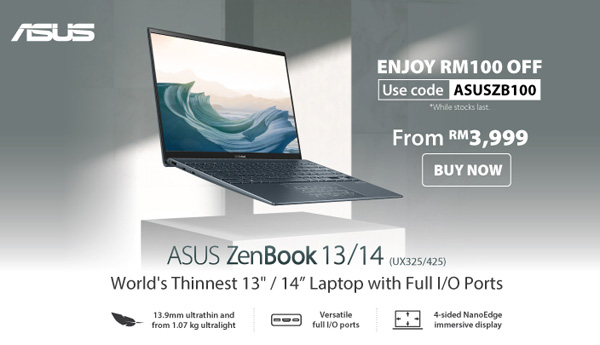 Promo is only valid from 11 – 12 August 2020, while stocks last and on first-come-first-serve basis only. Visit SHOPEE ASUS e-Store at https://shopee.com.my/asus_laptop.os.
ASUS 'Say It' Review Campaign
Campaign Period: 6 August – 30 September 2020
Write a constructive review after purchase any ASUS/ROG PCs (which include consumer, gaming, business laptop, desktop or All-in-One) from authorized dealer stores (online or offline physical store) to redeem Grab Food Gift Card worth RM40. T&C apply, while stocks last.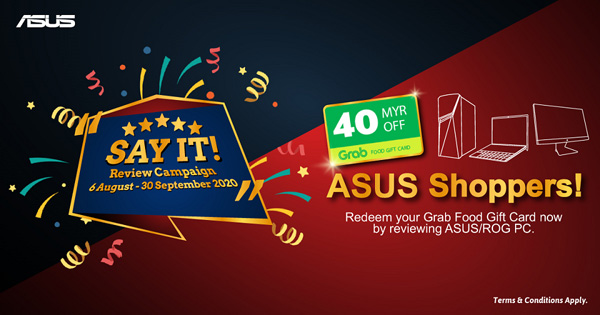 How to participate:
Step 1:  Buy any ASUS PC from the authorized Online/Offline dealer stores
Step 2:  Rate the product and leave a constructive review
Step 3:  Submit your entry with valid documents and personal information here: https://bit.ly/ASUS-SayIt.
Step 4:  Get your Grab Food Gift Card Voucher from ASUS, after verification.
Important note:
A digital Grab Food Gift Card/Code will be sent to registrants via email from ASUS within 3 working days upon registration. Provided that necessary documents are submitted successfully.
All ASUS/ROG PCs that includes laptops, desktops and All-in-Ones purchased from 1 January 2020 onward is entitled for this redemption.
Learn more at bit.ly/ASUS-SayIt.
ASUS Perfect Warranty
ASUS Perfect Warranty is an additional protection service for ASUS laptop's customers for any damage incurred on the unit that is not covered under ASUS manufacturer's warranty, including customer induced damage. Customers who purchase and activate their ASUS laptop, which launched in Malaysia on year 2019 & 2020 ("Eligible Model"), from 1st January 2020 onwards are automatically eligible for ASUS Perfect Warranty without additional charges.

For every purchase of ASUS consumer or gaming laptop, customers are automatically eligible for 2-year global warranty. However, this manufacturer warranty is only applicable for any damage that is not induced by customers. Beginning year 2020, ASUS completes the warranty service for customers by offering ASUS Perfect Warranty on top of the official manufacturer warranty. ASUS Perfect Warranty is an exclusive warranty service from ASUS for one time only during the first year of the laptop's manufacturer warranty. For this premium service, ASUS shall bear 80% of the total repair cost for spill damage, electrical surge damage or drop and accidental breakage. Customer shall only bear the remaining 20% of the total cost and full labour fee.
How to claim ASUS Perfect Warranty?
Customer shall visit any of the authorized ASUS Service Centers in Malaysia or Brunei along with the damaged unit and purchase receipt/invoice from the retail stores where the unit is purchased at.
ASUS shall carry out purchase validation at the time when customer claims for ASUS Perfect Warranty. In the event the purchase is fail to validate, customer must provide the official receipt or invoice to ASUS Service Center as proof of purchase.
ASUS Perfect Warranty is only eligible for ASUS consumer laptops and gaming laptops, launched from 1st January 2019 & 2020, including charging adapter and its battery (but not inclusive of its accessories) purchased from 1st January 2020 onwards (or laptop launched officially in Malaysia from January 2019 onwards). ASUS Service Center team shall check the activation data on the spot to validate the date of purchase.
ASUS Perfect Warranty is only applicable for product purchased in Malaysia and Brunei. Product purchased outside of Malaysia and Brunei are not eligible.
For Terms & Conditions, kindly refer: https://www.asus.com/my/support/Article/1028/