The wait is finally over for avid stamp collectors and fans of historical memorabilia, as Pos Malaysia's 50 Tahun Rukun Negara stamps and first day cover are available for purchase today (18 August 2020), via Pos Malaysia's online store at www.eziemall.com and all post offices nationwide.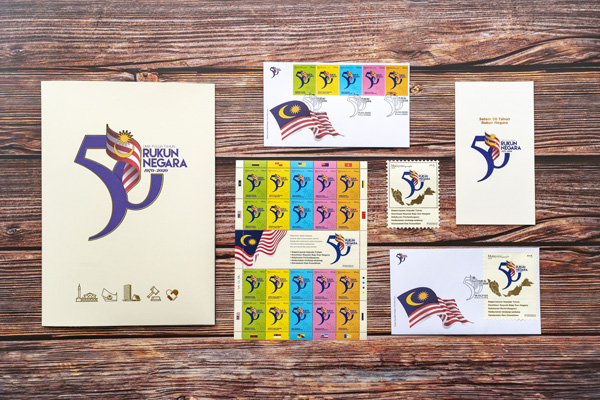 This year marks the 50th anniversary of the Rukun Negara which was proclaimed on 31 August 1970 during the 13th Independence Day celebration. The 50 Tahun Rukun Negara stamp series is issued to commemorate the significant event and was officiated by Prime Minister YAB Tan Sri Dato Haji Muhyiddin Bin Haji Mohd Yassin on 9 July 2020 in Putrajaya.
The stamp series feature five (5) attractive designs with a total of 250,000 pieces issued for each design, with a denomination of 60 sen each. Each design highlights one of the five pillars of Rukun Negara, 50th Anniversary of Rukun Negara official logo and the Bunga Raya, with its five petals representing the five pillars of the Rukun Negara.
The design for this stamp series incorporates both contemporary and modern concepts, using bright and fresh colours to attract young collectors.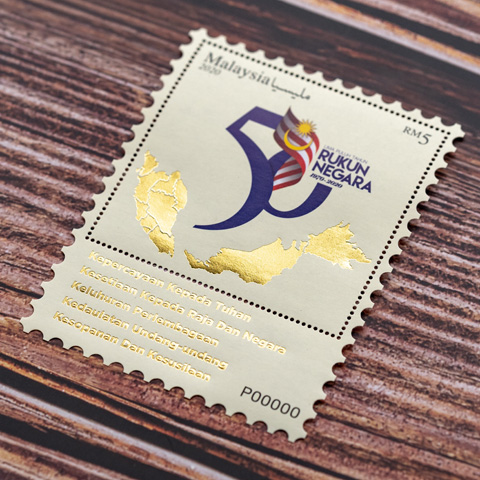 A commemorative special Miniature Sheet is also available and a 'must-have' for collectors, printed with a die-cut and gold-stamped finish to signify the Golden Jubilee (50 years) celebration of the Rukun Negara. A limited number of 25,000 copies is produced and will be available for purchase at RM5.00 apiece.
First Day Covers (FDC) with stamps and First Day Covers (FDC) with miniature sheet are also available for purchase at RM3.50 and RM5.50 respectively. To complete the grand collection, special folders are also available separately at RM6.00 apiece. However, only a limited number of 2,000 folders are produced.
Pos Malaysia's Group Chief Executive Officer, Syed Md Najib Syed Md Noor said, "Pos Malaysia devoted time and effort into the 50 Tahun Rukun Negara special collection's design process, in order to accurately represent the spirit and values of the Rukun Negara, which serves as a national aspiration for Malaysians to build a united and harmonious nation, while ensuring its success and stability."
"The Rukun Negara stamps and every series designed and produced by Pos Malaysia serves as an excellent medium for educational purposes especially for the younger generation, as stamps are used to mark important events in the country and serves as a reminder for Malaysians to always preserve their heritage and legacy," he said.
Stamp collectors and the public may sign-up for the Standing Order Deposit Account (SODA) to experience a hassle-free process in purchasing the latest stamp issues as well as enjoying exclusive benefits offered by SODA. Those interested to be part of the SODA community can do so by signing up at any post offices nationwide or online at www.posonline.com.my.
For further enquiry regarding stamps and other philatelic products, the Stamp and Philately Unit of Pos Malaysia can be reached via telephone at 03-2267 2267 ext. 2000 or e-mail your queries to [email protected].
Stay up to date with Pos Malaysia's services, activities and other updates at pos.com.my, Facebook (facebook.com/PosMalaysiaBerhad), Twitter (twitter.com/pos4you) and Instagram (instagram.com/pos4you).